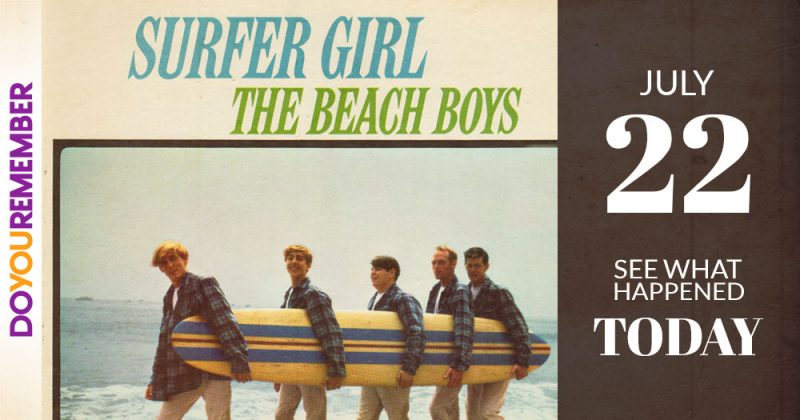 "Born Today"
Selena Gomez (23)
Sharni Vinson (32)
A.J. Cook (37)
Franka Potente (41)
Rufus Wainwright (42)
Rhys Ifans (48)
Irene Bedard (48)
David Spade (51)
John Leguizamo (51)
Joanna Going (52)
Rob Estes (52)
Keith Sweat (54)
Willem Dafoe (60)
Alan Menken (66)
Albert Brooks (68)
Don Henley (68)
Danny Glover (69)
George Clinton (74)
Alex Trebek (75)
Terence Stamp (77)
Louise Fletcher (81)
Oscar De La Renta (RIP)
"Died Today"
Carl Sandburg (Born: January 6, 1878 /  July 22, 1967)
Sacha Distel ( January 29, 1933/  July 22, 2004)
Estelle Getty ( July 25, 1923 /  July 22, 2008)
"Movies"
Click on the movie title to watch it's trailer.
"Music"
1963 – The Beach Boys released the single "Surfer Girl."
1967- Pink Floyd appeared at The Beach Ballroom, Aberdeen, Scotland
1973 – David Bowie released the single 'Life On Mars', which peaked at No.3 on the UK chart.
1977 – Elvis Costello's first album, "My Aim Is True," was released in Britain. It was later released in the U.S.
1991 – Alan Jackson was at #1 on the Country charts with "Don't Rock the Jukebox", released as the lead single from the album of the same name, Don't Rock the Jukebox. It was his second consecutive #1 single on the US Billboard Hot Country Singles charts.
"TV/RADIO TODAY"
1965 – "Till Death Us Do Part" debuted on England's BBC-TV.
1972 – The variety show, "The Bobby Darin Amusement Company" premiered on CBS
"Other Important Events…"
1933 – Wiley Post ended his around-the-world flight. He had traveled 15,596 miles in 7 days, 18 hours and 45 minutes

jetcharters.com

1937 – The U.S. Senate rejected President Roosevelt's proposal to add more justices to the Supreme Court.

wikipedia.org

1969 – Aretha Franklin was arrested for disorderly conduct after creating a disturbance in a Detroit parking lot.