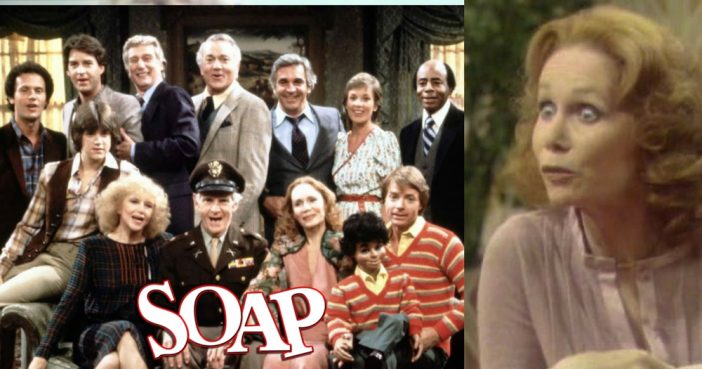 Few shows in television history have been as groundbreaking, innovative, controversial, and downright funny as Soap. Airing for four seasons on ABC from 1977 to 1981, the show generated laugh riots — and nearly a few actual riots. But what caused the reactions? How did the show cope? And what was its ultimate legacy? These questions — and many others — will be answered in this list of some things you didn't know about the classic sitcom Soap.
1. IT WAS ALMOST CANCELLED BEFORE IT EVEN AIRED.
Leaks about the show's frank handling of controversial subjects such as homosexuality, as well as lies and misinformation about the show being "saturated with sex," caused religious groups to mount a campaign to keep it off the air. In the end, ABC had to drop the fee for sponsoring the show from $75,000 per spot to just $40,000. But all the fuss generated publicity. The premiere won its time slot with a 39% share and the show ranked in at #13 for its first season in 1977-78.
2. ABC "DROPPED THE SOAP" ABRUPTLY AT THE FOURTH SEASON CLIFFHANGER.
Series creator Susan Harris and ABC had originally agreed that the show would run five seasons, and Harris developed a plot outline for the entire run. But the effect of the protests on sponsors finally caused the network to kill the show at the end of Season Four — right when Jessica Tate (Katherine Helmond) is apparently shot by a firing squad. All of the carefully developed plotlines were left hanging. Though Jessica did manage to briefly come back to "haunt" ABC.
3. BILLY CRYSTAL'S CHARACTER CONCERNED GAY RIGHTS GROUPS AS WELL AS CONSERVATIVES.
Jodie Dallas (Billy Crystal) was one of the first recurring gay characters on an American sitcom. (He was not THE first — that honor goes to a short-lived show called The Corner Bar that aired on ABC in 1972.) The Jodie character had religious groups up in arms, but gay groups also expressed concern. They were worried that the character perpetuated stereotypes, such as his desire to have a sex change. After meetings with several gay rights organizations, the plotline for Jodie's sex change was toned down. And thus began TV's long road to Transparent and I Am Cait.
4. WE NEVER LEARNED BENSON'S LAST NAME UNTIL HE GOT HIS OWN SERIES.
One of the most enduring characters from Soap was the independent and sharp-tongued butler Benson, ably played by Robert Guillaume. His full name — Benson DuBois — was never revealed until the first season of his own show, Benson. Though a spin-off, Benson was more of a classic sitcom format (Benson served as head of household affairs for a Governor and his wacky staff) than the over-the-top soap opera parody of Soap. The character of Benson was also enduring in the literal sense — his show lasted seven seasons versus the four for Soap.
5. THE "GHOST" OF JESSICA TATE LATER VISITED BENSON.
After Soap was abruptly canceled with all sorts of cliffhangers left hanging, the network at least partially connected one of those dangling plotlines for viewers. In a touching guest appearance on Benson in 1983, an apparition of Jessica Tate appears to Benson to tell her old friend what became of her. (As befitting Soap, she was actually in a coma in South America.) In a nice touch, at the end of the scene, we hear the strains of the Soap theme song.