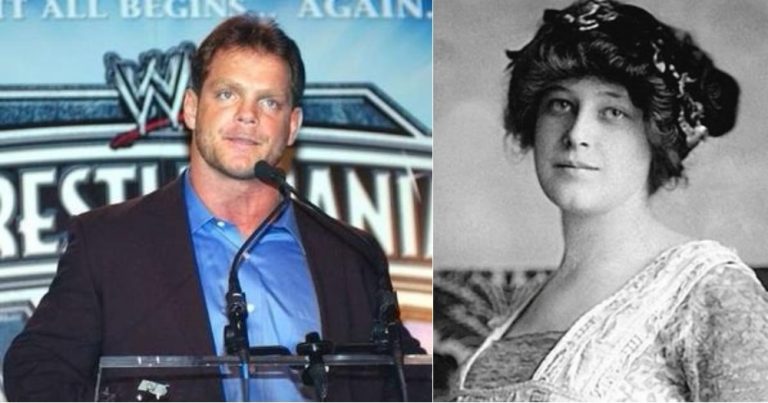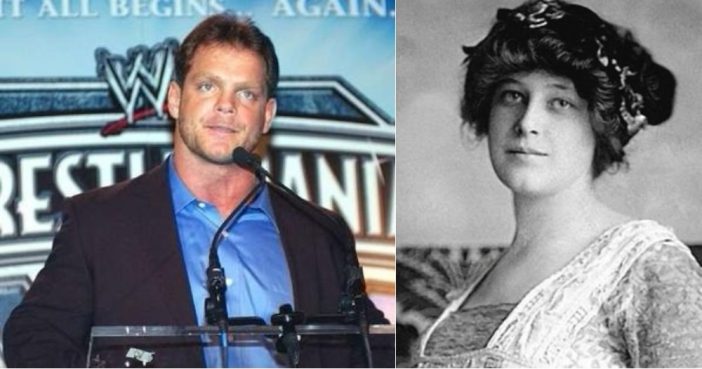 When movies and TV shows rely on coincidence to drive the story forward, it can be an unforgivable sin. Nothing reminds you you're watching a work of fiction quite like a set of seemingly impossible coincidences align so precisely that the entire thing feels like a setup from a bad writer. Real life doesn't work like that, does it?
Sometimes, it totally does.
An Edgar Allan Poe story happens, 46 years after it's published
If you were to name which author's work you'd most want to come to life, you probably wouldn't go for Edgar Allan Poe.
His one and the only full-length novel is The Narrative of Arthur Gordon Pym of Nantucket, and here's the gist of the story: Pym is stowing away on a whaling ship, but things go sideways, and the crew mutinies. Almost everyone dies, a storm hits, and the remaining crew are left adrift. They catch, kill, and eat a turtle, but it's not enough. They draw straws to see who's going to get eaten, and the unfortunate man who draws the short straw is a mutineer named Richard Parker. He's killed, eaten, and ultimately, the remaining crew are rescued.
That was published in 1838, and in 1884, a ship called the Mignonette left England for Australia. There was no mutiny, but the yacht was hit by storms off the coast of Africa. The four men have left adrift in a dinghy with no food or water, but they did manage to catch, kill, and eat a turtle. Sounding familiar? Starving, they decided one of their number needed to die so the rest might live, and they settled on the youngest among them, mostly because he was sick from drinking sea water anyway, and he had no family to return to. He died, was eaten, and the others were rescued four days later, still munching on what remained of his body. His name? Richard Parker.
A set of identical twins are killed in separate accidents on the same road
Twins share a bond that's pretty mysterious to the rest of us, for better or worse. In 2002, two 70-year-old twin brothers died two hours apart, and that's not the really eerie part.
The first brother was riding his bike on a roadway north of Helsinki when he was hit by a truck and killed. Before the family was even informed of his death, the second brother also died. He was riding his bike when he was hit by a truck and killed. The accidents happened on the same road, less than a mile apart, and the BBC quoted one of the Finnish police officers involved in the cases as saying, "This is simply a historical coincidence. Although the road is a busy one, accidents don't occur every day … It made my hair stand on end when I heard the two were brothers and identical twins at that. It came to mind that perhaps someone from upstairs had a say in this."
Chris Benoit's Wiki update
What happened to Chris Benoit and his family was nothing short of heartbreaking. In June 2007, news outlets were reporting on a bizarre scene that had played out in the wrestler's home that had ended with his suicide. Both his wife and son were also found in the house, also dead.
But 14 hours before their bodies were discovered by police, Benoit's Wikipedia page was updated to say that he'd been having difficulties because of "personal issues … stemming from the death of his wife Nancy." The edit was reversed within the hour because there was no sourcing information, and the trolls, who were determined to continue with the joke that a normal person would realize isn't funny under any circumstances, reposted the claim with sourcing attributed to "several pro wrestling websites."
The first IP address came from Stamford, Connecticut, which also happens to be WWE headquarters, and the second came from Sydney, Australia. Atlanta police were informed about the edits and ultimately investigated the Benoit home after the WWE received some unsettling text messages. The Wiki user (who, frankly, should have known better) declined all interviews but did post an apology saying that the entire thing was "just a major coincidence" and that he'd made the random assertion on his own. We can only hope that the Internet learned a very important lesson from this one.
The accidental reveal of D-Day codenames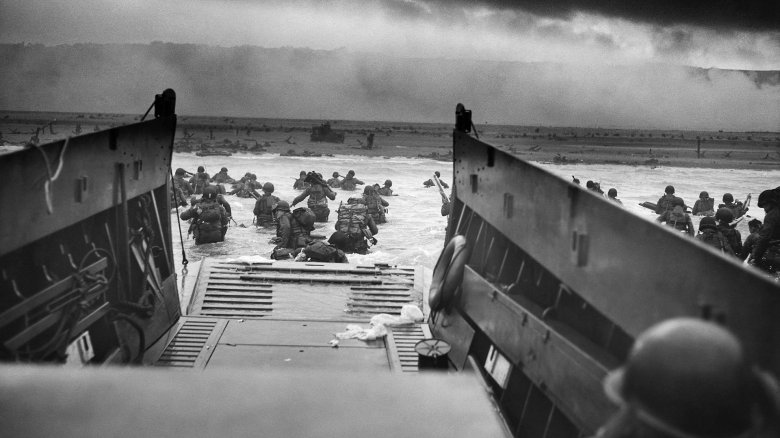 Leonard Dawe was just an ordinary guy with an ordinary job. He was the headmaster of the Strand School in Surrey, and he had one of the most seemingly harmless hobbies ever: he liked crosswords, so much that he'd been writing them for The Telegraph since they started running them in 1925. In June 1944, though, he was at work when a very official-looking car pulled up, and he was escorted out of the building by agents from MI5. He returned a few days later, refusing to say a word about what happened.
It wasn't until 1958 that he was allowed to tell his side of the story. You'll recognize the time that MI5 came knocking on his door as just before D-Day, and everyone was on edge. When one MI5 officer was trying to take his mind off the problems of the world by doing a little crossword puzzle-solving, he was concerned when he started finding words like "Utah," "Overlord," "Juno," "Omaha," "Neptune," and "Mulberry" in the puzzle because they were all code words for various parts of the D-Day plan, and they were right gosh darn there.
It turned out that Dawe wrote his crossword by giving his students blank layouts, asking them to fill in the words, and then writing the clues last of all. Unfortunately for him, the boys had been hanging out with some soldiers stationed nearby, and they had written down some of the cool words that they'd overheard. Whoops.
Irish couple Margaret and John Naylor die on the same day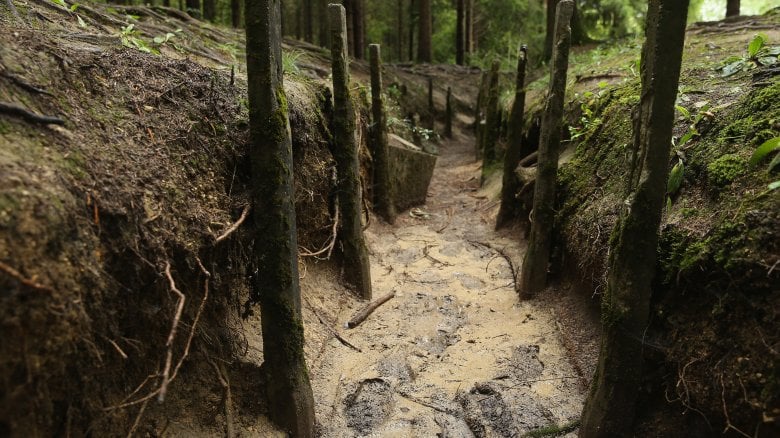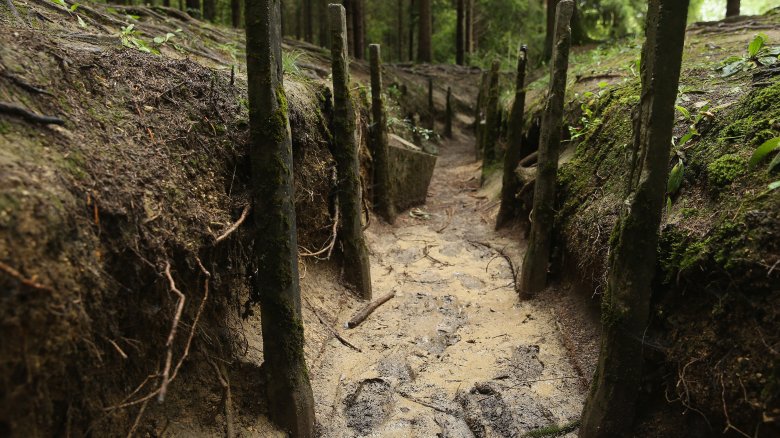 At a glance, the gravestone looks like any other. It marks the final resting place of Margaret and John Naylor, an ordinary Irish couple who lived ordinary lives but died extraordinary deaths.
The First World War was just getting started. John Naylor joined the Royal Dublin Fusiliers and headed off to war. He left behind his wife, Margaret, and their three children, all under 6 years old. He was sent to the trenches in France, and on April 29, 1916, he died there. He wasn't the only one — the men in the trenches were gassed, and according to witnesses, their deaths were horrific.
Things weren't well back in Ireland, either, and if you're at all familiar with Irish history, you'll recognize the year as a landmark one in the Irish fight for independence. On the very same day her husband was dying in the trenches, Margaret left her Dublin home and braved chaos on the streets to buy bread for her children. She was shot once — in the head — as she crossed the Ringsend Drawbridge, and she became the very first woman to die during the Easter Week Rising. According to The Irish Times, she died not knowing that a bizarre coincidence had orphaned their children.