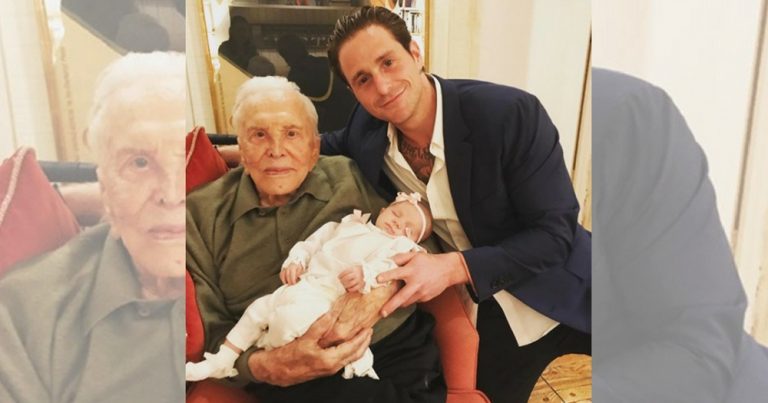 It's so cool seeing generations of a family all in one photo together! Hollywood legend Kirk Douglas recently got to hold his great-granddaughter, and of course, the precious moment was well-documented.
In the pic, Kirk, newborn Lua Izzy, and proud father Cameron Douglas all posed for the camera and it couldn't have gotten any sweeter. While baby Lua snoozed away in her namesake's arms — Kirk was born Issur Danielovitch and was called "Izzy" for short — you can just tell Cameron is cherishing the time his daughter gets to spend with his beloved grandfather. "Words cannot express…. #Powerful #Bloodline," Cameron captioned the pic on Instagram. Scroll down to see the adorable pic!
View this post on Instagram
He may have recently turned 101 years old, but the Champion actor is living life to the fullest! In fact, he recently made a rare public appearance at the 2018 Golden Globes alongside his daughter-in-law Catherine Zeta-Jones. Kirk's iconic film career was honored during the show, and then he got to go onstage to help Catherine present the award for Best Screenplay for a Motion Picture.
"Thank you. In 1991, my father-in-law, this living Hollywood legend, Kirk, was recognized by the Writer's Guild for his role in ending the Hollywood blacklist," Catherine said. "He not only hired blacklisted screenwriter Dalton Trumbo to write the epic Spartacus, but he also had Trumbo receive his proper screen credit for his work." Kirk followed up the touching speech with, "I wasn't going to speak because I could never follow you." So sweet!
After celebrating his milestone 101st birthday, Kirk's health is luckily still going steady. "I was lucky enough to find my soulmate 63 years ago, and I believe our wonderful marriage and our nightly 'golden hour' chats have helped me survive all things," he previously shared with Closer. "I am always asked for advice on living a long and healthy life. I don't have any. I do believe, however, that we have a purpose for being here. I was spared after a helicopter crash and a stroke to do more good in the world before I leave it."
Cameron added in a previous interview: "He is a constant artist, always working on something. I think that's the key — feeding that hunger as an artist keeps him from being bored. He is sort of cruising [into age 101]. I suspect he will be around for a long time!" We hope he can continue to watch his children, grandchildren, and now great-grandchildren grow!
(Source: Closer Weekly)