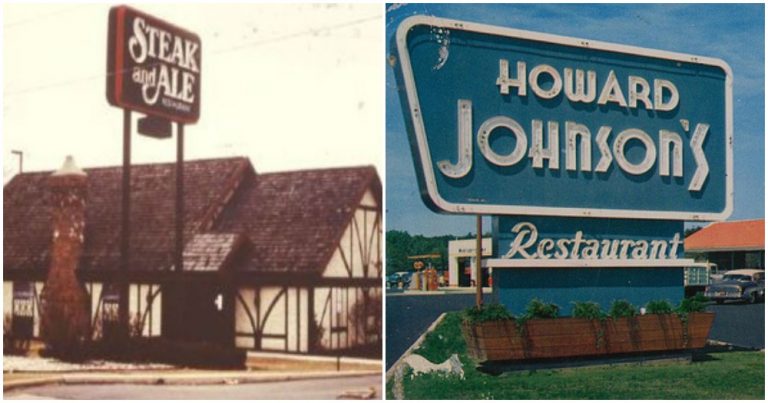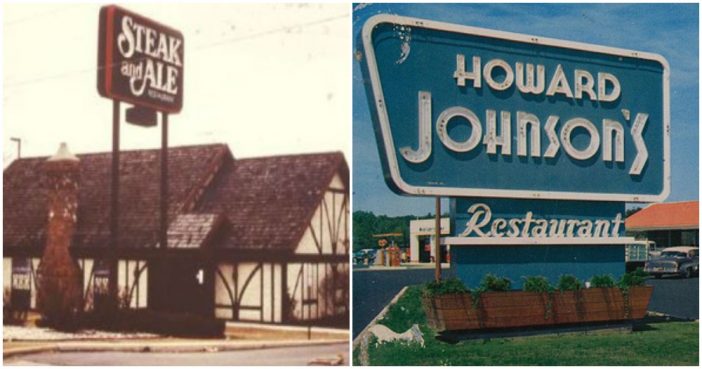 9. CHI-CHI'S
The first Chi-Chi's Mexican Restaurant opened in downtown Minneapolis in 1975 and was one of the breakout restaurants of the year, pulling in $2 million. Founders Marno McDermott and Max McGee's creation had basically no competition in the Midwest, and by 1986 a whopping 237 locations had been opened, with 42 opening in 1985 alone. From there, unfortunately, it was all downhill. Attempts at expanding to New York City, New England, and the South failed, and increased competition, combined with baby boomers aging out of the chain's target demographic and a decline in alcohol consumption, spelled its doom. Locations fell to 144 by 2002, and a month after Chi-Chi's filed for bankruptcy in 2003, green onions served at a Pittsburgh-area outpost set off the largest hepatitis-A outbreak in American history, sickening 660 and killing at least four. The remaining 65 restaurants closed the following year, and today the brand exists in the United States only as a salsa product owned by Hormel, which licensed their name. Oddly enough, there are 11 Chi-Chi's still open in Europe, eight of those in Belgium.
10. LUM'S
This chain of hot dog stands was founded in Miami Beach in 1956 by the Pearlman family, and at its peak, there were more than 400 locations nationwide. The South Florida fixture, whose trademark was hot dogs steamed in beer, was so successful, in fact, that the company went public and bought Caesars Palace in Las Vegas in 1969. The chain was purchased by Wienerwald in 1978, but overextended itself and filed for bankruptcy a few years later.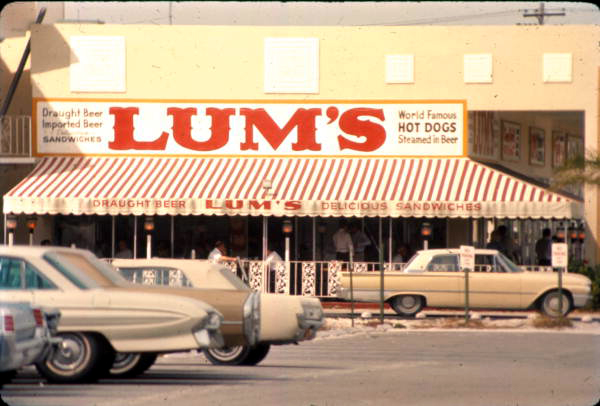 11. KENNY ROGERS ROASTERS
If you best remember Kenny Rogers Roasters from a classic Seinfeld episode, you're not alone. This chain, which the singer launched in 1991 along with KFC mogul John Y. Brown, expanded to 425 locations, but a country singer's name and a focus on rotisserie chicken didn't exactly make it stand out in an already crowded field, and it went bankrupt in 1998 after being bought by Nathan's. While there's only one U.S. outpost still in business, in Ontario, California, it's doing surprisingly well in Asia, where there are more than 100 locations.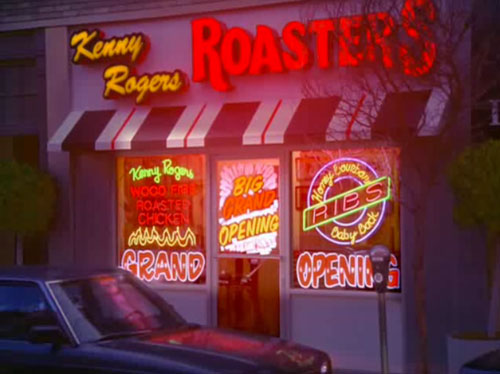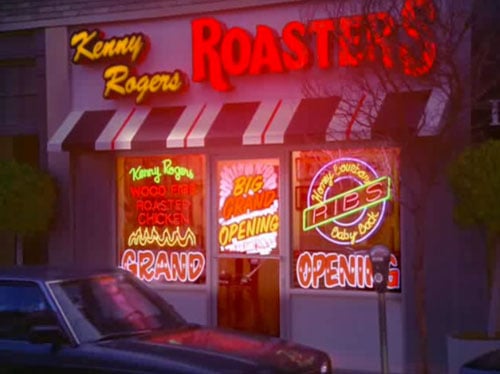 12. MINNIE PEARL'S
Grand Ole Opry legend Minnie Pearl affixed her name to this fried chicken chain, which was launched by Nashville attorney John Jay Hooker in 1966. The company went public in 1968, and over the course of the next few years more than 500 locations opened and thousands more were franchised out, although a lot of those franchises never saw the light of day. While rival KFC grew organically and focused on quality and consistency, so many outposts of Minnie Pearl's opened that no two chicken recipes were the same, and people simply stopped going. Investors sued the company after they were forced to redo their 1968 taxes to show a loss of more than $1 million, and the company shut down shortly thereafter.
13. HOWARD JOHNSON'S
Howard Johnson's is synonymous with the 1950s and '60s dining. It was launched by Howard Johnson himself in the 1920s as a soda fountain and lunch counter, and by 1954 there were 400 outposts in 32 states. One of the first major restaurant chains, it went public in 1961 with 605 restaurants and 88 motor lodges, both of which were major fixtures dotting the new American highway system that experienced monumental growth during this time. The company peaked in in the mid-1970s, but business fell off after that. The business model of serving pre-made high-quality food in traditional dining rooms lost popularity amid the boom in fast food chains like McDonald's, and after many changes in ownership over the years, only two Howard Johnson's restaurants remain, in Lake Placid, New York, and Bangor, Maine.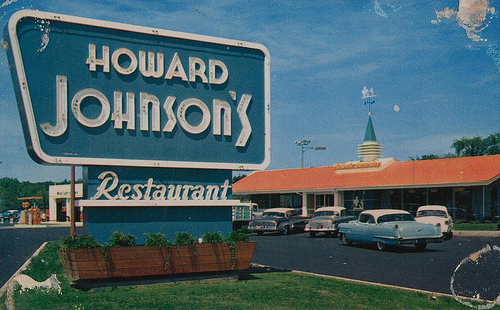 14. SAMBO'S
When Sam Battistone and Newell F. Bohnett decided to open a restaurant in Santa Barbara in 1957, they just combined Sam's first name with Bohnett's last name and Sambo's it was. Little did they realize just how many people would take offense at the presumed connection to the politically incorrect children's book Little Black Sambo, especially after the restaurants were decorated with scenes from the book. Regardless of the association, the restaurant was a huge success, and there were 1,117 locations in operation at its peak in the early 1980s. The company's finances began to crumble just as it became a lightning rod for its insensitive name, and its collapse was epic. In 1983, 618 locations were renamed Season's Friendly Eating, and soon after some outposts were sold to Denny's and the rest simply shut down. Today there's only one Sambo's still around, in Santa Barbara, California.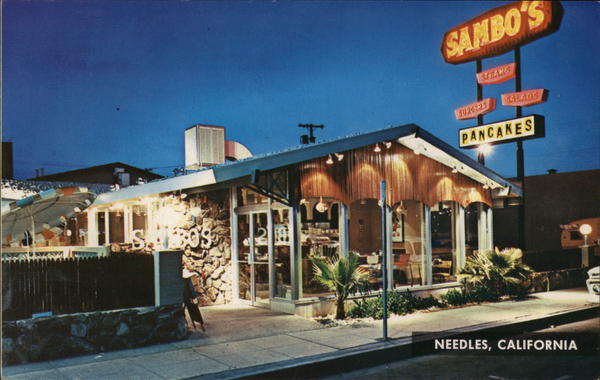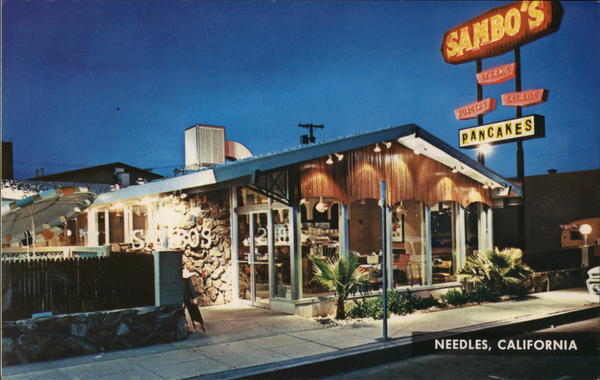 15. BURGER CHEF
In 1958, a technological wonder of a chain restaurant opened, with the capacity to pump out burgers faster than even McDonald's could: 800 per hour, via a conveyor broiler. It seemed like the perfect formula for success, and Burger Chef's optimistic parent company, General Equipment, opened 1,200 outposts by 1972, making it second only to McDonald's 1,600. They also pioneered the concept of selling a child-oriented meal of a small burger, fries, drink, dessert, and small toy in 1973 (they called it a "Fun Meal"; McDonald's called it a "Happy Meal" when they "borrowed" the idea six years later). But it was overexpansion that eventually did the company in; in 1981, the company was sold to Hardee's, never to be heard from again.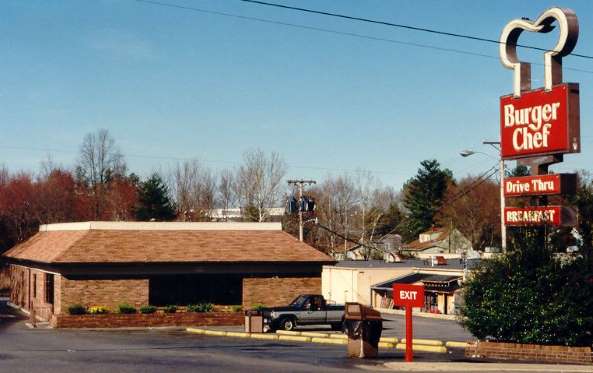 Credits: msn
Share this story on Facebook with your friends.