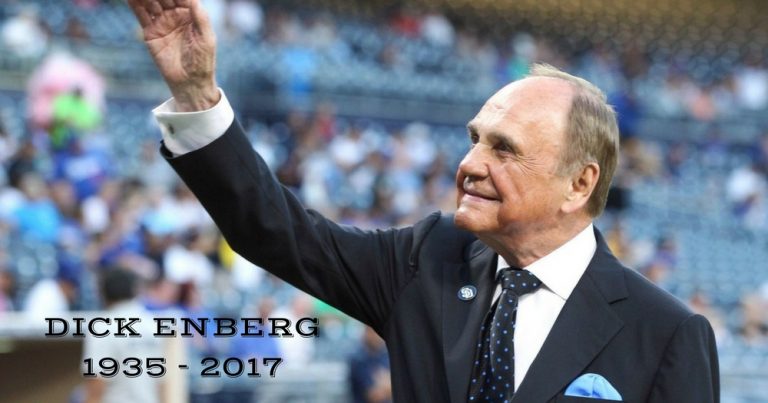 Dick Enberg, the Hall of Fame broadcaster whose "Oh my!" calls rang familiar with so many sports fans, has died, his wife and daughter confirmed Thursday night. He was 82.
Known as much for his excited calls of "Oh my!" as the big events he covered during a 60-year career,
Enberg's daughter Nicole said the family became concerned when he didn't arrive on his flight to Boston on Thursday and that he was found dead at his home in La Jolla, a San Diego neighborhood, with his bags packed for a trip to see his third grandchild for the first time. The family said it was awaiting official word on the cause of death but believed he had a heart attack.
The family "is grateful for the kind thoughts and prayers of all of Dick's countless fans and dear friends," according to a statement released by Enberg's attorney, Dennis Coleman. "At this time we are all still processing the significant loss, and we ask for prayers and respectful privacy in the immediate aftermath of such untimely news."
Enberg was one of America's most beloved sports broadcasters, with his versatile voice spanning the world on networks such as NBC, CBS, and ESPN. In all, he covered 28 Wimbledons, 10 Super Bowls and eight NCAA men's basketball title games, including the Magic Johnson-Larry Bird showdown in 1979.
His work was celebrated with a host of honors, including the National Baseball Hall of Fame's Ford C. Frick Award (2015), the Pro Football Hall of Fame's Rozelle Award (1999) and the Naismith Memorial Basketball Hall of Fame's Gowdy Award (1995). He won 13 Sports Emmy Awards and a Lifetime Achievement Emmy. He received a star on the Hollywood Walk of Fame, and UCLA named its media center in Pauley Pavilion after Enberg this year.
Most recently, Enberg had served as the primary play-by-play television voice of the San Diego Padres, retiring in 2016 after seven seasons with the team.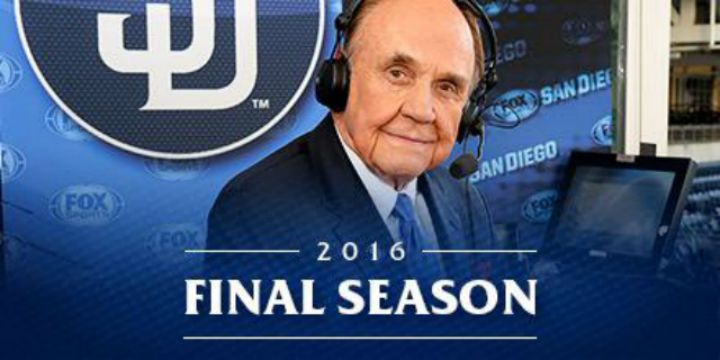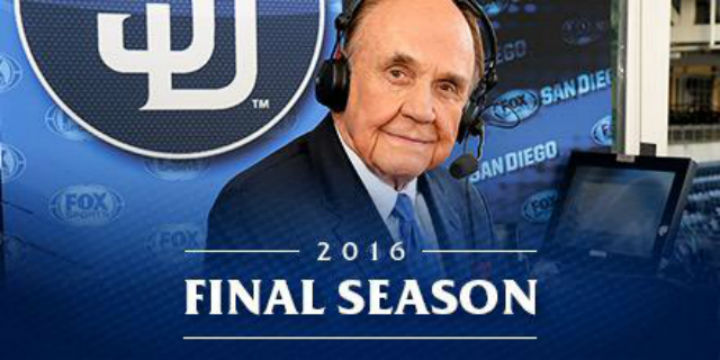 "Baseball," he said then, "has been in my DNA from the time I was in diapers."
The Padres released a statement Thursday night.
"We are immensely saddened by the sudden and unexpected passing of legendary broadcaster Dick Enberg," the statement read. "Dick was an institution in the industry for 60 years and we were lucky enough to have his iconic voice behind the microphone for Padres games for nearly a decade. On behalf of our entire organization, we send our deepest condolences to his wife, Barbara, and the entire Enberg family."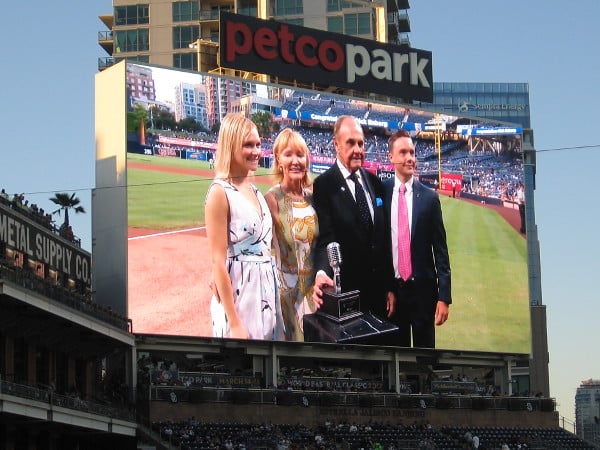 Padres chairman Ron Fowler, who has known Enberg for more than 25 years, said Thursday night that the team has offered the family use of Petco Park for a celebration of his life.
Born and raised in Michigan, Enberg graduated from Central Michigan, where he began his broadcasting career as an undergraduate. He later moved to California, doing TV work for the UCLA Bruins and radio work for the California Angels and Los Angeles Rams.
During his nine years broadcasting UCLA basketball in the 1960s and '70s, the Bruins won eight NCAA titles. He said the Jan. 20, 1968, Houston-UCLA game, dubbed "The Game of the Century," in which the Bruins' 47-game winning streak was snapped in front of 52,693 fans at the Astrodome, was the most historically important event he covered. It was the first NCAA regular-season game broadcast nationwide in prime time.
"That was the platform from which college basketball's popularity was sent into the stratosphere," Enberg said. "The '79 game, the Magic-Bird game, everyone wants to credit that as the greatest game of all time. That was just the booster rocket that sent it even higher. … UCLA, unbeaten; Houston, unbeaten. And then the thing that had to happen, and Coach [John] Wooden hated when I said this, but UCLA had to lose. That became a monumental event."
In 1975, Enberg joined NBC Sports and remained with the network for 25 years, covering the World Series, NFL games, and Wimbledon, among other sports and marquee events.
He went on to do work for CBS Sports and ESPN, with his voice commonly associated with the NFL and college basketball games, as well as the all-grass tennis tournament in England.
"All of us at CBS Sports are saddened to hear of the passing of our friend and colleague Dick Enberg," read a statement from Sean McManus, chairman of CBS Sports. "There will never be another Dick Enberg. As the voice of a generation of fans, Dick was a masterful storyteller, a consummate professional and a true gentleman. He was one of the true legends of our business. His passion, energy, and love for the game will surely be missed. Our deepest sympathies go out to Barbara and his entire family."
An Enberg interview was published Thursday as part of his Sound of Success podcast. His guest was veteran TV producer and executive Andy Friendly. At one point in the extensive interview, Friendly paused to share his admiration for the legendary Enberg.
"I'm especially honored to be talking to you," he said. "I mean — 'Oh my!' I grew up watching you do the NFL, especially Wimbledon. I was a tennis player growing up. … I'm a golfer, a bad one now. … And I just watched you religiously. …
"This is a true honor, and I can't wait to read your book on Ted Williams, who is a true hero of mine.
"You are one of my true heroes and one of the true greats of our business, Dick. It's a real honor, and I'm not just blowing smoke, and I know your listeners know this already. I am talking to broadcast royalty today, and I am thrilled to be doing it."
Enberg is the only person to win Emmy Awards as a sportscaster, a writer, and a producer.
His death comes just weeks shy of his 83rd birthday, which would have been on Jan. 9. He is survived by his wife, five children, and three grandchildren.
Sports figures, former colleagues, and more react…on NEXT page…