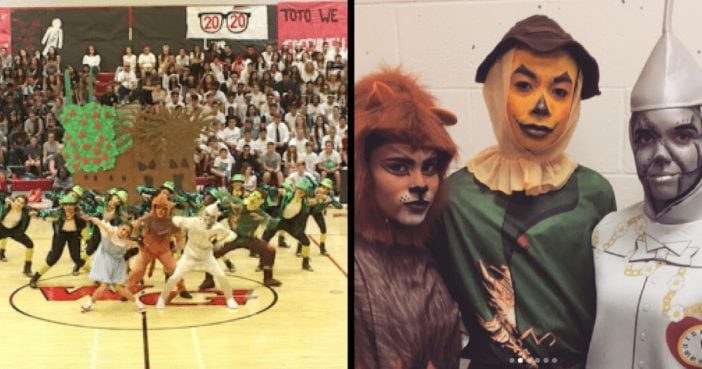 What were homecoming pep rallies like at your high school? Perhaps nothing like this.
A dance team at Walden Grove High School in Sahuarita, Arizona, treated classmates to an ingenious dance interpretation of "The Wizard of Oz."
Then it got posted on YouTube. And the attention has been "Somewhere Over the Rainbow."
Watch the pep rally performance here:
The video has been viewed more than 1 million times since it was posted on Sept. 29.
The team's mash-up of contemporary songs and movie soundbites hits most of the film's major story beats.
The Scarecrow dances to "Insane in the Brain" by Cypress Hill; the Tin Man pops and locks while "I Can Make Ya" by Fingazz plays; the Cowardly Lion gains his confidence dancing to "Roar" by Katy Perry; and the Wicked Witch is defeated during Taylor Swift's "Bad Blood."
Since the video was posted on Sept. 29, it's garnered over 1 million views—and for good reason.
Previous videos posted by the team also hit it big. The team's "Pixar" and "Alice in Wonderland" performances have amassed about 1.6 million and 267,000 views, respectively.
In all, the dance group has more than 2.7 million views on YouTube.
You have the dance team known as ThePAC to thank for this incredible rendition of "Wizard of Oz." And this isn't the first time the squad has absolutely wowed with their dancing abilities…