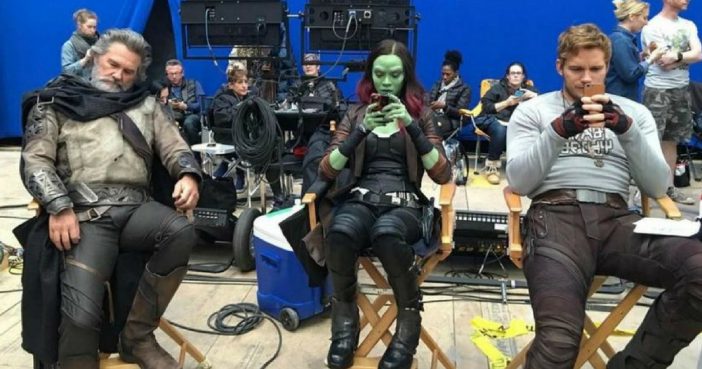 Kurt Russell has to be one of the coolest American actors of all time. I don't know what the secret to the man's longevity is, but I think James Gunn's behind the scenes photograph of the actor sitting with Zoe Saldana and Chris Pratt holds the answer to that mystery.
https://www.instagram.com/p/BTCDsoxDTUb/
At first glance, yes, the picture just looks like a telling sign of a generation gap. Saldana and Pratt are typing away at their phones; I mean, they each have an adoring public to keep happy on social media. Russell appears to simply enjoy a nap.
But take another look.
https://twitter.com/tprowens/status/918340981526859776
I thought Kurt Russell had a tiny personal hairdresser in this photo and tbh my brain was fine with the idea pic.twitter.com/NjgNyawca0

— Jamie Smart (@jamiesmart) October 11, 2017
Tiny. Hairdresser. Everything makes sense now. The confidence that Kurt gets from carrying around a miniature hairdresser to keep his thick locks looking perfect in every scene, no matter where he's shooting, is what gives him the edge over other actors.
OK fine, it's definitely a depth perception thing that's going on with the photo, but that hasn't stopped me, and a bunch of other people online, from wanting this theory to be real.
I keep looking at it and my brain just wants it to be true

— A.Y.Sick (@A_Ysick) October 11, 2017
People even started coming up with their own theories.
That is the elf who makes people sleep to free them from the clutches of the cellphones. The others are still to be attended.

— Seekingandspeaking (@manishapaula) October 12, 2017
While others dreamed about having their own lilliputian hair stylist.
If I could have a tiny hairdresser on my shoulder, I would look great every day.

— 🇺🇦 🏳️‍🌈🏳️‍⚧️ you can still mask w/o a mandate (@Amy_Rey) October 11, 2017
She hides in his scarf during filming 😃

— Charrion (@charrion) October 11, 2017
D'you what? This is exactly what I needed at the end of an exasperating day! Made me laugh out loud! Thanks guys!! 🤣🤣🤣🤣🤣🤣🤣🤣🤣🤣🤣🤣🤣🤣🤣🤣🤣🤣🤣🤣🤣🤣🤣🤣🤣

— HarponWight (@HarponW) October 11, 2017
Lots of people were also impressed with Kurt's nap-taking abilities.
Everyone is on a phone, Kurt is all Z-zzzzzzzzzzzzzzzzzzzzzz lol Kurt is my hero here

— Queen of the Harpies & Trollops, ERA Now (@K2togetherSSK) October 12, 2017
Must be nice to wake up and never have a bad hair day.
(Source: Distractify)