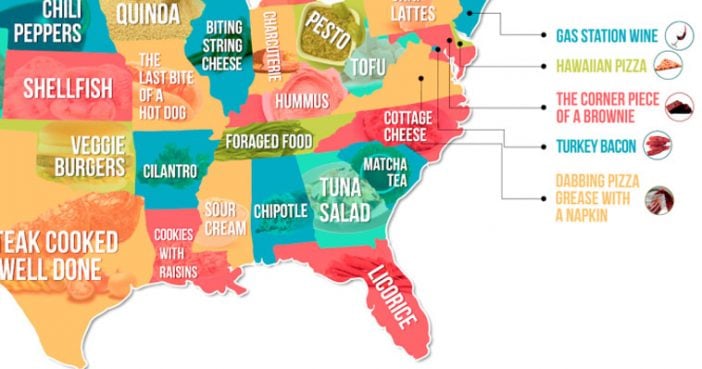 Contrary to what you might think, not everyone in the U.S. loves chicken nuggets.
Or so says the dating app Hater, which matches users based on the things they hate. Users everywhere are randomly shown a person, activity, item or concept, including food, and can swipe to show approval or dislike. Since February, more than 600,000 users have swiped on the app's 3,000 topics over 100 million times, a spokesman told HuffPost.
Hater researchers recently turned the app's food-related data into one big map of the food, drink or food concept people hate most in each state, as compared to the rest of Hater's worldwide user base. People in Mississippi, for example, swipe "hate" on sour cream more often than any other daters on Earth. People in New Jersey, meanwhile, don't seem to be big fans of the concept of gas station wine, even though it's generally not available in their state. (Hater said users can skip topics if they're not relevant.)
The map is telling, indeed: People in California hate Chick-fil-A (we can't help but wonder if it's due to political leanings), and appropriately, daters in the coffee capital Washington state hate K-Cups. Meanwhile, you should never feed someone from North Carolina a bit of cottage cheese.
Here's what people hate most on the East Coast: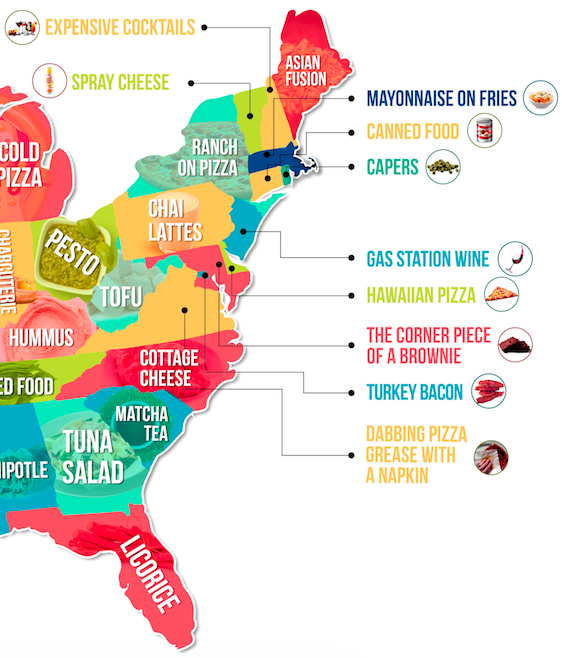 And here's what Midwesterners and Southerners hate most: