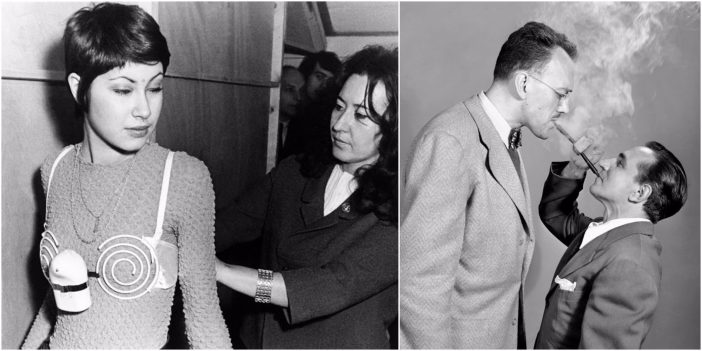 "If at first an idea is not absurd," Albert Einstein said, "then there is no hope for it." Sometimes, however, absurd is just absurd — yet, even so, it's a fascinating slice of history's collective direction of curiosity and experimental innovation.
1. Soup-Cooling Spoons
In this 1948 picture, a man is shown eating with a mechanical soup spoon designed to cool a bowl of scalding hot soup.
2. See-Through Boats
This 1941 photo shows a model in a transparent "Lucite" rowboat, designed to see everything below the seat.
3. Automatic Tip Requesters
In this 1955 picture, inventor Russell E. Oakes shows off his "automatic tip requester," which comprises an artificial hand and cashbox to be worn around the waist. A "No Sale" sign is displayed if a tip is not sufficient.
4. Rocket-Propelled Bicycles
In this 1931 picture, a German engineer prepares his rocket bicycle with 12 rockets mounted on the back wheel. Moments after this photo was made, the bicycle exploded. Fortunately the engineer was not seriously hurt.