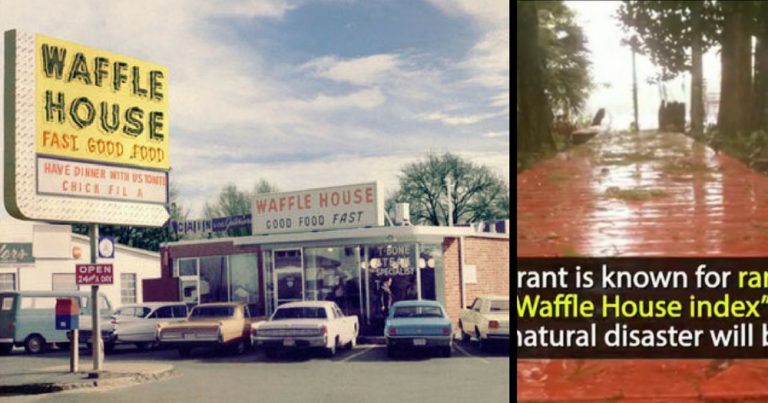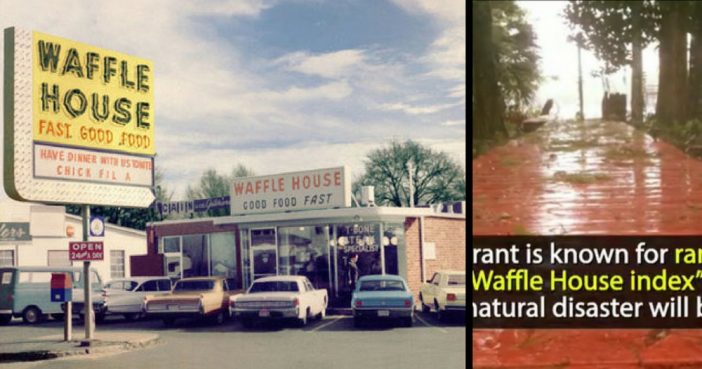 In a time of natural disaster, the federal government uses a simple gauge to determine the toll Mother Nature has taken on a local area.
It's called the Waffle House test, which uses the operating conditions of the resilient Southern restaurants as a barometer for how well an area will recover from a hurricane, tornado or other hazards.
For shelter and supplies after a devastating storm, communities turn to the Federal Emergency Management Agency (FEMA). But for a clear sense of how bad things are, FEMA turns to Waffle House. Nearly a decade ago, Florida's emergency management chief, W. Craig Fugate, noticed that when information was scarce after a disaster, the status of a 24-hour Waffle House restaurant often indicated whether an area had electricity, gas, and passable roads. So he created a three-color rating: green (fully open), yellow (limited menu), and red (closed). Then he brought it with him to his current post as FEMA's administrator.
Yes, The Waffle House Index is actually used by FEMA: https://t.co/fHE6kzDcDa pic.twitter.com/7sHDi4Lr2u

— TheStreet (@TheStreet) September 7, 2017
Fugate isn't the first to extrapolate large trends from unconventional indicators. Economists at Vanderbilt University recently used Big Mac prices to evaluate economic differences among countries that use the euro and those that use their own currency. Investment funds trading on oil reportedly hires aircraft to fly over the Port of Singapore (through which half the world's crude oil is shipped) to gather anecdotal data on the number of tankers. In China, authorities employ an index of the sales of pickled mustard tubers (a food favored by its working class) to track its migrant workers in the country more accurately than official statistics do. "The shared, underlying idea is that there are good measures, or proxies, for phenomena that might take a long time to measure rigorously," says David Lazer, a computer and political scientist at Northeastern University.
The Hurricane Hunters fly into the eye of Hurricane Irma to continue to provide valuable data about the storm for weather forecasters. USA TODAY reports.
"The Waffle House test just doesn't tell us how quickly a business might rebound — it also tells how the larger community is faring," said a FEMA blog post from 2011, when Craig Fugate was administrator under former President Obama. "The sooner restaurants, grocery and corner stores, or banks can re-open, the sooner local economies will start generating revenue again — signaling a strong recovery for that community."

Fugate said the system "came out of the '04 hurricanes," when he was Florida's emergency management director. Here's how Fugate described the test on a 2016 episode of NPR's comedy podcast Wait Wait… Don't Tell Me:
"They are open most of the time. And that was the index. If a Waffle House is closed because there's a disaster, it's bad. We call it red. If they're open but have a limited menu, that's yellow," he said. "If they're green, we're good, keep going. You haven't found the bad stuff yet."
A few days after Hurricane Harvey ravaged the eastern coast of Texas, many Waffle Houses remained open.
View images on Twitter:
8 am Central – ALL Houston @WaffleHouse restaurants are OPEN. We have 8 closed in Beaumont, Orange and Port Arthur, TX pic.twitter.com/elWESFqLXv

— Waffle House News (@WaffleHouseNews) September 1, 2017
10 am Central – And then there was one. ALL restaurants are supplied and open in Beaumont, TX. Only one restaurant is closed in Texas. pic.twitter.com/33clt3wGLt

— Waffle House News (@WaffleHouseNews) September 3, 2017
Noon Central – 3 @WaffleHouse open now in Beaumont 1 in Orange, TX. Only 5 closed in Texas. #Harvey pic.twitter.com/SuN4D00NfJ

— Waffle House News (@WaffleHouseNews) September 2, 2017
Lazer and his colleagues work in a field known as network science, which looks at correlated phenomena to find meaning. Network scientists usually work on problems involving large data sets. For example, in much the way that Google Flu Trends analyzes search data (rather than medical data) to try to predict flu outbreaks faster than the CDC, Lazer's team has developed algorithms that comb through mobile text and voice data (rather than meteorological or seismological data) for patterns generated by real-time emergencies such as earthquakes, bombings, and blackouts, often detecting them before local authorities do. Useful correlations can also be derived from small data sets, Lazer says, provided that each point carries a strong signal. That's the virtue of the Waffle House Index: Rather than distilling a meaningful signal from a noisy, large data set, it uses a few data points with high-quality signals.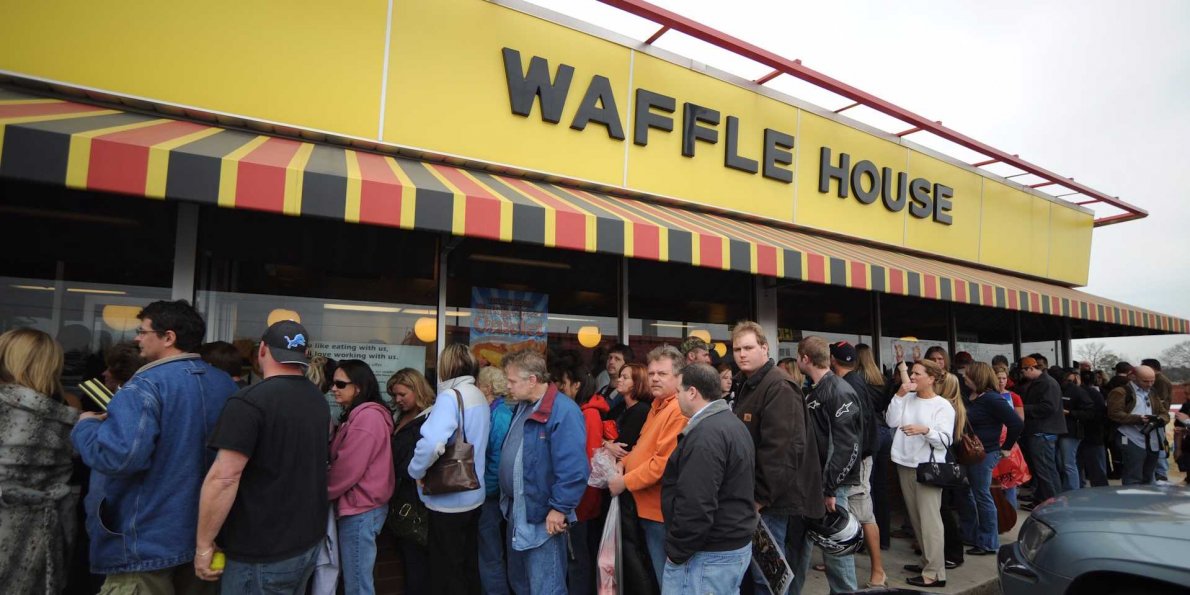 So what makes Waffle Houses so telling? For one, the chain has 500 similar locations throughout hurricane zones on the Gulf Coast and Eastern Seaboard as well as hundreds more across the flood- and tornado-prone Midwest. More important, Waffle House is a leader in disaster preparedness. It maintains its own fleet of portable generators, operates a mobile command center to assist in disaster recovery, and trains employees in crisis management to ensure that it can resume operations as quickly as possible—often within hours. And since 2012, it reports all this information directly to FEMA via email.
The Waffle House Index is by no means a scientific indicator (a 2011 tornado destroyed or damaged one-third of Joplin, Missouri, yet the area's two Waffle Houses remained open), but its accuracy continues to improve. Last year, the company began using tropical-storm-tracking software to help it predict—down to the minute—when any Waffle House will be affected and when it's safe to reopen. This allows the chain to pass its operational status to FEMA sooner, which in turn helps FEMA respond faster. It also helps Waffle House get hot meals and coffee to the victims and weary first responders.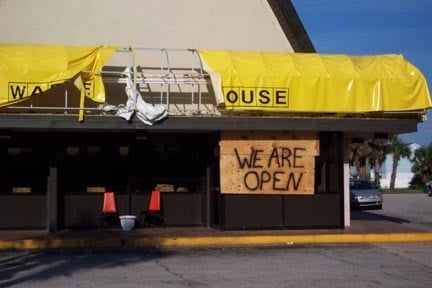 "There's been a real shift in the last few years toward the private sector and public sector working together to get communities back up on their feet after a storm," says Waffle House vice president of culture Pat Warner. "We're just glad to play a part."
(Source: Popular Science And USA Today)