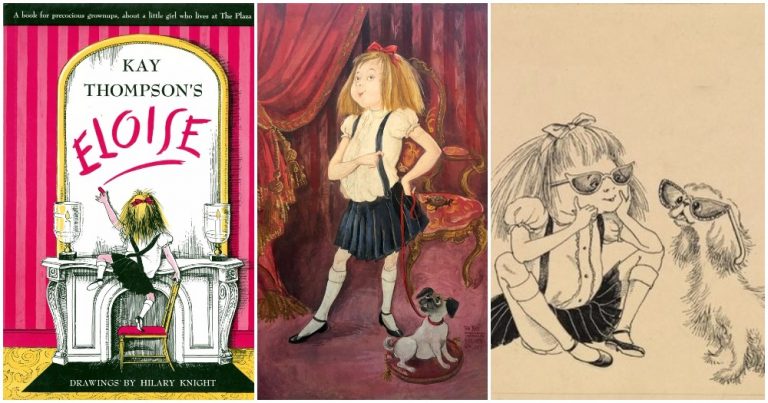 The Plaza has known many famous guests over the years, but perhaps none is as famous as Eloise, the mischievous six-year-old girl who lives at the hotel with her nanny, her dog Weenie, and her turtle Skipperdee. Created by actress and singer Kay Thompson and illustrator Hilary Knight, Eloise took the world by storm when it was first printed in 1955, selling 150,000 copies in two years.
The success of Eloise prompted four sequels: Eloise in Paris, Eloise at Christmastime, Eloise in Moscow and, later, Eloise Takes a Bawth. More than 60 years later, Eloise has become one of New York City's most beloved residents, cherished by generations of readers.
Beginning June 30, the New-York Historical Society will pay homage to the sprightly six-year-old with the exhibition "Eloise at the Museum." It will feature original pages from Eloise manuscripts, sketches, photographs, dolls, and portraits alongside original family programming. Much of the work on view has rarely been seen, including trial Eloise drawings from Hilary Knight in 1954, previously unpublished drawings from Eloise inParis, and a once-stolen Eloise portrait from the Plaza. The exhibition also explores the lives of both Kay Thompson and Hilary Knight and the life that Eloise took on after publication—in clothes, merchandising, and even Eloise-themed children's menus from the Plaza.
"I know people love [Eloise]," Hilary Knight says. "It means so much. Now little girls who read it originally are now grandmas, you know? It's unbelievable."
Here, a few things about Eloise's storied life that you may not know.
1. ELOISE BEGAN AS KAY THOMPSON'S IMAGINARY FRIEND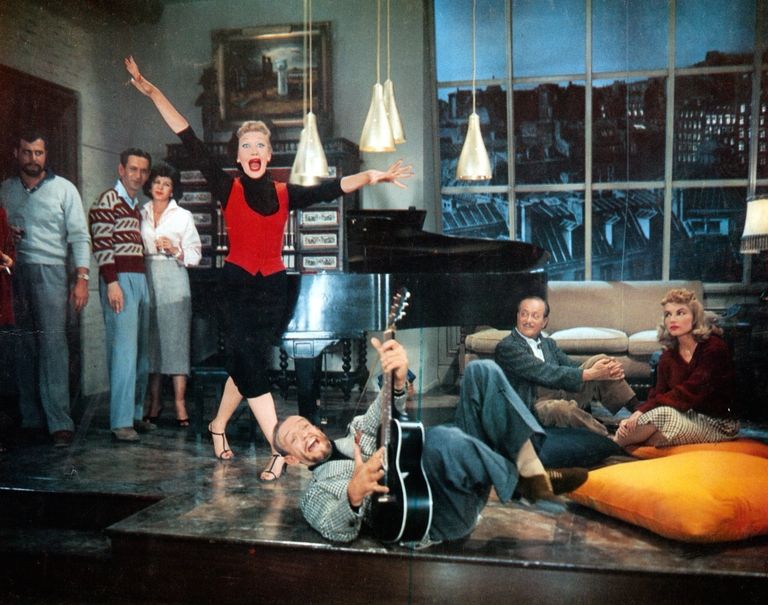 Kay Thompson had an extensive career in music long before Eloise, and even long before Funny Face, Fred Astaire and Audrey Hepburn movie for which she's best known and in which she plays a fashion magazine editor. At MGM Studios in the 1940s, she was a vocal coach for stars like Frank Sinatra and Lena Horne. After that, she had a hit cabaret act with musical siblings the Williams Brothers. At one point, a story made the rounds that on an occasion when Thompson was late to rehearsal, the Williams brothers got so angry with her she immediately broke into a creaky little child's voice and said "I am Eloise and I am 6!" to diffuse the situation. Apparently Thompson had an extremely lonely childhood and had been talking in the voice of Eloise, an imaginary friend, most of her life and often performed it for friends. Thompson was urged by friend and Harper's Bazaar fashion editor D.D. Ryan to turn this voice into a book. Ryan paired Thompson with her neighbor, a young illustrator named Hilary Knight, and a year later the first Eloise book was complete.
2. ELOISE WAS NEVER SUPPOSED TO BE A CHILDREN'S BOOK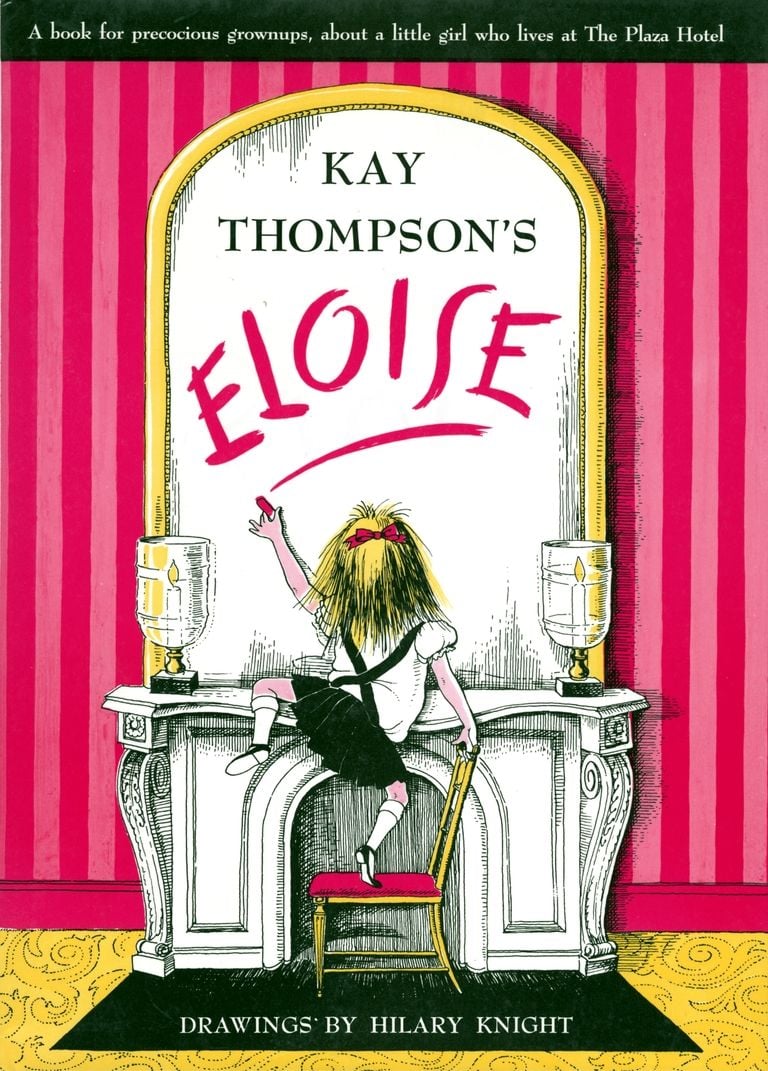 The book's cover bears the caveat, "A book for precocious grown-ups, about a little girl who lives at the Plaza Hotel." After all, she was running around essentially unsupervised, ignored by mostly-absent parents, drinking champagne, and pouring water down mail chutes at one of the most luxurious hotels in America. According to illustrator Hilary Knight, "Kay said,'this is not a children's book.' It evolved, I don't know how it evolved to be the way it is, but it looks like a child's book so children think that's what it is, and they made it into one."
In Lena Dunham's 2015 HBO documentary It's Me, Hilary: The Man Who Drew Eloise, Knight mentions that because it was marketed as an adult book, the New York Timesdidn't review it because they didn't know what to do with it. Ultimately, though, it was an instant, smashing success. Life magazine said Eloise was "the most controversial literary heroine of the year. She charms and terrifies like a snake."
3. HILARY KNIGHT IS AN ACCOMPLISHED ARTIST.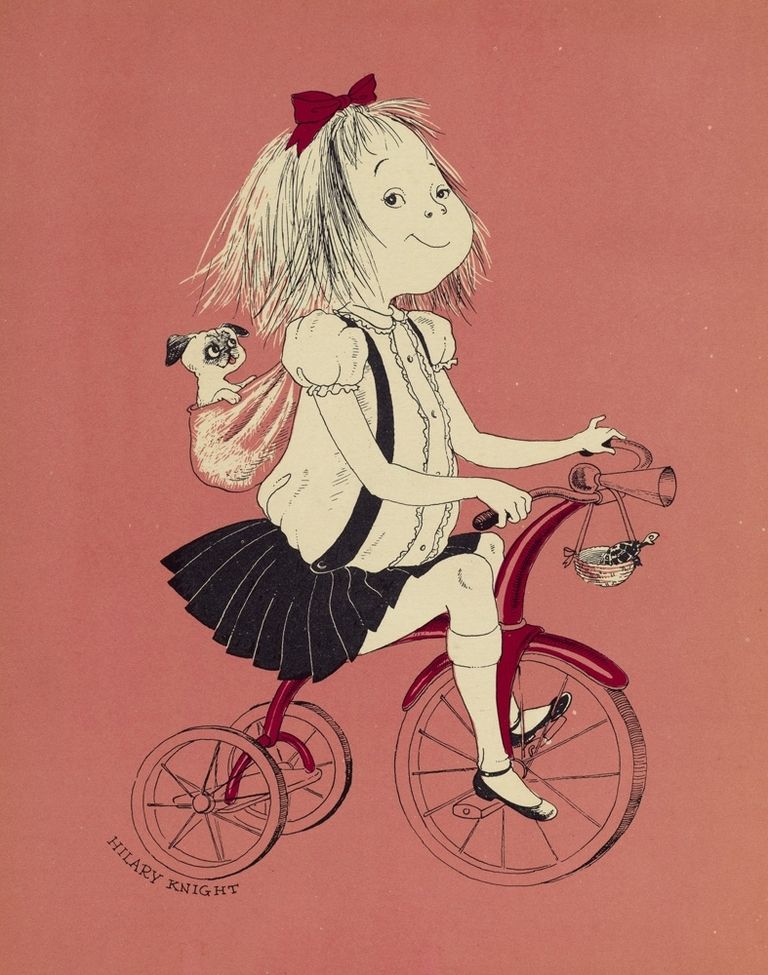 In the 1960s, during their work on Eloise Takes a Bawth, Thompson pulled Knight from the project with little explanation and ceased publication of the books entirely—the original four were re-released in 1999 after Thompson's death with a special Pink and Black Ball at the Plaza, and Eloise Takes a Bawth was finally released in 2002. Knight went on to a long and varied career as an artist. He has been a staff illustrated at Vanity Fair, illustrated Neiman Marcus catalogs, provided artwork to more than 50 books (nine of which he wrote himself), and bejeweled fans that were used in both Richard Avedon photographs and a 1950s Revlon campaign featuring Carmen Dell'Orefice.
Additionally, he has created innumerable theatre and dance posters that are on view in the exhibition "Hilary Knight's Stage-Struck World" at the New York Public Library for the Performing Arts at Lincoln Center through September 1. At 90, Knight also has two graphic novels coming out in the next two years, one called Olive & Oliver: The Formative Years, written by his nieces, and another autobiographical memoir called Hilary Knight: Drawn From Life. "I'm more active right now than I have ever been", Knight says.
4. ELOISE IS ACTUALLY QUITE DIFFICULT TO READ ALOUD.
"I think children are interested in [Eloise] because Kay was a musician, and if the right person is reading it, [it works]. It's hard to read. The dialogue has a lilt to it, and that comes from [Thompson's] writing music," Knight says. Thompson didn't just arrange songs for MGM, she also wrote some for her own cabaret act. Over the years Knight has heard several people read it aloud, but his favorite—other than Thompson—was actress Dorothy Loudon, known best for originating the role of Miss Hannigan in the musical Annie on Broadway in 1977.