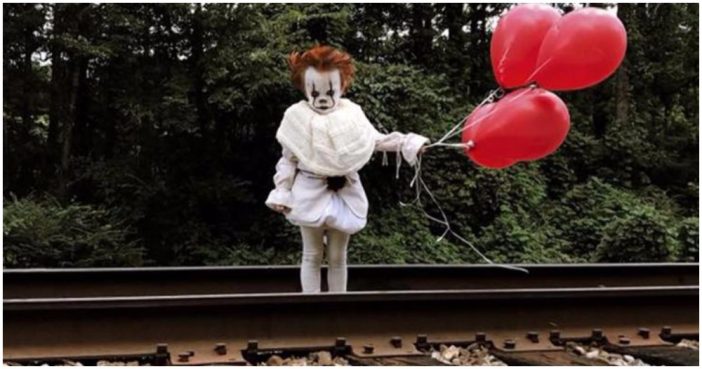 "We're all terrified down here!"
The creepy clown phenomenon continues with an adorably horrifying 3-year-old Pennywise.
Mississippi teenager Eaghan Tilghman has capitalized on the upcoming release of "It," an adaptation of Stephen King's famous novel and the miniseries from 1990. He showed his creative chops when he dressed up his younger brother, Louie, 3, as the story's killer clown, Pennywise.
In almost every shot, Louie carries the bone-chilling red balloons that Pennywise made famous.
In one shot, he stands along a railroad; in another he smiles maliciously. Perhaps the most frightening photo is Louie, as Pennywise, emerging from murky water (above).
Tilghman took to Instagram to show his followers what Louie actually looked like, sans the signature white makeup.
Tilghman captioned the post by saying, in part, "So as you can tell, he's pretty serious about staying in character."
The 17-year-old also spoke with Mashable about the neat costume arrangement. He said he was inspired by work he'd done with his other brother, Hosea, 4, who wanted face paint like The Joker. That sparked the interest in dressing Louie up as the clown, playedin the latest version by Bill Skarsgård.