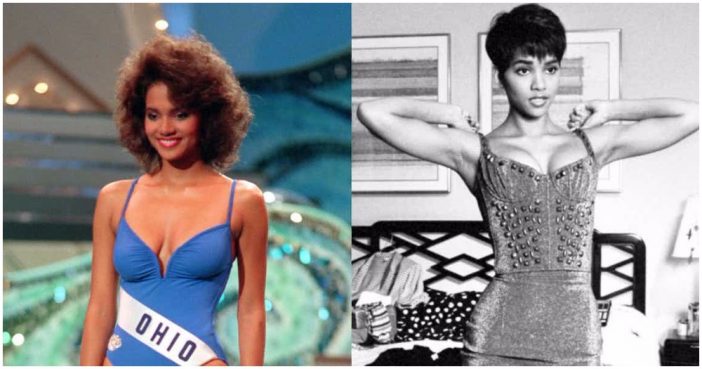 Halle Berry's undoubtedly one of the greatest actresses of her time. She's been around for absolute ages, or since 1989, and has established herself as one of Hollywood's leading ladies. She's uber talented, can make any role into a success, and she's super hot too, which of course always helps when it comes to getting a fan following, and Halle's acquired a rather sizable fan following over the years. We've seen her transform from this young actress, fresh out of the modeling industry and beauty pageant scene, to the actress we all know and love today, one of the best.
Looking back at things, her filmography and those iconic films she's starred in, it's amazing to think about all she's accomplished. And she's not done yet, not by a long shot. She's a work horse and just keeps churning out hit after hit, and is showing no signs of slowing down, even now she's reached her half century. Yes, amazingly, Halle Berry reached a massive milestone last year, and that's her 50th birthday. But – aside from the hairstyles and changes in fashion – she looks exactly like she did 20 year back; this is one woman who just never seems to age. Halle looks fabulous at 50, and has looked stunning right throughout her career from beauty queen to Bond girl, and consequently there are a ton of hot pics of her out there on the webosphere for people to admire. But now that she is 50, let's look back to some pics from her younger days, to remind ourselves how amazing she's always managed to look. These are 13 hot pics of a younger Halle Berry to refresh your memory,  because you definitely need to reminisce.
1

.

 Muscle Woman
Halle's renowned for being beautiful but also for having an amazing physique and being incredibly fit. Sure, it's kind of part of being a star nowadays, you've got to look incredible and have a stunning body, meaning you've got to be fit and healthy, but Halle was into all of that long before the whole fitness thing became a craze amongst celebrities. This is a pic of her from her modeling days. I can't say when this was taken, although it's safe to assume that it's a pic from her younger days, and you can see just how fit she was back then. She's modeling that patterned top and those black pants, but the pic's not really about the clothes, it's all about Halle. She looks amazing, flexing doing a double bicep pose, and we can see plenty of her hot set of "twins" too as she flaunts her body for the cameras.
2

.

 Strictly Business
Okay, so this is really a blast from the past. Halle had only been acting for a couple of years when she got this role. She'd been a regular on the TV series, Living Dolls, but after the show got cancelled, she decided to try her luck in L.A. She managed to get a few more TV roles, but she was really after roles in movies, and wanted to become a big time actress on the big screen. Her first movie role was a start, a small role as a drug addict in Spike Lee's Jungle Fever, but it got her started, and was enough to get her noticed. Later that year she earned her first major role in the movies, co-starring in Strictly Business, and after that her career gradually began to gain momentum and she went from strength to strength. This is a still from that movie, in which she plays a career woman; judging from this pic you'd certainly say her character was on the path to success – she certainly dressed to impress.
3

.

 Race The Sun
By 1996, Halle was already into the swing of things and had established herself as one of the hottest, most desirable and best actresses around. She'd done nine films since then, and this is a pic of her on the set of her seventh, Race the Sun, and what a stunning location it was, made all the more beautiful because of Halle's presence. The film's set in Hawaii and Halle fit right in – in fact, many people think she looks like she comes from that tropical part of the U.S. In the movie, Halle plays a science teacher – can't see how her students would've gotten much work done with her at the head of their classroom! We also, much to everyone's delight, saw a lot of her in her bikini sunning herself on the beautiful beaches the region has to offer. With her hourglass curves and Mona Lisa smile, Halle looks stunning in this pic, and of course that Hawaiian print bikini and garland of flowers just ads to the exotic nature of it all.