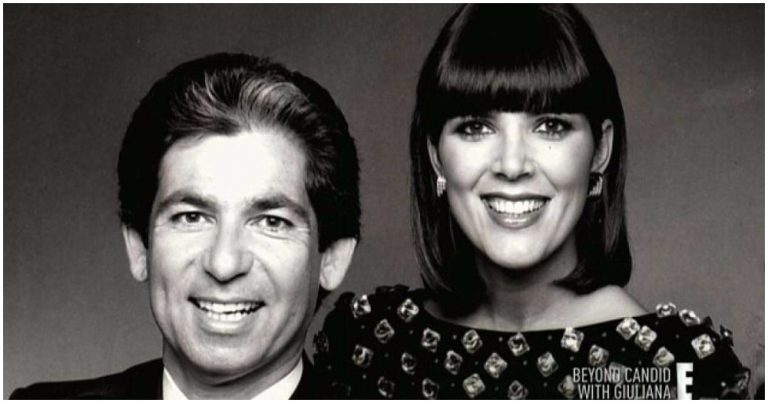 Love is blind, and sometimes it's also deaf, dumb, delusional, and in denial. That's the only way we can really explain how these otherwise delightful stars ended up tying the knot with such massive jerks.
1. Sandra Bullock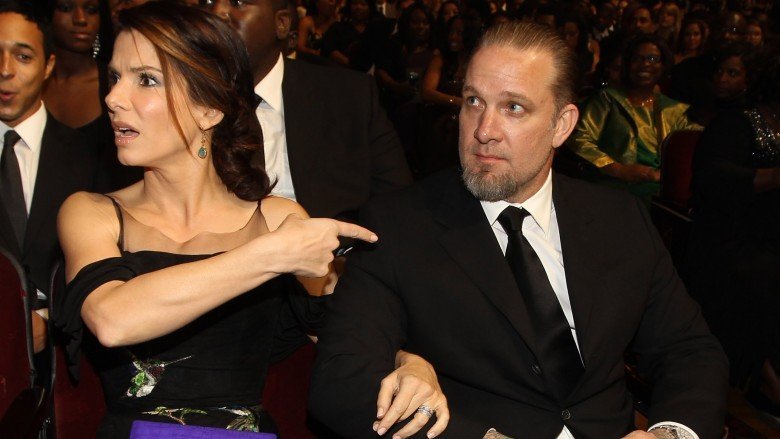 Sandra Bullock is beloved by most movie-going audiences, so when she got teary thanking then-husband Jesse James at the 2010 Oscars, we all rooted for them. That also made it hurt twice as much when news broke that James allegedly cheated on America's sweetheart. He didn't just cheat, though—he cheated with a slew of women, at least one of whom had no issue rocking Nazi regalia. That may not have bothered James, though. He's reportedly been linked to Nazi-related art for quite a while, and some very unsettling photos of him in Nazi gear went public. Sources told Us Weekly that James is "into history…The swastika deal is to scare people. It's part of biker culture."
Bullock kicked him to the curb and told People (via the New York Daily News), "The photo shocked me and made me sad. This was stupid, this was ignorant. Racism, anti-Semitism, sexism, homophobia, anything Nazi and a boatload of other things have no place in my life."
2. Paul McCartney
Paul McCartney's marriage to Heather Mills didn't seem terrible—until they divorced. The couple was married for less than six years before finalizing the divorce in March 2008. Justice Hugh Bennett, who presided over the split, wasn't impressed with Mills' efforts to snag $250 million from the former Beatle.
"I am driven to the conclusion that much of her evidence, both written and oral, was not just inconsistent and inaccurate but also less than candid," Bennett wrote in his ruling (via People), noting that her requests for $400,000 annually for private flights, $80,000 for wine, and $250,000 for clothes were "ridiculous…unreasonable, indeed exorbitant."
As recently as March 2015, Mills was still insulting McCartney, despite being awarded $48.6 million in the divorce settlement. She told U.K.'s The Late Late Show that McCartney was irrelevant, saying "No, they're not [interested in McCartney]…When I go down the street, I get kids coming up to me—half of them don't even know who he is—that's why he's got to do songs with Rihanna and Kanye West, so people remember." She added, "When I go down the street, it's 'Oh my God, you're a ski-racer' or 'You help the animals.' You know, I own the biggest vegan company in the world. This is just someone I fell in love with who to me was a normal guy that happened to write a few cool songs in the '60s and a few in the '70s. Like everybody that's a partner—you fall in love, you get married, you sometimes then go, 'Oh my God, this is completely wrong,' you wake up, and you move on."
3. Mariah Carey
Mariah Carey's first marriage to record exec Tommy Mottola was the stuff of Lifetime movies: rich, powerful, and allegedly very controlling. Vanity Fair reported that Mottola, who was married with kids when he met Carey, often dished to his colleagues about his intimate life with Carey. Even worse, he allegedly wouldn't let her leave their mansion alone and employed security guards to follow her 24/7—even to the bathroom. He also allegedly dictated Carey's entire life, even telling her when to sit and stand. Mottola was also accused of sabotaging her 2001 album and film, Glitter (2001).
Though he denied any abusive behavior, he wrote in his memoir (excerpted by Billboard) that the relationship was "absolutely wrong and inappropriate" and that he is "truly sorry for any discomfort or pain that all of my good intentions inevitably caused her, and most of all for the scars it left on my two oldest children." Sure he is, but that still hasn't stopped him from talking about Mimi every chance he gets.