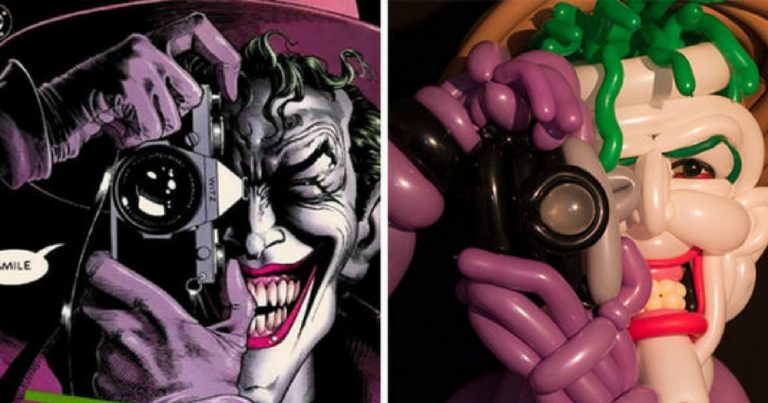 When you're a child and you see a magician or clown at a birthday party one of the coolest "tricks" they do is making balloon animals.  However, never in your wildest dreams would you expect these people to make your favorite movie, TV, or even comic book characters.  Clearly, I've been away for the past 30 years because the advances in balloon making have been vast.  At least from this one guy.   He goes by the name Phineas Flash and he recreates comic book covers using balloons.  How might he do this?  Scroll down to see his explanation along with his artwork:
BATMAN: THE KILLING JOKE
Over the last few months, I have been recreating classic comic book covers whenever I had time. These balloon sculptures are larger than life (fitting in a 10 foot by 10-foot space) and take many days to make. I even made had to make one in two sections (Superman vs Muhammed Ali) to allow me to visit New York in the middle of making it.
SUPERMAN VS MUHAMMED ALI
After I finished the main sculpture I use photoshop to add in the lettering (which are un-inflated balloons with wire inside). I'm just learning the program, so forgive any mistakes. I tried to keep digital manipulation to a minimum, so what you are seeing is mainly just latex and air (renewable resources). The balloons I use are all biodegradable and responsibly disposed of, so these sculptures were also super environmentally friendly.
Click NEXT to continue