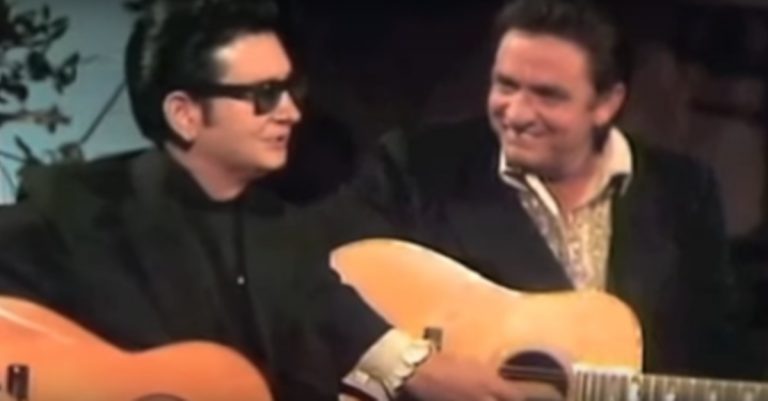 Oh, Pretty Woman – Roy Orbison Live On The Johnny Cash Show
Wasn't The Johnny Cash show just a delight? Every week, Johnny would have the greatest guests, and not only from the world of Country Music! Therefore, many rock and roll legends appeared on the show with Johnny. We're talking legends, too. In other words, such stars as Neil Young to Bob Dylan and James Taylor. We're talking Jose Feliciano and ever Creedence Clearwater Revival! For instance, Roy Orbison made an appearance and played his iconic song, "Oh, Pretty Woman". Above all, Roy Orbison Live on The Johnny Cash Show was beyond a wonderful performance.
The list goes on and on and on. In this timeless video clip from the popular TV show, Cash has the one and only Roy Orbison as his guest. Just listen to the unique advice Johnny gives to Roy! This clip is golden! Then, after the interview, check out all our content on the great, Roy Orbison!
Did you know that these two had a history that went beyond notes on a sheet of music, or strings on a guitar? Roy and Johnny were actually friends back home in Memphis, TN. For instance, the two lived near each other for a time. After the loss of Roy's wife in a horrible motor accident, Roy became extremely reclusive and secluded. However, that did not stop Johnny from continuing their friendship and visiting Roy at his parent's house.
"
Johnny Cash
 & 
Roy Orbison
were friends since before their Sun Records days and raised their children together. The two families were even neighbors in Hendersonville, TN."
– Facebook Page of Johnny Cash
Be sure to SHARE this article if you enjoyed the video of the great Johnny Cash and Roy Orbison singing "Oh, Pretty Woman". Enjoy!