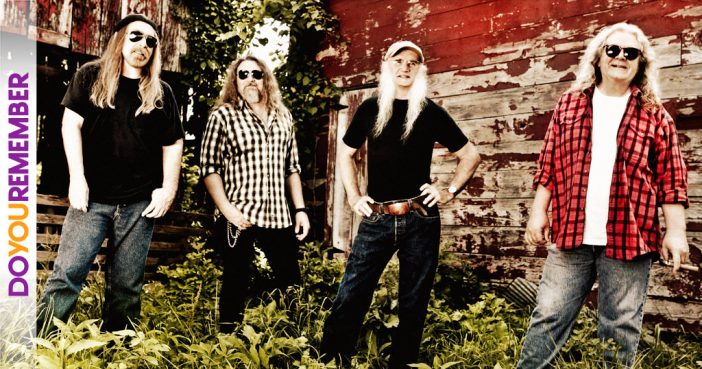 If there's one thing The Kentucky Headhunters have, it's stories…and perhaps an acute awareness of divine providence. After being together in one form or another since 1968, the blues rockers have earned the right to tell us their side of things — from their beginnings to winning Grammy's to their run-ins with Led Zeppelin to almost having their own comic to their latest album, Meet Me in Bluesland. But before all that, we have to go back to 1964, when Richard Young, the band's patriarch for nearly 50 years, first saw the images of rock and roll flashing on his great uncle's black-and-white TV screen. "We went up to our great-uncle's house and saw The Beatles on The Ed Sullivan Show," Young told me.
His voice drips with that trademark country drawl and southern charm. "It was almost just like, 'That's what we're gonna do…we're gonna do this!'" With $20 that their grandmother had given them, the band –which originally consisted of Young, his brother Fred, bassist Anthony Kenney, and lead singer Greg Martin — went out and bought a set of second-hand instruments, and practiced all throughout high school. It was an almost linear progression from there.
"About four years later, [my band mates and I] had our own house, and by 1970, we were playing our own gigs. We moved quite quickly." In that time, the band has had its fair share of brushes with rock n' roll greatness, including almost being the first American band signed to Led Zeppelin's Swan Song Records. "Almost, yeah," Young laughs. "We got there at the tail-end of the [southern rock and roll] heyday; we were a little younger than guys like The Charlie Daniels' Band." It wasn't until they were playing in a bar in 1977 that, "Some of Led Zeppelin's people saw us." So what happened? "We started working with them and producing demos and they were trying to get us in front of [Led Zeppelin]…then Jon Bonham passed." Young takes it in stride, though. "I mean, we couldn't get a break, man," he chuckled. "Something always happened that kept us down, until lo and behold, 10 years later we find ourselves on the top of the pile.
" Sure enough, in 1989, The Kentucky Headhunters hit gold with their album, Pickin' on Nashville. The album scored the band a Grammy and a spot at #2 on the U.S. Billboard Top Country Albums chart. Looking back, Young thinks that those early trials and tribulations were actually a blessing in disguise.
"It gave us enough stature to be able to do things like play with our rock heroes like David Bowie, Bob Dylan, and the like." And while there is a deep sense of appreciation for the legends, Young still has a soft spot for the modern face of rock 'n roll. When asked if rock will become a niche genre like jazz did, Young took exception.
"When we were kids, jazz was not a niche music. When we were growing up, people from all walks of life listened to jazz." On that, Young feels rock and roll is alive and well.
"There's still some great bands out there doing some great stuff," Young argues. "There's just gotta be a radio format that plays those bands." Young should know: His own son, John Fred Young, is the front man for the hard rock band Black Stone Cherry. And hey, even they'd have their run-ins with Led Zeppelin: "My son told me that they were playing a concert," Young mused, "and there was Jimmy Page standing on the side of the stage watching the whole thing.
" Was he nervous? "He said to me, 'Dad, if I'd have seen him, I wouldn't have been able to perform!'" Musical success often branches out into other creative fields, and it's in this crossover appeal where the band almost had another run-in with greatness.
"Back in the early '90s, Marvel Comics published a KISS comic book," Young recalls. "The next comic book they were going to do was going to be The Kentucky Headhunters." Sadly, their connection with Marvel left the company for the Rock n' Roll Hall of Fame, so any hopes of a Headhunters/Avengers team up were sadly dashed. But everything happens for a reason, Young feels, and maybe nowhere is that more apparent than with the Headhunters' latest album, Meet Me in Bluesland, which contains some of the last known recordings of Rock 'n Roll Hall of Fame member, Johnnie Johnson.
Despite being a traditionally southern rock and blues act, "we had a hit with country music," Young said. "And that's what gave us the stature and the power to be able to perform with Johnnie Johnson." And even there, divine providence took hold.
"We were on our way to the Grammy's [in 1990]…and we get there a couple days early. So there's a big party for all the artists, and we look over and see Johnnie Johnson sitting there by himself." Young was in disbelief. "Even The Beatles worshipped Johnnie," he said, referring to Johnson's work with rock 'n roll pioneer, Chuck Berry. "And so we piled in there and talked to him, and he'd say later in an interview that he felt very out of place until the Headhunters showed up.
" From there, the band kept in contact with Johnson, until the two finally came together to record the album way back in 2003. "The minute Johnnie sat down with us, the music was a kind of ecstasy," recalled Young. "Johnnie made us play like real men," adds guitarist/vocalist Greg Martin. "Playing with him, the groove got bigger and much more grown up." And so the band has come full circle — recording with the man who helped inspire the same band that 9-year-old Richard Young fell in love with on a February evening in 1964 on The Ed Sullivan Show. "So now here we are, 58, 60 years old, and we're still playing and doing what we love to do." So if everything does happen for a reason, maybe that last statement is all the reason The Kentucky Headhunters need.
Kentucky Headhunters – Spirit in the Sky
Gallery