With Fathers Day coming up, Do You Remember wants to recognize a very touching song about a child and father relationship, "Cat's in the Cradle" by Harry Chapin. Chapin happens to be one of my all time favorite musicians. His soulful folk music and his story-telling lyrics always hit a chord with me.
He was born on December 7, 1942 and passed away on July 16, 1981. He was an American singer-songwriter known for his folk rock songs including "Taxi", "W*O*L*D", and is best known for the Number 1 Billboard hit, "Cat's in the Cradle."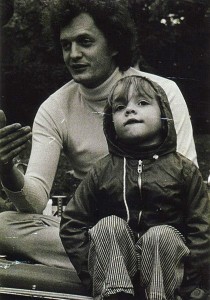 The song is actually based on a poem that Harry's wife Sandy wrote. According to Sandy, "'Cat's In The Cradle' was a combination of a couple of things. Whenever I was on a long drive I would listen to country music, because words would keep me awake more than just music. And I heard a song… I can remember the story, but I don't remember who sang it or what the title was, but an old couple were sitting at their breakfast table and looking out the window, and they saw the rusted swing and the sandbox, and they were reminiscing about the good old days when all the children were around and then the grandchildren, and how it passed, and now it's all gone." Harry Chapin made sure to add various symbols of childhood in the lyrics as reminders of how quickly it ends. For example, "Cat's Cradle" is a game played with string, "Silver Spoons" are ornamental spoons for babies, and "Little Boy Blue" is a well-known nursery rhyme. "Man In The Moon" could be about the human features that children see when they look at the moon.
To find out the full story, click "Next."