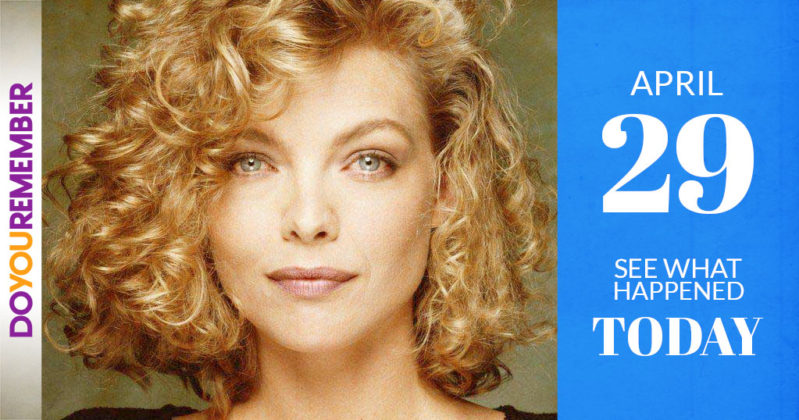 "BORN TODAY"
Taylor Cole (1984) – Actress, Model

Megan Boone (1983) – Actress ("The Blacklist")

Jay Cutler (1983) – Football Quarterback

Tyler Labine (1978) – Actor, ("Dead Last", "Breaker High", "Invasion", "Reaper and Deadbeat", "Tucker & Dale vs Evil")

Uma Thurman (1970) Actress
Paul Adelstein (1969) – Actor ("Private Practice")
Daniel Day-Lewis (1957) – Actor ("My Left Foot" and "Lincoln")

Kate Mulgrew (1955) – Actress ("Ryan's Hope")

Leslie Jordan (1955) – Actor, Playwright

Nora Dunn (1952) – Actress, Comedian ("Saturday Night Live")

Anita Dobson (1949) is an English stage, film and television actress, and singer

Zane Carney (1985) – Actor, Singer ("Spider Man" and "Turn Off The Dark")
Mike Hogan (1973) – Musician (Cranberries)
Andre Agassi (1970) – Tennis player
Uma Thurman (1970) – Actress ("Pulp Fiction")
Master P (Percy Miller) (1970) – Rapper
Michael Timmins (1969) – Musician (Cowboy Junkies)
Carnie Wilson (1968) – Singer (Wilson Phillips)
Mark Kendall (1958) – Musician (Great White)
Eve Plumb 1958 – Actress ("The Brady Bunch")
Michelle Pfeiffer (1957) – Actress
Daniel Day-Lewis (1957) – Actor
Jerry Seinfeld (1955) – Comedian, actor ("Seinfeld")
Kate Mulgrew (1955) – Actress ("Star Trek: Voyager")
Dale Earnhardt (1951 – RIP 2001) – Race Car Driver & Father of race car driver, Dale Earnhardt, Jr.)
Tommy James (1947) – Musician (The Shondells)
Tammi Terrell (1945) – Singer

Richard Kline (1944) – Actor ("Three's Company")

Duane Allen (1943) – Singer (The Oak Ridge Boys)
Lane Smith (1936) – Actor ("Red Dawn," "Lois & Clark: The New Adventures of Superman")
Otis Rush (1934) – Musician
Duke Ellington (1899 – RIP 1974)
Willie Nelson (1933) – Musician, singer – (his family cites April 29, his birth certificate says April 30 at 12:30am)
Keith Baxter (1933) – Actor
Carl Gardner (1928) – Musician (The Coasters)
Danny Davis (1925) – Musician (The Nashville Brass)
Celeste Holm (1919) – Actress
Donald Mills (1915) – Musician (The Mills Brothers)
Richard Carlson (1912) – Actor, director, screenwriter
Tom Ewell (1909 – RIP 1994) – Actor ("The Girl Can't Help It," "The Tom Ewell Show," "Baretta")
"DIED TODAY"
Alfred Hitchcock (

August 13, 1899 – 

April 29, 1980

)

Jean Evelyn Nidetch (October 12, 1923 – April 29, 2015) Was an American business entrepreneur who was the co-founder of the Weight Watchers organization.
"MOVIES TODAY"
Click on the movie title to watch it's trailer.
"MUSIC TODAY"
1963 – Publicist Andrew Oldham and agent Eric Easton signed a management deal with The Rolling Stones after buying the rights to the bands first recordings for £90. They also persuade keyboard player Ian Stewart to drop out of the line up and become the bands road manager, (and still play piano at the back of the stage).

1963 – Lesley Gore released the single "It's My Party"

1967 – Jimi Hendrix, Cat Stevens, Engelbert Humperdinck and the Walker Brothers played two concerts at Bournemouth Winter Gardens in England.

1967 –  Aretha Franklin remained atop the R&B chart for a sixth week with "I Never Loved a Man (The Way I Love You)".

1967 – "Groovin'" by the Young Rascals was the hottest new song, as it soared from 79 to 49.
1967 – Jimi Hendrix The Walker Brothers, Engelbert Humperdink and Cat Stevens played two shows at Bournemouth Winter Gardens, England.

1969 – Working on tracks for the forthcoming Beatles Abbey Road album, Ringo Starr added his vocal to 'Octopus's Garden.'

1972 –  Roberta Flack's "The First Time Ever I Saw Your Face" remained at #1 on the Adult Contemporary chart for the fifth week in a row.

1977 – The Grateful Dead played the first of five nights at the New York Palladium, New York, NYC.

1978 –  Johnny Mathis & Deniece Williams' duet "Too Much, Too Little, Too Late" was #1 on the R&B chart for a third week.

1979 – Van Halen's "Dance The Night Away" single was released.
1980 –  Black Sabbath began their first tour with vocalist Ronnie James Dio, who had replaced Ozzy Osbourne.

1981 – Elton John paid £14,000 for 232 'Goon Show' scripts broadcast during the 50's at an auction held at Christies, London.

1998 –  Steven Tyler broke his knee at a concert in Anchorage, Alaska delaying Aerosmith's 'Nine Lives' tour and necessitating camera angle adjustments for the filming of the video for 'I Don't Want to Miss a Thing.'

1999 – Tommy Lee announced that he had quit Motley Crue to devote time to his new band, Methods of Mayhem, and his family.
"TV/RADIO TODAY"
1961 – ABC's "Wide World of Sports" premiered.
1974 – Phil Donahue's TV show, "Donahue" moved to Chicago, IL.

1973 – John Denver began his weekly John Denver Show on BBC TV in the U.K.

1993 – An animated Barry White was a guest on "The Simpsons."

"OTHER IMPORTANT EVENTS…"
1813 – Rubber was patented by J.F. Hummel.

1913 – Gideon Sundback patented an all-purpose zipper.

1960 – Dick Clark told the U.S. House of Representatives that he had never taken payola for the records he featured on his show "American Bandstand."

1967 – The 14 hour Technicolour Dream benefit party for The International Times was held at Alexandra Palace in London. Seeing the event mentioned on TV, John Lennon called his driver and went to the show. Coincidentally, Yoko Ono was one of the performers. Other acts to appear included The Flies, Pink Floyd, Arthur Brown, The Move and Suzie Creamcheese.

1974 – U.S. President Nixon announced he was releasing edited transcripts of secretly made White House tape recordings related to the Watergate scandal.
1976 – After a gig in Memphis Bruce Springsteen took a cab to Elvis Presley's Graceland home and proceeded to climb over the wall. A guard took him to be another crank fan and apprehended him.

1988 – Eric Clapton filed for a divorce from Patti "Layla" Boyd.

1992 – Paula Abdul and Emilio Estevez were married. They divorced two years later.

1995 – Tupac Shakur married Keisha Morris inside the Clinton Correctional Facility. He was serving a 4 1/2 year jail term for sexual assault.

1988 – After stealing George Harrison's wife (Patti Boyd) from him, Eric Clapton announced that he and Patti were divorcing.

1990 – Floyd Butler of The Friends of Distinction, died of a heart attack at the age of 49. Had the US No.3 single 'Grazing In The Grass' in 1969.

1993 – Guitarist, producer, Mick Ronson died of liver cancer aged 46.
Please let us know if there are any changes, updates, additions or subtractions that we need to make. Thank you for helping us keep "DYRT" (Do You Remember Today?) Up To Date!