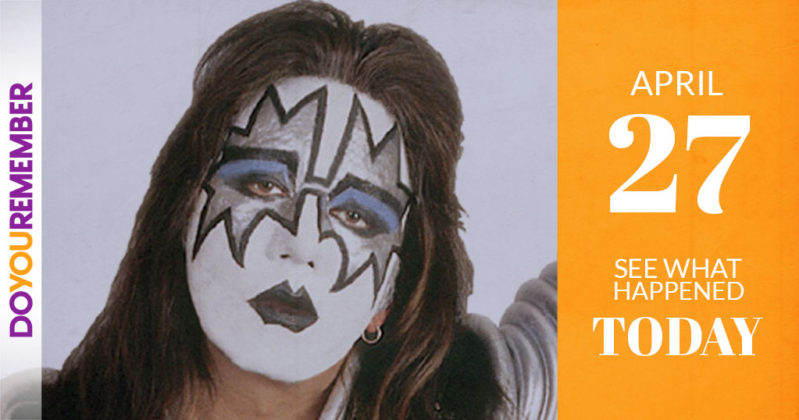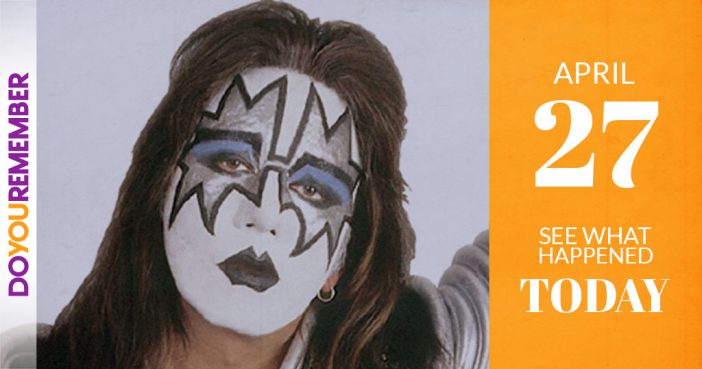 This is what April 27 looks like over the years. Some birthdays include Sheena Easton, Casey Kasem, and The Odd Couple's Jack Klugman! Not to mention some amazing performances in music history!
April 27th… "BORN TODAY"
Ari Graynor (1983) – Actress ("The Sopranos" and "Fringe")

Corey Harrison (1983) "Big Hoss" Harrison is an American businessman and reality television personality

Sally Hawkins (1976) – Actress ("Happy Go Lucky")

Nigel Barker (1972) – Reality TV show personality, fashion photographer, author, spokesperson, filmmaker, and former model.

Maura West (1972) – Actress ("As The World Turns")

Cory Booker (1969) – Politician

Tess Daly (1969) is an English model and television presenter, best known for co-presenting the BBC One celebrity dancing show Strictly Come Dancing since 2004.

Kylie Travis (1966) – Actress ("Models, Inc")

Russell T Davies (1963) – screenwriter and television producer  (Queer as Folk, Bob & Rose, The Second Coming, Casanova)

James LeGros (1962) – Actor

Sheena Easton (1959) – Singer
Ace Frehley (1951) (Featured Above) is an American musician and songwriter best known as the former lead guitarist and founding member of the rock band Kiss. He invented the persona of the "Spaceman" or "Space Ace" and played with the group from its inception in 1973 until his departure in 1982.

Kate Pierson (1948) -Kate Pierson 1948 – Musician (B-52's), B-52s Merchandise

Si Robertson (1948) – "Uncle Si", is an American television personality, preacher, hunter, outdoorsman, retired U.S. Army soldier, and duck-call maker at Duck Commander ("Duck Dynasty")

Ann Peebles (1947)

Cuba Gooding, Sr. (1944 – RIP 2017)

Judy Carne (1939 – RIP 2015) – Actress, comedienne
Sandy Dennis (1937 – RIP 1992) – Actress ("Who's Afraid of Virginia Wolff [1966]", "Splendor in the Grass")
Anouk Aimee (Françoise Sorya Dreyfus) (1932) – Actress ("La Dolce Vita", "Dr. Bethune")

Jack Klugman (1922 – RIP 2012) – Actor ("The Odd Couple", "Quincy, M.E.")

Ulysses S. Grant (1822 – RIP 1885) – 18th U.S. President, Lt. General in command of all Union armies during the U.S. Civil War, nickname: Hero of Appomattox

Casey Kasem (Kemal Amin Kasem) (1932 – RIP 2014) Radio announcer, DJ, host ("American Top 40), character voice of Shaggy from Scooby Doo, actor ("Hawaii Five-O")

Coretta Scott King (1927 – RIP 2006) Wife of Dr. Martin Luther King

Walter Lantz (1900 – RIP 1994) – Animator, creator of Woody Woodpecker
"DIED TODAY"
Edward R. Murrow (

April 25, 1908 –

 April 27, 1965)

Lynne Maria Frederick (25 July 1954 – 27 April 1994)
Marian Ethel Mercer (November 26, 1935 – April 27, 2011)
"MOVIES TODAY"
Click on the movie title to watch it's trailer.
"MUSIC TODAY"
1957 – In a rare appearance outside the United States, Elvis Presley performed at Maple Leaf Gardens in Toronto, Canada where he wore his full gold lame suit for the last time.

April 27, 1957 – Ricky Nelson's first record, "Teenager's Romance," was released.

1957 – Little Richard took over at #1 on the R&B chart with his classic "Lucille".

1959 – Wilbert Harrison's new song was the talk of the town as "Kansas City" moved from #71 all the way to #24.

1959 – The Fleetwoods remained at #1 for a third week with "Come Softly To Me".
1963 – "He's So Fine" by the Chiffons topped the R&B chart for the fourth straight week.

1963 – Little Peggy March started a three week run at No.1 on the US singles chart with 'I Will Follow Him'. At 15 years, 1 month and 13 days old, Little Peggy March became the youngest female singer to have a US No.1 record.

1963 – The Beatles appeared at The Memorial Hall, Northwich, Cheshire, England. The Beatles made a total of six concert appearances at this venue in Northwich.

1964 – In the wake of their big hit "I Want To Hold Your Hand", the Beatles re-released their first U.K. hit "Love Me Do" on Vee-Jay Records.

1965 – Bob Dylan was interviewed by BBC journalist and radio presenter Jack DeManio in the Savoy Hotel, London, for the BBC's Home Service, which was broadcast on the Today programme the following day. Later on the 27th, Dylan and Joan Baez were filmed singing the traditional song Wild Mountain Thyme in the Savoy. Parts of the interview and the song were used in the film Don't Look Back.

1966 – The Beatles started recording the new John Lennon song 'I'm Only Sleeping' at Abbey Road studios London, England. The song features the then-unique sound of a reversed guitar duet played by George Harrison. It was released two months earlier in the United States on the album Yesterday And Today and did not feature on the original US version of Revolver.

1967 – Sandie Shaw was at No.1 on the UK singles chart with 'Puppet On A String', her third UK No.1 and the Eurovision Song Contest winner of 1967.
1968 – Simon & Garfunkel debuted on the chart with "Mrs. Robinson".
1969 – Pink Floyd appeared at Mothers Club in Erdington, Birmingham, England. Recordings from this show were included in the group's 1969 album Ummagumma.

1970 – David Bowie and The Hype, Barclay James Harvest, High Tide and The Purple Gang all appeared at Stockport Grammar School, England.

April 27, 1970 – Elton John released his first single–"Border Song"
April 27, 1971 – The Rolling Stones released "Brown Sugar", the first 45 from their new Rolling Stones Records.
1971 – The Grateful Dead appeared at the Fillmore East in New York City. The Beach Boys also appeared on stage with the Dead, who together performed a short set of Beach Boys songs.

1974 – A free afternoon event was held in the parking lot of the University of Connecticut, Ice Hockey Arena in Storrs. The four acts that appeared, Aerosmith, Bruce Springsteen, Fairport Convention and Fat Back.

1975 – Pink Floyd played the last of a four night run at Los Angeles' Sports Arena. A total of 511 fans were arrested over the four nights.

1979 – Stevie Wonder made a surprise appearance at a tribute to Duke Ellington at Royce Hall on the campus of UCLA in Los Angeles.  Stevie played "Sir Duke" and covered Ellington's "C-Jam Blues".

1981 – Wings broke up with the departure of Denny Laine.

April 27, 1985 – USA For Africa started a three-week run at No.1 on the US chart with 'We Are The World'.
1987 – R.E.M. released their first single "Dead Letter Office".

1991 –  Amy Grant scored a #1 hit with "Baby Baby".
1996 –  Celine Dion could not be budged from the #1 position with "Because You Loved Me", which scored a sixth straight week at #1.

1996 – Oasis played the first of two nights at Manchester's Maine Road football ground as a 'thank you' to their fans, the 80,000 tickets sold out in hours.

1999 – UK band The Verve announced that they had split.
"TV/RADIO TODAY"
1969 – Glen Campbell and Dionne Warwick were guests on Jose Feliciano's TV special.

1969 – Joe Cocker made his television debut on The Ed Sullivan Show.
"OTHER IMPORTANT EVENTS…"
1947 – "Babe Ruth Day" was celebrated at Yankee Stadium.

1964 – John Lennon's "In His Own Write", a collection of funny poems and drawings, was published in the U.S.

1965 – "Pampers" were patented by R.C. Duncan.

1973 – Opryland opened in Nashville, TN.

1976 – Customs officers on a train at the Russian/Polish Border detained David Bowie, after Nazi books and mementoes were found in his luggage. Bowie claimed that the material was being used for research on a movie project about Nazi propaganda leader Joseph Paul Goebbels.

1981 – Ringo Starr married actress and one time 'Bond girl' Barbara Bach. The pair met while filming the movie, Caveman, with Dennis Quaid and Shelley Long. In attendance at the wedding were George Harrison and Paul McCartney.

1983 – Nolan Ryan (Houston Astros) broke a 55-year-old major league baseball record when he struck out his 3,509th batter of his career.

1990 – Axl Rose (Guns N' Roses) married Erin Everly. The marriage lasted for 27 days.
1991 – Bonnie Raitt and Michael O'Keefe were married.

1994 – John Mellencamp's wife Elaine gave birth to the couple's son, Hud, in Bloomington, Indiana.

2005 – U.S. President George Bush signed a law that allowed for up to three years in prison for anyone that pirated music or films on the Internet.
A BIG HAPPY BIRTHDAY TO SHEENA EASTON! Here is my all-time video of her with Kenny Rogers. RIP Kenny, we miss you!
Please let us know if there are any changes, adjustments, updates or things we need removed. We appreciate your assisting us to keep this calendar as concise and up to date as possible.
RELATED: 13 Famous People Who Mysteriously Disappeared (And Have Never Been Found)