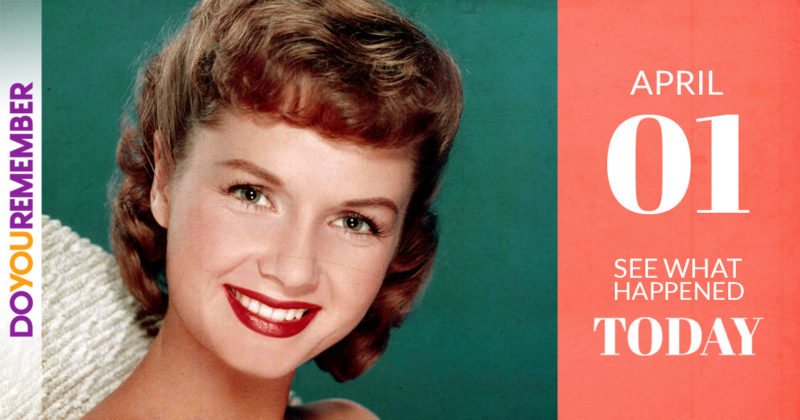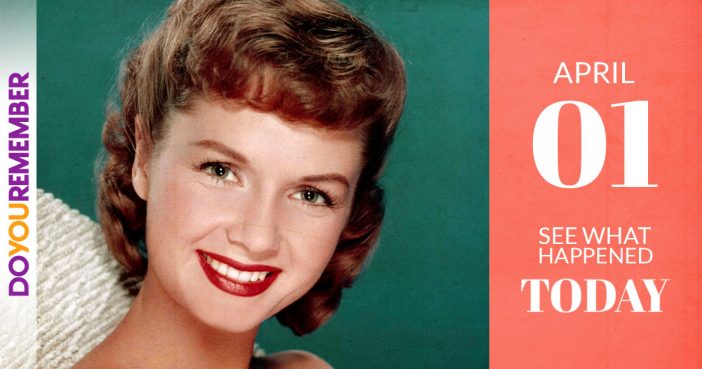 BORN TODAY
Kid Ink (1986)
Hillary Scott (1986)
Matt Lanter (1983)
Sam Huntington (1982)
Taran Killam (1982)
Randy Orton (1980)
Bijou Phillips (1980)
Jon Gosselin (1977)
David Oyelowo (1976)
Joe Francis (1973)
Rachel Maddow (1973)
Traci Lin-Tavi (1969)
Chris Evans, The presenter (1966)
Jane Adams (1965)
Phillip Schofield (1962)
Susan Boyle (1961)
Jennifer Runyon (1960)
Barry Sonnenfeld (1953)
Annette O'Toole (1952)
John Barbata (1945)
Rudolph Isley (1939)
Ali MacGraw (1939)
John Quade (1938) RIP
Jim Ed Brown (1934) RIP
Don Hastings (1934)
Gordon Jump (1932)  RIP
Debbie Reynolds (1932)  RIP
George Baker (1931)  RIP
Grace Lee Whitney (1930)  RIP
Jane Powell (1929)
George Grizzard (1928) RIP
Bobby Jordan (1923) RIP
DIED TODAY
Marvin Gaye (Born: April 2, 1939 / Died: April 1, 1984)
Max Ernst (Born: April 2, 1891 / Died: April 1, 1976)
Martha Graham (Born: May 11, 1894 / Died: April 1, 1991)
John Forsythe (Born January 29, 1918 / Died: April 1, 2010)
MOVIES TODAY
1930 "The Blue Angel" starring Marlene Dietrich premiered in Germany
1970 – The "Woodstock" movie premiered in Hollywood.
1976 – The Duchess And The Dirtwater Fox
1977 – Raggedy Ann & Andy: A Musical Adventure
1980 – The Baltimore Bullet was released
1983 – Heart Like a Wheel
1988 – Bright Lights, Big City
1988 – The Seventh Sign
1993 – The House of the Spirits
1994 – Clifford
MUSIC TODAY
1961 – Troy Shondell recorded "This Time."
1961 – The Beatles began their three-month residency at Hamburg, Germany, playing for 92 straight nights.
1963 – Fats Domino signed with ABC-Paramount after his Imperial contract ended.
1964 – John Lennon was reunited with his father after 17 years.
1966 – The Troggs recorded their worldwide hit "Wild Thing" at Regent Sound Studio in London.
1966 – David Bowie's single "Do Anything You Say" was released by Pye Records.
1969 – The Beach Boys announced they were suing Capital Records for $2m in unpaid royalties.
1976 – AC/DC made their debut in Hammersmith, London.
1983 – Kirk Hammett joined Metallica.
1984 – Marvin Gaye was shot by his father in his home in Los Angeles, CA over an argument on misplaced documents.
1985 – David Lee Roth left Van Halen to pursue a solo career.
1991 – Rod Stewart was surprised onstage by Elton John, who was wearing a dress.
TV/RADIO TODAY
1941 – The first contract for advertising on a commercial FM radio station began on W71NY in New York City.
1949 – "Happy Pappy" premiered. It was the first all-black-cast variety show.
1955 – "One Man's Family" was seen on TV for the final time after a six-year run on NBC-TV.
1963 – Soap operas "General Hospital" & "Doctors" premier on TV
1976 "Helter Skelter", detailing Charles Manson's cult "family", their capture, trial, conviction and aftermath, premieres on CBS
OTHER IMPORTANT EVENTS…
1916 – The first national women's swimming championships were held.
1927 – The first automatic record changer was introduced by His Master's Voice.
1929 – Louie Marx introduces Yo-Yo
1938 – The Baseball Hall of Fame opened in Cooperstown, NY.
1946 – Weight Watchers was formed.
1956 – Elvis Presley filmed his first Hollywood screen test.
1975 – Barbra Streisand attends tonight's Elvis Presley show in Vegas and meets the King backstage to discuss offering him the lead role in her latest film project: a remake of the classic A Star Is Born. Despite the fact that Streisand's boyfriend, stylist Jon Peters, is slated to produce and direct, Presley is said to be ecstatic about the project.
1976 – Apple Computer began operations.
1978 – Disney World is visited by 85,123 guests on this day!
1984 – Mick Fleetwood, whose band, Fleetwood Mac, had the biggest-selling album of all time just seven years earlier, files for bankruptcy.
1987 – The very first Disney Store opens – in the Glendale Galleria in Glendale, California. It is Disney's first retail store outside of a theme park or resort.
1987 – Steve Newman was the first man to walk around the world. The walk was 22,000 miles and took 4 years.
1991 – Conor Clapton, Eric's four-year-old son was buried in England with Phil Collins and George Harrison attending the funeral. Conor died after falling out of an apartment window in New York City.
1996 – Phil Collins announced he was leaving Genesis for a solo career.
1997 – The Atlanta Braves put Disney's Wide World of Sports into motion when their exhibition game with the Cincinnati Reds launches competitive play at the brand new sports complex in Florida. A capacity crowd watches the Braves beat the Reds 9-7. Reds outfielder Deion Sanders records the first hit, steals the first base and scores the first run in the new Disney complex. But it is Fred McGriff of the Braves who smacks the complex's very first home run!
1997 – David Carradine received a star on the Hollywood Walk of Fame.
1998 – KISS played the first of five sold-out shows at the Budokan in Tokyo, Japan.
1998 – In Florida, animator Marc Davis (one of Walt's "Nine Old Men") adds his signature and handprints in cement in front of the Mann's Chinese Theater replica at the Disney-MGM Studios.
PLEASE SHARE ANY CORRECTIONS OR CHANGES WITH US SO WE CAN KEEP OUR DYRT AS CONCISE AND UP TO DATE AS POSSIBLE. THANK YOU FOR HELPING US OUT!