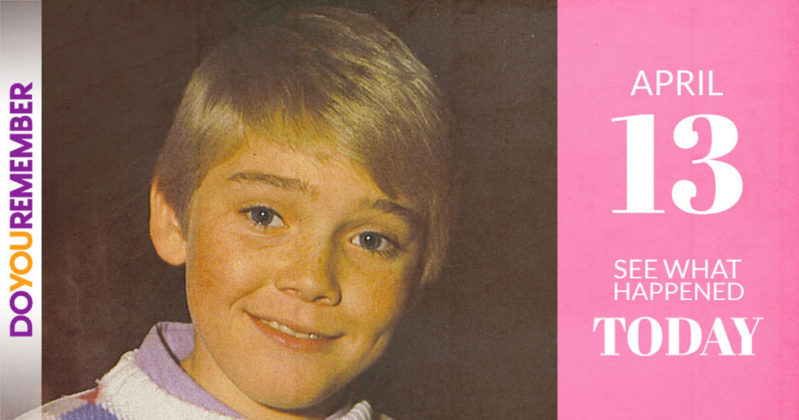 April 13
"BORN TODAY"
Lee Newton (1985) – Actress, Comedian and Web personality
Nell Marie "Nellie" McKay (1982) – British-American singer, Songwriter, Actress, and Former Stand-up Comedian
Courtney Peldon (1981) – Actress
Kelli Giddish (1980)
Kyle Howard (1978)
Lou Bega (born David Lubega) – (1975) – Most famous for "Mambo No. 5"
Aaron Lewis (1972) – Musician
Jonathan Brandis (1976) – Actor ("seaQuest DSV")
Rick Schroder (1970) – Actor ("Silver Spoons", "NYPD Blue") (Featured Above)
Caroline Rhea (1964) – Actress, Comedian
Page Hannah (1964) – Actress
Hillel Slovak (1962) – Musician (Red Hot Chili Peppers)
Saundra Santiago (1957) – Actress ("Miami Vice")
Gary Kroeger (1957) – Actor
Jimmy Destri (1954) – Musician (Blondie)
Max Weinberg (1951) – Musician (E Street Band)
Peabo Bryson (1951)
Ron PerlmanRon Perlman (1950) – Actor ("Beauty and the Beast" series)
William Sadler (1950) – American Film And Television Actor
Al Green (1946) – Singer, songwriter
Tony Dow (1945) – Actor ("Leave it to Beaver")
Paul Sorvino – (1939) – American actor, opera singer, businessman, writer, and sculptor ("Goodfellas", "Law and Order" and "Dick Tracy")
Edward Fox (1937) – Actor ("The Big Sleep", "Portrait of a Lady")
Don Adams (Donald James Yarmy)  – (1923 – RIP 2005) – Actor ("Get Smart")
Stanley Donen – (1924)
Jules Irving (Julius Israel) – (1925 – RIP 1979) was an American actor, director, educator, and producer
Harry Clifford Keel – (1919 – RIP 2004) – Actor ("Dallas"), Singer
Butch Cassidy (Robert LeRoy Parker) (1866) – American train robber, bank robber and leader of the Wild Bunch Gang
Frank W. Woolworth (1852) – Merchant, created the five and ten cent store, head of F.W. Woolworth & Co.
"DIED TODAY"
Larry Parks (December 13, 1914 – RIP 1975)
Stephen Stucker (July 2, 1947 – RIP 1986)
Dorothy Frooks (February 12, 1896 – RIP 1997)
"MOVIES TODAY"
1984 – Friday The 13th: The FInal Chapter is a slasher film and the last film of the Friday the 13th series franchise. It was released on this day and was directed by Joseph Zito.
1984 –

Phar Lap (also released as

Phar Lap: Heart of a Nation

) is a film about the racehorse Phar Lap. The film starred Tom Burlinson and was written by famous Australian playwright David Williamson.

1984 – Swing Shift is a drama and romantic war film directed by Jonathan Demme. It stars Goldie Hawn and Kurt Russell set in the World War II era.
https://youtu.be/tBtLl9jjfMg
1990 – Crazy People is a comedy film starring Dudley Moore and Daryl Hannah. It was directed by Tony Bill.
"MUSIC TODAY"
1967 – The Rolling Stones performed their first concert behind the Iron Curtain at the Palace of Culture in Warsaw, Poland.

1969 – Diana Ross appeared solo on Dinah Shore's NBC-TV special "Like Hep".

1970 – Led Zeppelin became the first band to sell out the Montreal Forum.

1980 – The Broadway musical "Grease" closed after 3,883 performances.

1985 – The single "We Are the World" hit #1 in the U.S.
https://youtu.be/rZ26DMkMFks
1994 – Billy Joel and Christie Brinkley announced that they were separating.

1999 – VH1 debuted their Internet radio station called VH1 at Work. The first webcast was the "Divas Live" concert.
"TV/RADIO TODAY"
1925 – WGN became the first radio station to broadcast a regular season major league baseball game. The Cubs beat the Pirates 8-2.

1956 – KETA channel 13 in Oklahoma City, OK (PBS) begins broadcasting

1964 – 36th Academy Awards hosted – "Tom Jones", Best Film, Sidney Poitier & Patricia Neal win Best Actor/Actress
1967 – The final "Where the Action Is" aired on ABC-TV.

1969 – The "33 1/3 Revolutions Per Monkee" TV special aired on NBC.
1980 – Gary Numan released "The Touring Principle," a 45-minute concert video. It was the first commercially available home rock videocassette.

1990 – The final episode of Pat Sajak's late night TV show aired on CBS.
1985 – "The Grand Ole Opry" debuted on television.
"OTHER IMPORTANT EVENTS…"
1933 – The first flight over Mount Everest was completed by Lord Clydesdale.

1943 – U.S. President Franklin D. Roosevelt dedicated the Jefferson Memorial.

1949 – Philip S. Hench and associates announced that cortizone was an effective treatment for rheumatoid arthritis.

1954 – Hank Aaron debuted with the Milwaukee Braves.

1960 – The first navigational satellite was launched into Earth's orbit.

1961 – The U.N. General Assembly condemned South Africa due to apartheid.

1964 – Sidney Poitier became the first black to win an Oscar for best actor. It was for his role in the movie "Lilies of the Field."
1970 – An oxygen tank exploded on

Apollo 13

, preventing a planned moon landing.

1972 – The first strike in the history of major league baseball ended. Players had walked off the field 13 days earlier.

1976 – The U.S. Federal Reserve introduced $2 bicentennial notes.

1979 – The world's longest doubles ping-pong match ended after 101 hours.

1997 – Tiger Woods became the youngest person to win the Masters Tournament at the age of 21. He also set a record when he finished at 18 under par.

1998 – Dolly, the world's first cloned sheep, gave natural birth to a healthy baby lamb.