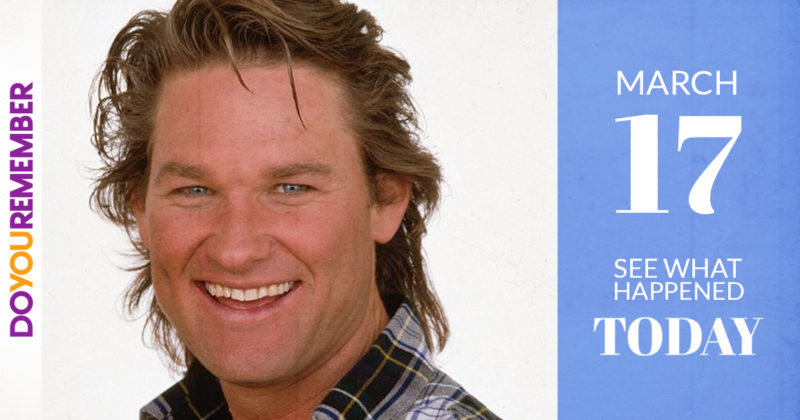 "March 17"
"BORN TODAY"
Patrick Duffy (67)
John Boyega (24)
Hozier (26)
Mason Musso (27)
Grimes (28)
Rob Kardashian (29)
CoCo (37)
Stormy Daniels (37)
Tamar Braxton (39)
Brittany Daniel (40)
Cynthia Daniel (40)
Justin Hawkins (41)
Natalie Zea (41)
Marisa Coughlan (42)
Caroline Corr (43)
Mia Hamm (44)
Matthew St. Patrick (48)
Billy Corgan (49)
Rob Lowe (52)
Vicki Lewis (56)
Gary Sinise (61)
Lesley-Anne Down (62)
Kurt Russell (65)
"DIED TODAY"
Samuel George Jr. (Born: 1943 / Died: March 17, 1982)
Helen Hayes (Born: October 10, 1900 / Died: March 17, 1993)
Terry Stafford (Born: November 22, 1941 / Died: March 17, 1996)
Jermaine Stewart (Born: September 7, 1957 / Died: March 17, 1997)
J.J. Jackson (Born: April 8, 1941 / Died: March 17, 2004)
"MOVIES TODAY"
1929 – The Disney Mickey Mouse short Plane Crazy – now with sound – premieres at the Mark Strand Theater in New York City
1931 – Disney's Mickey Mouse cartoon Traffic Troubles is released. Reckless taxi driver Mickey is having a tough day with traffic, a flat tire, a phony patent-medicine man, and a collision with a cow and barn!
1939 – The Disney short Goofy and Wilbur, directed by Dick Humer, is released. Goofy enlists the help of his friend Wilbur, a grasshopper, in a fishing expedition, but later has second thoughts when he realizes that his friend just might get eaten by a fish! Goofy's first solo appearance in a short (and with the name "Goofy"), it is also the debut of Wilbur the grasshopper
1971 – The Barefoot Executive is a live-action Walt Disney Productions film starring Kurt Russell (who turns 20 years old on this day) as Steven Post, an eager mailroom clerk desperate to impress his production company bosses with his clever televison programming skills. The Barefoot Executive provides the film debut of John Ritter as Roger, the scheming nephew of the boss, played by veteran funny-man Joe Flynn. Harry Morgan plays the network president and character actor Wally Cox plays Merton his chauffeur.
1978 – Casey's Shadow is a drama Metrocolor film directed by Martin Ritt and starring Walter Matthau. The film was based on the short story "Ruidoso" (published 1974) by John McPhee. Much of the exterior shots were done in the town of Opelousas, LA (20 miles north of Lafayette, LA).
1989 – Fletch Lives is a 1989 comedy film starring Chevy Chase. It was directed by Michael Ritchie with a screenplay by Leon Capetanos based on the character created by Gregory Mcdonald. Fletch Lives was released by Universal Pictures. It is a sequel to the 1985 film Fletch.
1989 – The Rescuers was re-released. Produced by Walt Disney Productions, it was first released on June 22, 1977. The 23rd film in the Walt Disney Animated Classics series, the film is about the Rescue Aid Society, an international mouse organization headquartered in New York and shadowing the United Nations, dedicated to helping abduction victims around the world at large. Two of these mice, jittery janitor Bernard (Bob Newhart) and his co-agent, the elegant Miss Bianca (Eva Gabor), set out to rescue Penny (Michelle Stacy), an orphan girl being held prisoner in the Devil's Bayou by treasure huntress Madame Medusa (Geraldine Page).
1995 – Bye Bye Love is a comedy-drama film that deals with the central issue of divorce. It stars Matthew Modine, Randy Quaid, Paul Reiser, Janeane Garofalo, Amy Brenneman, Eliza Dushku, Rob Reiner, Amber Benson, and Lindsay Crouse. Production costs were heavily underwritten by McDonald's product placement. Goldberg and Hall stated that they included in the script several fictionalized accounts of events that had happened to divorced friends of theirs.
1995 – Losing Isaiah is an American drama film starring Jessica Lange and Halle Berry  The natural and adoptive mothers of a young boy are involved in a bitter, controversial custody battle.
2000 – Erin Brockovich –  The film is a dramatization of the true story of Erin Brockovich, portrayed by Julia Roberts, who fought against the energy corporation Pacific Gas and Electric Company (PG&E). The film was a box office success, and critical reaction was positive. Roberts won the Academy Award, BAFTA, Golden Globe Award, Screen Actors Guild Award, and various critics awards for Best Actress. The film itself was also nominated for Best Picture and Best Director for Steven Soderbergh at the 73rd Academy Awards. Early in the film the real Erin Brockovich has a cameo appearance as a waitress named Julia.
"MUSIC TODAY"
1956 – Frankie Lymon & the Teenagers moved to #1 on the R&B chart with "Why Do Fools Fall In Love".
1956 – Elvis Presley's "Heartbreak Hotel" reaches #1 on the Billboard country singles chart
1958 – A new artist with a twangy guitar first debuted on the chart on this date.  Duane Eddy's first single was "Movin' N' Groovin'".
1958 –  "Tequila" hit #1 for the Champs.
1962 – Jay & the Americans first appeared on the chart with their debut single–"She Cried".
1962 –  "Soldier Boy" was released by the Shirelles
1962 –  "Duke Of Earl" by Gene Chandler continued as the #1 R&B song for the fifth week.
1966 –  The Walker Brothers scored a #1 in the U.K. with "The Sun Ain't Gonna' Shine Anymore".
1968 – Louis Armstrong and his 7-piece band record the final 3 songs for his upcoming LP Disney Songs the Satchmo Way in a Hollywood studio. Today's session, produced by Tutti Camarata, includes "Chim Chim Cher-ee," "Heigh-Ho," and "Whistle While You Work."
1969 – Eddie Holman's "Hey There Lonely Girl" is certified gold.
1969 – Capitol releases Glen Campbell's "Galveston"–the single and the album   1969 –  Cream released the single "Badge".
1972 –  Dr. Hook released the single "Sylvia's Mother".
1973 –  "Danny's Song" by Anne Murray was the new #1 on the Adult chart.
1973 –  Gladys Knight & the Pips had another hot song as they took over at the top of the R&B chart with "Neither One Of Us (Wants To Be The First To Say Goodbye)".   1973 –  Roberta Flack spent a fourth week at #1 with one of The Top 500 Songs of the Rock Era*–"Killing Me Softly With His Song.
1973 –  Dark Side of the Moon by Pink Floyd first entered the Album charts.  It would go on to be the longest-running album of all-time.
1975 –  John Denver released the single "Thank God I'm A Country Boy".
1979 –  Gloria Gaynor moved to #1 in the U.K. with "I Will Survive".
1979 –  The Bee Gees has the top album in the U.K. with Spirits Having Flown.
1980 –  Robbie Dupree released the single "Steal Away".
1984 –  Rockwell owned the new #1 on the R&B chart with "Somebody's Watching Me".
1984 –  Van Halen made it four weeks at #1 with "Jump", heading off Cyndi Lauper's "Girls Just Want To Have Fun.
1984 –  Thriller, which had just set the Rock Era record for weeks at #1 one week before on the Album chart, logged a 33rd week at #1 for Michael Jackson.  This despite that it was in its 65th week of release.
1986 –  Simply Red released the single "Holding Back the Years".   1988 –  Michael McDonald & Patti Austin released the single "On My Own".
1988 –  George Michael played at the Sydney Entertainment Centre in Sydney, Australia.
1990 –  Wilson Phillips first appeared on the chart with their debut single "Hold On".
1990 –  Janet Jackson scored a third week at #1 with "Escapade".  Roxette was #2 with "Dangerous", the B-52's found themselves at 3 with "Roam" while newcomer Alannah Myles rose from 9 to 4 with "Black Velvet".
1990 –  Linda Ronstadt and Aaron Neville teamed for the #1 Adult Contemporary song for the third straight week–"All My Life".
1990 –  Paula Abdul, who logged one week at #1 on the Album chart back in October with Forever Your Girl, then returned to the #1 spot four months later in its 81st week of release, was now the rage as she spent her eighth week at the top.
1990 – Randy Travis begins a four-week stay at #1 on the Billboard country chart with "Hard Rock Bottom Of Your Heart"
1997 –  The RIAA announced that the Eagles Greatest Hits album had tied Michael Jackson's Thriller as the best-selling album of all-time.
1998 –  Van Halen released Van Halen III, the group's first album with lead singer Gary Cherrone (formerly of Extreme) aboard, on Warner Brothers Records.
"TV/RADIO TODAY"
1956 –  Carl Perkins made his television debut on Ozark Jamboree.
1956 –  Elvis Presley appeared on Tommy & Jimmy Dorsey's Stage Show on CBS-TV.
1963 – The TV series Walt Disney's Wonderful World of Color airs part 1 of the feature film "Kidnapped."
1968 –  The Bee Gees made their United States television debut on the Ed Sullivan Show, performing "To Love Somebody" and "Words".
1982 – A new television series Herbie The Love Bug (based on the Love Bug movies) premieres with the episode "Herbie the Matchmaker."
"OTHER IMPORTANT EVENTS"
1461 – Bishop Patrick, St. Patrick, died in Saul. Saint Patrick was a Christian missionary, bishop and apostle of Ireland. Ireland celebrates this day in his honor.
1762 – In New York City, the first St. Patrick's Day parade took place. The parade was held by Irish soldiers serving in the British army.
1756 – St. Patrick's Day was celebrated in New York City for the first time. The event took place at the Crown and Thistle Tavern.
1905 – Franklin D. Roosevelt marries his distant cousin, Eleanor Roosevelt, in New York City. The wedding was attended by President Theodore Roosevelt, FDR's fifth cousin, who gave his niece away.
1907 – Artist John William Cannon is born in in Terre Haute, Indiana. He will be hired at the Disney Studio in 1927 to work on the Oswald cartoons and later work as an animator on Mickey Mouse shorts through 1940.
1920 – A harsh blizzard had caused serious damage in Bismark, North Dakota, and temperatures had dropped dramatically. During this storm, an 18-year girl old had taken her jacket and covered her brother and sister with it.  In the process, Hazel Minor (the 18-year-old) had lost her live. However, the lives of her younger siblings were saved. They all had laid in a snowdrift for 24 hours before being discovered.
1926 – The musical "The Girl Friend" opens in New York City. It runs for an impressive 409 performances.
1931- Nevada Senate voted to legalize all forms of gambling in the state providing the impetus for the growth of Las Vegas .
1938 – Donald Duck's pet St. Bernard first appears in the Donald Duck newspaper comic strip (drawn by Al Taliaferro).
1949 – The first car with a Porsche badge is shown at International Automobile Show in Geneva, Switzerland on a Porsche 356.
1956 – The Emmy award for Best Action or Adventure Series is awarded to the Walt Disney studio for the Davy Crockett series on the Disneyland TV show (beating out Alfred Hitchcock Presents, Dragnet, Gunsmoke, and TheLineup). Walt Disney himself also wins an Emmy award for Best Producer of Filmed Series for Disneyland. Although nominated for Best Children's Series, The Mickey Mouse Club is edged out by Lassie. Best Single Program of the Year is awarded to Producers' Showcase for the episode "Peter Pan," beating out six other nominees including the Disneyland episode "Davy Crockett and River Pirates."
1957 –  Elvis Presley's father Vernon signed a sales contract that confirmed the Presleys had made a $1,000 cash deposit (believed to have been made the previous night by Elvis's mother Glayds) on the 18-room, 10,000-square foot Graceland mansion (the mansion was renovated aby Presley nd now includes 23 rooms) in Memphis, Tennessee.
1967 – Snoopy and Charlie Brown of "Peanuts" were on the cover of "LIFE" magazine.
1968 – A St. Patrick's Day Parade is held for the first time at Disneyland.
1972 – An outdoors festival in Dripping Springs, Texas, is one of the first to draw hippies and traditional country fans. In the lineup – Waylon Jennings, Willie Nelson, Loretta Lynn, Roy Acuff, Buck Owens, Kris Kristofferson, Tex Ritter and Tom T. Hall
1972 –  The first part of an article printed in a local West Virginia newspaper described the plight of hearing-impaired children. In this state, inadequate help was being provided, according to this report. This report, as well as part two of it, was printed to help detect and treat hearing impaired children.
1973 – The first American prisoners of war (POWs) were released from the "Hanoi Hilton" in Hanoi, North Vietnam.
1990 – An update was made regarding the 5,000 computer erased by Pointdexter the day before resigning as Reagan's national security advisor. FBI agent Ellen Glasser had testified to this fact on the previous Thursday.  Moreover, Glasser also revealed that Poindexter told the FBI three days after resigning that he (Pointdextor) had no knowledge of early Iran shipments and profits made by Nicaragua Contras. Further information was printed about Pointdextor, indicating that he assisted a request made by Oliver North to Divert arms profits to the Contras. Pointdextor was also involved in the shipping of missiles to the Contras in 1985.
1990 –  That's What Friends Are For, an AIDS benefit concert that also celebrated Arista's 15th birthday, featured Barry Manilow, Dionne Warwick, Whitney Houston and Hall and Oates.
1990 –  Rick Grech, bassist with Blind Faith and Traffic, died from kidney and liver failure at age 43 in Leicester, Lancashire, England.
1995 –  Suzanne Vega ("Luka") married Mitchell Froom.
1999 – Test Track officially opens at Walt Disney World's Epcot. Sponsored by General Motors, the attraction is the fastest ride ever designed (at this time) by Disney's Imagineers … guests can reach speeds of 65 mph! (The ride has been up and running since December 1998.)
2001 – The United Kingdom Pavilion at Disney World's Epcot celebrates St. Patrick's Day with special food, decorations and entertainment. Storyteller Darby O'Gill and The Butler School of Irish Dance perform throughout the afternoon. The Rose & Crown Restaurant serve traditional green beer and green Sprite, as well as corned beef, cabbage, Irish stew and soda bread.