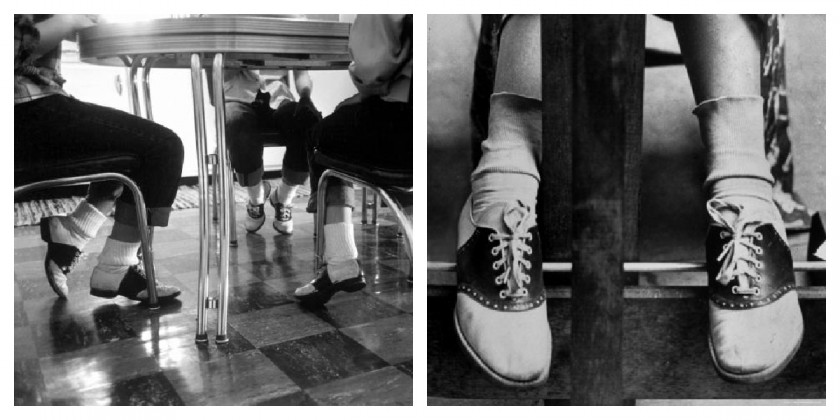 When I was a kid, we used to wear Saddle Shoes. And polishing them with white and black shoe polish was a regular task. I remember the succinct smell of the polish and the chalky feeling when it dried on my hands. I loved my saddle shoes and I loved that the style was something worn for decades before me.
Saddle shoes were usually worn with white sport socks, and leg coverings varied from shorts to jeans and skirts or dresses. These shoes lived through their highest popularity in the 1920s to 1950s America, where a pair was part of nearly all youngsters' wardrobe. They were worn by men and women from golf cleats to poodle skirts. From cheerleaders to prep schools uniforms. Saddle shoes were a staple of many generations and will continue to be a signature shoe for many generations to come.
There were even songs written about Saddle Shoes:
Some of the most famous to wear saddle shoes include:
In 1957 Elvis Presley wore saddle shoes in Jailhouse Rock.

AllPosters.Com

Bert from Sesame Street often wore saddle oxfords and they can be seen in his song and dance called "Doin' the Pigeon".
The Peanuts comic strip character Lucy van Pelt wears saddle shoes.

Wikipedia
For decades, Woody Allen has worn saddle shoes.
Did you ever wear Saddle shoes?