"March 7"
"BORN TODAY"
Bryan Cranston (60)
Hailey Clauson (21)
Abigail and Brittany Hensel (26)
Brandon T. Jackson (32)
Laura Prepon (36)
T.J. Thyne (41)
Jenna Fischer (42)
Dina Manzo (44)
Peter Sarsgaard (45)
Matthew Vaughn (45)
Rachel Weisz (46)
Cameron Daddo (51)
Bret Easton Ellis (52)
Wanda Sykes (52)
E.L. James (53)
Taylor Dane (54)
Donna Murphy (57)
Iris Chacón (66)
John Heard (71)
Michael Eisner (74)
Willard Scott (82)
"DIED TODAY"
Harold McNair (Born: November 5, 1931 / Died: March 7, 1971)
Gordon Huntley (Born: October 8, 1930 / Died: March 7, 1988)
"MOVIES TODAY"
– Check out the clips in the links below –
1927 –  Alice the Collegiate
1936 –  Mickey's Grand Opera
1941 –  Popeye the Sailor – Olive's Sweepstakes Ticket
1941 –  Golden Eggs 
1986 – Highlander 
1997 –  Jungle 2 Jungle 
1997 – Private Parts 
"MUSIC TODAY"
1960 –  Percy Faith remained perched at the top for a third week with the great instrumental "Theme From 'A Summer Place'".
1964 –  Al Hirt had the top Easy Listening song for the third week with "Java".
1964 –  Those lucky enough to be alive were seeing history unfold before their eyes.  The Beatles, who had launched their American careers on The Ed Sullivan Show just weeks before, now had the #1 song in the land for the sixth straight week with "I Want To Hold Your Hand".  And that was how it all began.  Reinforcements came in the form of "She Loves You" at #2 and "Please Please Me" at #4 and soon, it was a full-scale invasion.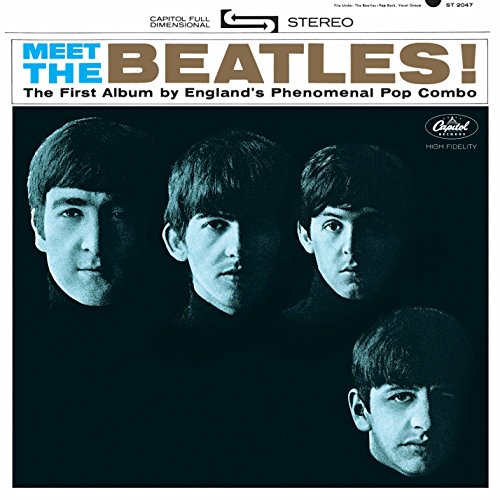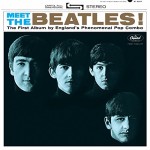 1964 –  Meet the Beatles, the second U.S. album from the group, was #1 for a fourth week with their first one, Introducing…the Beatles, in the #2 position.
1967 –  The Beatles recorded overdubs for "Lovely Rita" including harmony vocals and effects.
1969 – Tommy Roe's "Dizzy" is certified gold
1970 –  Sly & the Family Stone spent a fifth week atop the R&B chart with "Thank You (Falettinme Be Mice Elf Agin).
1970 –  The great album Bridge Over Troubled Water by Simon & Garfunkel moved to #1 after just four weeks, toppling Led Zeppelin II.  Former #1 Abbey Road by the Beatles was still a strong third after 21 weeks.
1970 – Simon & Garfunkel's new single "Bridge Over Troubled Water" had been out for five weeks and two of those were at 1.
1973 – Eric Weissberg and Steve Mandel's "Dueling Banjos" is certified gold
1977 –  Boz Scaggs released the single "Lido Shuffle".
1981 –  REO Speedwagon was #1 on the Album chart with Hi Infidelity for the third straight week.   1985 –  U.S.A. for Africa released the charity single "We Are The World".
1987 –  Bon Jovi controlled the chart for a fourth week with "Livin' On A Prayer".  Huey Lewis & the News had a solid #2 with "Jacob's Ladder" while the Jets were up to 3 with "You Got It All".
1987 –  The Jets had the #1 R&B song with "You Got It All".
1988 –  Gloria Estefan and the Miami Sound Machine released the single "Anything For You".
1992 –  Michael Jackson moved to #1 on the R&B chart with "Remember The Time".
1992 –  Three new songs moved into the Top 10 and upped the quality–"Save The Best For Last" from Vanessa Williams at #5, Eric Clapton's "Tears In Heaven" at #6 and Amy Grant edged in at #10 with "Good For Me".
1992 –  "Missing You Now" by Michael Bolton and Kenny G. moved to #1 on the Adult Contemporary chart.
1995 – The "Honeymoon In Vegas" soundtrack goes platinum. The album features remakes of Elvis Presley songs by Trisha Yearwood, Willie Nelson, Billy Joel, Travis Tritt, Ricky Van Shelton, Bono, Dwight Yoakam, Amy Grant and Vince Gill, among others.
1998 –  Madonna had her eighth #1 song in the U.K. with "Frozen".
"TV/RADIO TODAY"
1933 – CBS radio debuted "Marie The Little French Princess." It was the first daytime radio serial.
1933 – The board game Monopoly was invented.
1955 – "Peter Pan" was presented as a television special for the first time.
1956 – The Disneyland television series airs the episode "On Vacation," in which Jimminy Cricket takes a look at the friendship of Mickey Mouse, Goofy, and Donald Duck.
"OTHER IMPORTANT EVENTS"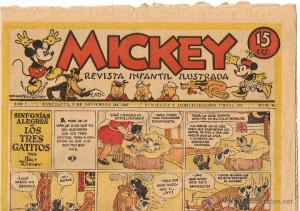 1935 – In the north of Spain, the third of the European Disney weeklies, Mickey – Revista Infantil Ilustrada (which means Mickey – Illustrated Child Magazine) is published by Editorial Molino.
1942 – Michael Eisner, who ran The Walt Disney Company from 1984 to 2005, is born in Mount Kisco, New York (though he was raised in New York City).
1946 – The 1945 Academy Awards are held at Grauman's Chinese Theatre with hosts Bob Hope and James Stewart. Walt Disney Studio Sound Department (nominated for The Three Caballeros) loses to RKO's The Bell's of Saint Mary in the Sound Recording category. The Disney team of Edward Plumb, Paul J. Smith and Charles Wolcott – nominated for the music in The Three Caballeros, are edged out by Georgie Stoll for his score for Anchors Aweigh. Although nominated for Short Subjects, Cartoon – Disney's Donald's Crime is beat outby MGM's Quiet Please.
1955 – The 7th Emmy Awards are presented at the Moulin Rouge Nightclub in Hollywood, California. Hosted by Steve Allen and broadcast on NBC, it is the first Emmy Awards ceremony to ever be televised nationally. An Emmy for Best Individual Program of the Year, goes to  the Disneyland television episode "Operation Undersea." A second Emmy for Best Television Film Editing goes to  Lynn Harrison and Grant K. Smith for their work on the Disneyland episode "Operation Undersea." Producer Walt Disney's Disneyland series picks up a third Emmy for Best Variety Series Including, Musical Variety.
1956 – Kay Starr ("Rock And Roll Waltz") suffered a serious car accident after running a stop sign in Corona, California.  She was hospitalized with neck, arm and leg injuries.
1958 – Stage, film, and television actress and singer Donna Murphy, the voice of Mother Gothel in Disney's 2010 animated Tangled, is born in Queens, New York.
1962 – Singer, songwriter and actress Taylor Dayne, who played the role of Princess Amneris in Disney's Broadway show Aida in 2001, is born Leslie Wunderman in Baldwin, New York.
1967 – Sandra Dee received a divorce from Bobby Darin.
1976 – A likeness of Elton John was unveiled at Madame Tussaud's Wax Museum in London.
1985 – "Commonwealth" magazine ceased publication after five decades.
1986 – Randy Travis makes his debut on the Grand Ole Opry. After an introduction from Little Jimmy Dickens, he performs "I'm So Lonesome I Could Cry"
1987 – Mike Tyson became the youngest heavyweight titleholder when he beat James Smith in a decision during a 12-round fight in Las Vegas, NV.
1997 – Disneyland's Pirates of the Caribbean reopens after being renovated.
1998 – Sara Evans makes her Grand Ole Opry debut, singing "Your Cheatin' Heart"