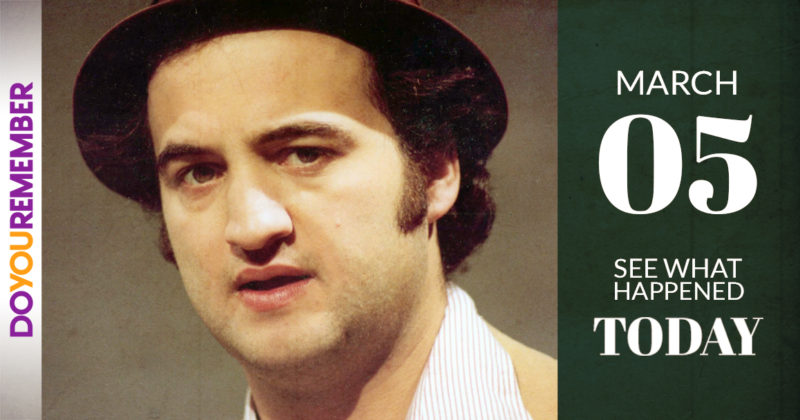 "March 5"
"Born Today"
Matt Lucas (42)
Jake Lloyd (27)
Kimberly McCullough (38)
Papoose (38)
Niki Taylor (41)
Jolene Blalock (41)
Kevin Connolly (42)
Eva Mendes (42)
John Frusciante (46)
Paul Blackthorne (47)
Joel Osteen (53)
Charlie and Craig Reid aka The Proclaimers (54)
Adriana Barraza (60)
Penn Jillette (61)
Marsha Warfield (62)
Eddy Grant (68)
Elaine Paige (68)
Murray Head (70)
Dean Stockwell (80)
"DIED TODAY"
Patsy Cline (Born: September 8, 1932 / Died: March 5, 1963)
Syd Nathan (Born: April 27, 1904 / Died: March 5, 1968)
John Belushi (Born: January 24, 1949 / Died: March 5, 1982)
"MOVIES TODAY"
1928 – Oswald the Lucky Rabbit 
1932 – The Mad Dog
1947 – Merrie Melodies: Tweetie Pie 
1948 – Drip Dippy Donald
1954 –  Donald's Diary
1969 – The Big Bounce
1978  – An Unmarried Woman
1982 – I'm Dancing as Fast as I Can
1982 – Making Love 
1993 – Best of the Best 2 
1993 – Mad Dog and Glory 
1999 – Cruel Intentions 
1999 – Analyze This 
"MUSIC TODAY"
1955 – Johnny Ace had the top R&B song for the fourth week with "Pledging My Love".
1959 – Bobby Darin recorded "Dream Lover".
1965 – The Manish Boys, featuring a young David Bowie, released their first single "I Pity The Fool".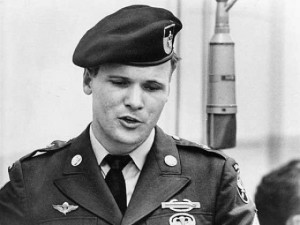 1966 – SSgt. Barry Sadler had the new #1 Adult song with "The Ballad Of The Green Berets".
1966 – The Rolling Stones were anxious to get to the top as "19th Nervous Breakdown" moved from #46 to #12.
1966 –  "The Ballad of the Green Berets" was the new #1 song, sending Nancy Sinatra backwards with "These Boots Are Made for Walkin'".
1966 – So hot were Herb Alpert & the Tijuana Brass that they owned the top two albums, and very few in the Rock Era have ever done that.  Going Places took over at #1 from Whipped Cream & Other Delights, which was in its 43rd week.
1973 – Alabama, billed as Wildcountry, makes its debut at The Bowery in Myrtle Beach, South Carolina.
1977 – Glen Campbell enjoyed a fourth week at #1 on the Adult chart with "Southern Nights".
1977 – Barbra Streisand registered her third career #1 with "Evergreen" as the Eagles surrendered with "New Kid In Town".
1979 – MCA Records, which had recently acquired ABC Records, dissolved their new family member and absorbed ABC into MCA.
1983 –  "Billie Jean" by Michael Jackson was top dog on the R&B chart for the fourth consecutive week.
1983 – After the Fire had one of the hot new songs as "Der Kommissar" moved from 55 to 31.
1983 – Michael Jackson moved to #1 with "Billie Jean", just ahead of the great song "Shame On The Moon" by Bob Seger & the Silver Bullet Band.
1984 – Music Directors at radio stations were beginning to see that this was going to be a great year in music.  The Cars released the single "You Might Think".
1988 – George Michael once again had the #1 song with "Father Figure".
1988 – Faith by George Michael remained as the album to beat for the sixth week.  The Soundtrack to "Dirty Dancing" was next with Kick from INXS third.
1991 – MCA releases Vince Gill's "Pocket Full Of Gold" album
1994 – Music Box by Mariah Carey returned to #1 on the Album chart for the third time and a seventh total week at #1.
1994 – Celine Dion remained at #1 for the fourth week with "The Power Of Love".  Ace of Base was patiently waiting with "The Sign" while Salt 'N' Pepa and En Vogue combined for #3–"Whatta' Man".
1996 – The soundtrack to Disney's animated Oliver & Company is re-released on Walt Disney Records.
"TV/RADIO TODAY"
1955 – Elvis Presley makes yet another appearance on the Shreveport radio show Louisiana Hayride, which is this time also carried over the TV airwaves by local station KWKH, making this Presley's first television appearance.
1957 – Disc jockey Alan Freed was a guest on To Tell the Truth on CBS-TV.
1961 – The TV series Walt Disney Presents airs "The Coyote's Lament."
1962 – The Marvelettes became the first Motown act to appear on The Ed Sullivan Show on CBS-TV.
1963 – Frankie Avalon was a guest on The Jack Benny Program on CBS-TV.
1974 – Smokey Robinson was a guest star on Police Story on NBC-TV.
1983 – Wham! made their television debut in the United States on the ABC-TV show American Bandstand.
1990 – Road to Avonlea makes its debut on the Disney Channel as Avonlea. A television series first broadcast in Canada, it is created by Kevin Sullivan and produced by Sullivan Films in association with CBC and the Disney Channel, with additional funding from Telefilm Canada.
1993 – Touchstone's newest sitcom Where I Live premieres as part of ABC's TGIF lineup.
1994 – Jim Henson's Secret Life of Toys begins airing on The Disney Channel.
1994 – Wheel of Fortune spends Spring Break at Disney-MGM Studios. The popular game show will tape 20 episodes over the next 4 days.
1999 – "Michelle Kwan Skates to Disney's Greatest Hits" airs on ABC-TV.
"OTHER IMPORTANT EVENTS"
1922 – "Annie Oakley" (Phoebe Ann Moses) broke all existing records for women's trap shooting. She hit 98 out of 100 targets.
1923 – Old-age pension laws were enacted in the states of Montana and Nevada.
1924 – Frank Caruana of Buffalo, NY, became the first bowler to roll two perfect games in a row.
1933 – U.S. President Franklin D. Roosevelt ordered a four-day bank holiday in order to stop large amounts of money from being withdrawn from banks.
1936 – Disney's animated short Three Orphan Kittens wins an Oscar for Short Subjects, Cartoon at the 8th Annual Academy Awards -beating out Disney's own Silly Symphony Who Killed Cock Robin? short.
1997 – Chuck Niles received a star on the Hollywood Walk of Fame.
1998 – NASA announced that an orbiting craft had found enough water on the moon to support a human colony and rocket fueling station.
1998 – It was announced that Air Force Lt. Col. Eileen Collins would lead crew of Columbia on a mission to launch a large X-ray telescope. She was the first woman to command a space shuttle mission.
2000 – The second annual Garden Design Event at the Disney Institute in Walt Disney World (offering hands-on experience in all aspects of designing, planting and maintaining a garden) comes to an end after 4 days.