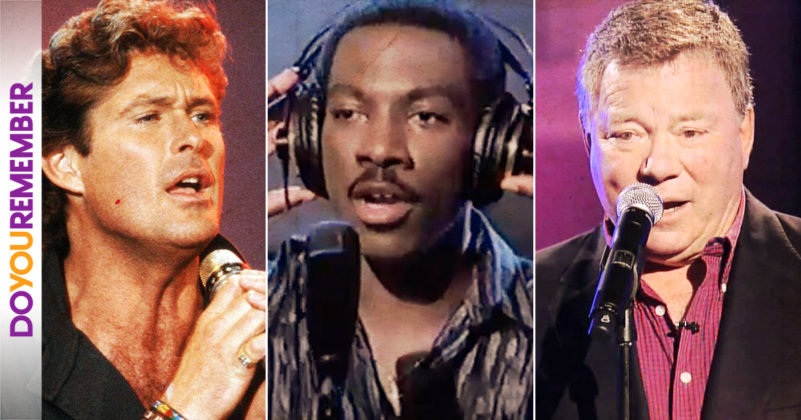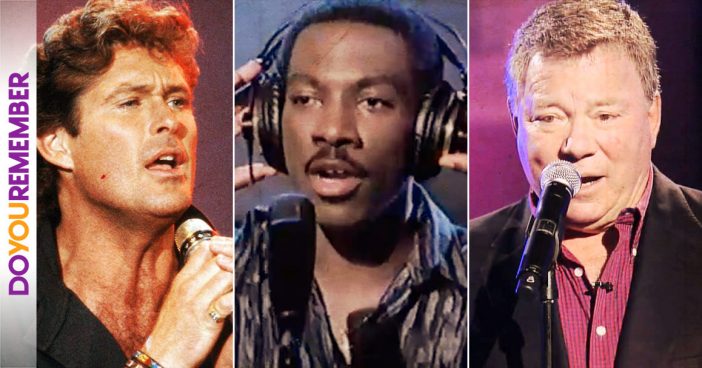 Multidisciplinary artists are aplenty these days, but few have managed to establish successful careers as both actors and singers.
But these Musical Performers Can Act: CLASSIC TV CAMEOS BY MUSICIANS
To commemorate the time we spent listening to our favorite thespians (agonizingly) belt it out after hours, DYR pays it forward with a countdown of some of the worst musical crossovers all time. Don't you dare touch that mute button!
William Shatner
Shatner's spoken-word rendition of Bob Dylan's "Mr. Tambourine Man," featured in his 1968 album The Transformed Man, still makes us laugh—though we're not sure whether he meant the performance to be comical. At least it was better than his cover of Queen's "Bohemian Rhapsody," which even NPR deemed as "very weird."
Eddie Murphy
The comedian was on top of the world in the 1980s, starring in hit film after hit film. But Murphy's box-office success wasn't enough, apparently, as the actor spent the decade moonlighting as a singer, too. He released a couple of albums and had two hit singles, "Put Your Mouth on Me" and "Party All the Time," the latter produced by Rick James and named among the worst songs of all time by VH1.
Keanu Reeves
The Matrix trilogy grossed more than $1 billion, which afforded Reeves some time away from the movies to focus on his true passion—playing guitar with his band, Dogstar. Despite leaving the grunge band in the early '90s to pursue his film career, Reeves willingly returned to the era of flannel, alternative rock and long hair, much to our discontent.
Russell Crowe
https://www.youtube.com/watch?v=oziN0ZHMwF8
Five minutes into Les Misérables and we knew Crowe was among the actors who should stay far away from all musical projects. Sadly, in his off time, Crowe is entirely devoted to playing with his bands, 30 Odd Foot of Grunts, the Ordinary Fear of God and others with equally unfortunate names. Judging by this clip, Chrissie Hynde should've "pretended" she was busy when Crowe called for a duet.
Jada Pinkett Smith
If Jada ever wanted to upstage husband Will with a musical career of her own, she would have to do better than becoming lead singer of the rock band Wicked Wisdom.
Jennifer Love Hewitt
The squinty-eyed actress—and notorious serial monogamist—has dabbled in music throughout most of her acting career. "How Do I Deal," recorded for the I Still Know What You Did Last Summer soundtrack, and "BareNaked," produced by singer Meredith Brooks, were among her chart-topping hits. But after 2002, Hewitt took her efforts abroad, where they appreciate that sort of second-rate talent.
David Hasselhoff
Now here's a man who approaches every single job with shameless abandon. Cases in point: His roles as a vigilante crime fighter with a talking car, a bronzed lifeguard in Southern California, and a suave pop singer—even if for the last one he was playing himself. Fortunately, the actor's career has found refuge in Germany, where everyone seems to have drunk the Hasselhoff Kool-Aid.
Don Johnson
Johnson achieved his greatest fame in the 1980s playing Detective Sonny Crockett on the hit series Miami Vice. But somewhere between fighting crime dressed in pastels on-screen and romancing Melanie Griffith off-screen, he found time to release two albums, the second of which yielded the Billboard hit "Heartbeat." One single was all the public ever had to endure.