The 95th Academy Awards were a time of celebration for movies that came out in 2022. But fans of 1994's Four Weddings and a Funeral were treated to a reunion between co-stars Hugh Grant and Andie MacDowell at the Oscars on Sunday.
It's been 29 years since fans saw MacDowell and Grant as Carrie and Charles, two lucky lovers trying to make it work when time just isn't on their side. The film became a surprise success after a quick production time and low budget and this past weekend the pair reunited to award another film the Oscar for Best Production Design.
Andie MacDowell and Hugh Grant attend one award ceremony and no funerals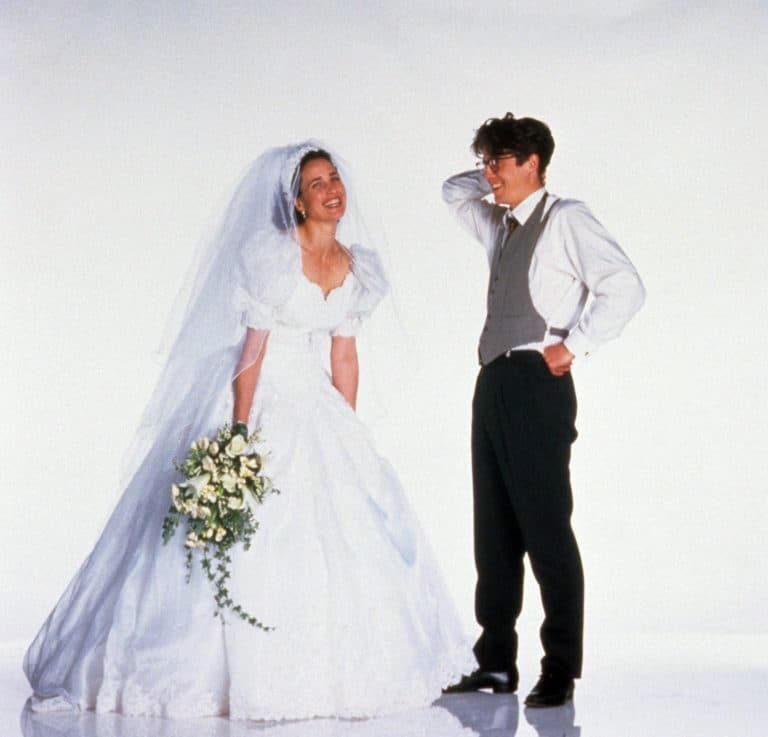 Grant and MacDowell were dressed in their evening best as they ascended the stage at Dolby Theatre Sunday evening. MacDowell, 64, wore a long, black evening gown that hugged her frame, while she kept her undyed hair up in a bun. Beside her, Grant, 62, chose a black suit with a white shirt, wrapped up in a black bowtie.
Grant would later receive criticism for his interview with Ashley Graham, a presenter for the Countdown to the Oscars. Specifically, he was critiqued for providing little fodder for the interview in his answers. When Graham asked what his favorite thing about the Oscars was, he answered, "It's fascinating … the whole of humanity is here … it's Vanity Fair." While Grant was apparently referring to the 1848 novel by William Makepeace Thackery, Graham mistook the reference to mean Vanity Fair magazine.
When she asked what he was wearing, Grant answered, "Just my suit." Graham asked who the name behind the suit was and Grant added, "I can't remember – my tailor."
Then, when she inquired what he was most excited to see that night, he replied, "To see? No one in particular." When Graham asked him about Glass Onion, the sequel to Knives Out, he simply said, "Well I'm barely in it. I'm in it for about three seconds," adding that he "almost" had fun.
Grant makes an NSFW comment on stage
Hugh Grant is the biggest D bag for this interview. Hugh, If you don't want to be there go home. Worst Oscars interviews ever. #Oscars #Oscars2023 #HughGrant pic.twitter.com/Yx7MWbav4q

— Michael L (@Luevano1) March 12, 2023
Back on the Oscars stage with MacDowell, Grant gave viewers something else to talk about that night. As the two stood to present the next award, Grant said, "We're actually here to do two things," adding, "The first is to raise awareness about the vital importance of using a good moisturizer. Andie's been wearing one every day for the last 29 years. I've never used one in my life."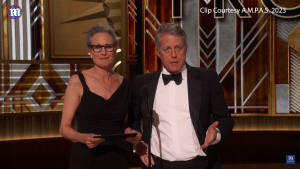 From there, Grant noted that while MacDowell is "still stunning," he said, "I'm basically a scrotum." From there, the pair presented the Oscar for best production design to All Quiet on the Western Front. That same film also won Best Picture that evening.