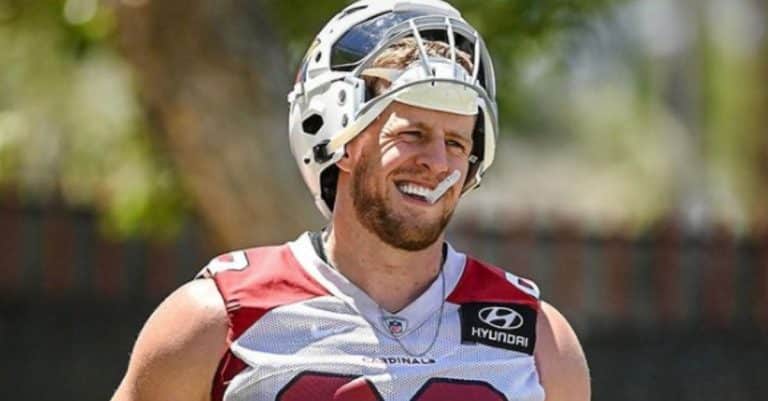 A Texans fan was attempting to sell some of her JJ Watt merch in order to help fund her grandpa's funeral, when Watt himself saw and put a stop to it. The original post read, "I have a pair of @JJWatt womens edition of Reebok shoes size 9 $60. I've worn them twice. They are great shoes, im only selling because we are raising money for my grandpas funeral. I also have a Watt womens XL Texans Jersey $30. Anyone interested?"
Watt responded to the tweet, saying, "Don't sell your shoes and jersey, we'll help with the funeral. I'm sorry for your loss. 🙏🏼" The post has since gone viral as well and has accumulated over 200k likes at the time of writing.
JJ Watt is helping to pay for fan's grandpa's funeral so she doesn't have to sell off merch
Don't sell your shoes and jersey, we'll help with the funeral.

I'm sorry for your loss.

— JJ Watt (@JJWatt) July 21, 2022
The original writer of the post, a woman named Jennifer Simpson, then replied to Watt's tweet: "I freaking love you man. It's been a hard year for me, and this last month has been hard since the death. I wish I could tell you my story."
Fans of Watt have been responding to the post, absolutely in awe and inspired by his generosity and kindness. "JJ Watt is a great caring human being," one Twitter user wrote. Another added, "Thanks for helping. World's richest country can't pay for doctors or funerals. Strange times." A third says, "The world needs more of this. Not the money, because not everyone can give so generously. But the giving a crap about other people besides yourself. There's a real shortage of that in this country. Thanks for being such a solid dude. ✌️ 🙏"
View this post on Instagram
Watt is no stranger to philanthropy, giving back, and helping those out who desperately need it. For example, he won the Walter Payton Man of the Year award in 2017 for his fundraising efforts in the wake of Hurricane Harvey, raising over $37 million at the time.