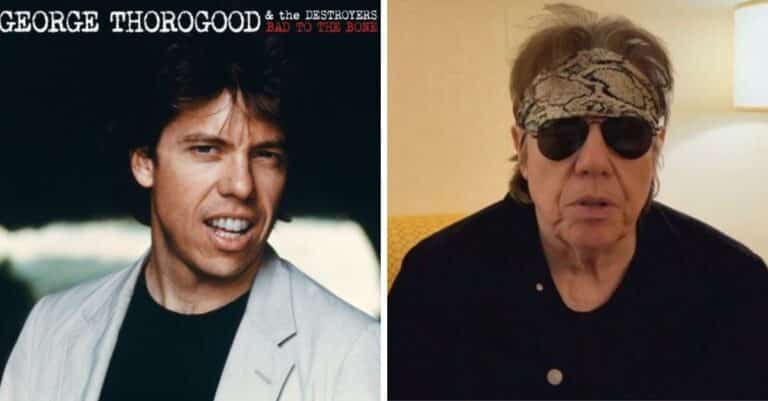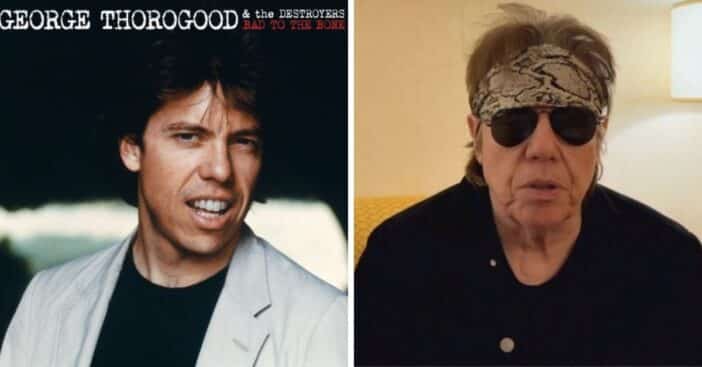 The hit song "Bad to the Bone" by George Thorogood is approaching its 40th anniversary this year, and we're delving into the story behind it all. Thorogood and his band have been known to put their own spin on a number of hits, including John Lee Hooker's "One Bourbon, One Scotch, One Beer," "Move It On Over" by Hank Williams, and Bo Diddley's "Who Do You Love."
But Thorogood didn't want to feel pigeonholed as someone who only did covers of songs, even though he already had a large catalog of original songs. "A lot of people think that's entirely what defines George Thorogood," he told Ultimate Classic Rock. "Now, we checked out our albums and there are lots and lots of original songs. I just got tired of doing that in interviews, trying to set people straight."
"Bad to the Bone" by George Thorogood resonated with the young MTV audience in the early '80s
Now, the album The Original George Thorogood has arrived, just dropping on April 15th, a collection of 14 of his favorite self-penned songs, along with some deeper cuts. But we can't help but revisit one of his greatest hits, "Bad to the Bone."
According to SongFacts, the song is based on one of his greatest blues influences and his songs, the Bo Diddley blues song "I'm A Man." And while other songs have been published with that same title, it was Thorogood that popularized it and created a modern blues classic with this song.
MTV had just come onto the air in 1981, and with the song being released just the following year, Thorogood could not have chosen a better time to create a memorable music video. With the clip showing Thorogood playing Diddley himself in a game of pool, he stood out to the younger MTV crowd, being among the British New Wave acts that dominated MTV's playlist at the time. He perfectly created the image of a "bad man" through his song and video, despite being an actual "good man" in real life according to some personal accounts.
View this post on Instagram
The song has since gone on to become a massive and recognizable hit, being in films like Terminator 2: Judgment Day, The Parent Trap, Major Payne, Christine, and Problem Child. The song has been used in a number of TV series, too, like Top Gear, South Park, Nurse Jackie, My Name Is Earl, Las Vegas, According to Jim, 3rd Rock from the Sun, Married… with Children (three times), and Miami Vice.