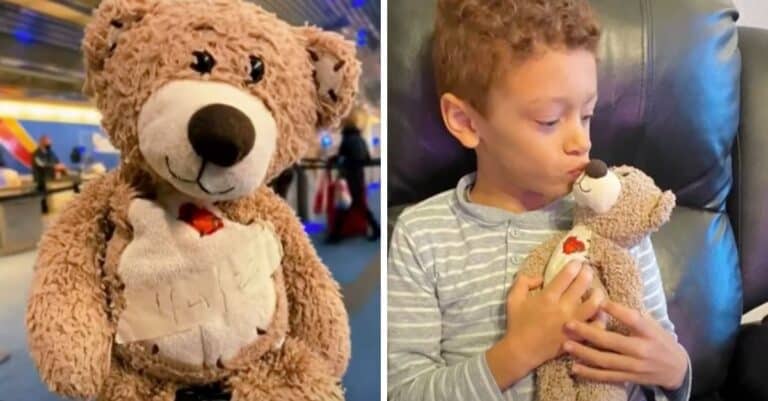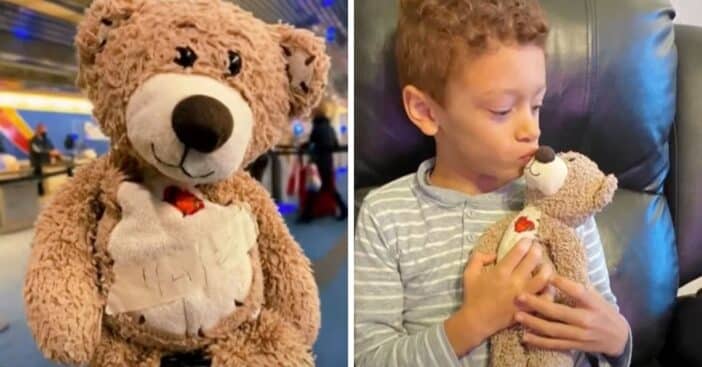 David and Jessica Burnett and their 5-year-old son, Ezekiel, encountered quite the situation when Ezekiel lost his beloved teddy bear. You see, they were walking through an airport all together when Ezekiel was tossing his teddy bear up in the air. David warned his son not to throw his favorite teddy too high, and as such, Ezekiel did—and chaos ensued.
Ezekiel ended up throwing his teddy more than 20 feet in the air, getting caught in the rafters. He was stuck up there in the rafters of the Milwaukee Mitchell International Airport, and there was no asking for help because the family needed to board their flight home to Dallas, TX.
5-year-old Ezekiel reunited with his teddy bear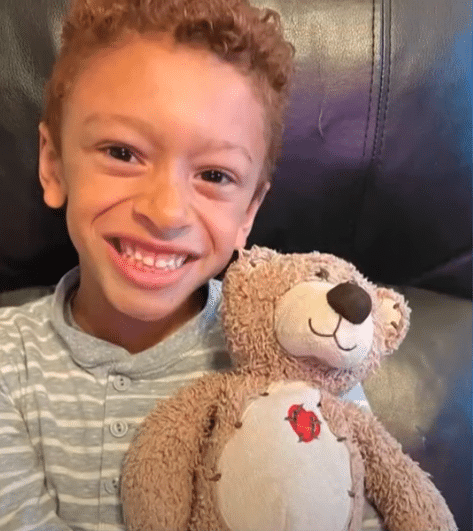 "We figured we'd never see Teddy again," said David, noting that the teddy had gotten stuck up in the rafters a year prior during Thanksgiving weekend to point out how long it's been. Luckily, Ezekiel seemed content enough to sleep with a different stuffed animal that night, but Jessica did feel a bit of mom guilt over the situation.
"We didn't call the airport because Ezekiel has lost a lot of toys over the years… I did feel some mom guilt, so I bought him a bear online that looked similar to Teddy," she said. "Ezekiel asked me one night if Teddy was in heaven."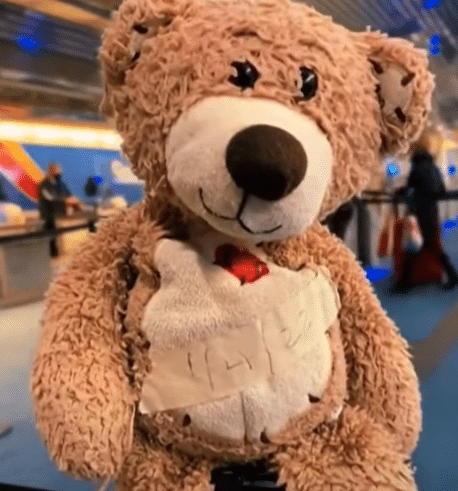 Then, the family just fell back into their regular routine, getting back to regularly scheduled programming. That was until the evening of February 8th, when Jessica was scrolling through her Facebook feed. Lo and behold, it was teddy! "It was Teddy!" she said. "Somebody at the airport was looking after him."
The tattered, brown bear had been in the rafters for weeks until it fell down and was being looked after by a kind person who sent it into the airport's lost-and-found on January 4th. Passersby just loved the teddy and snapped some photos of them and posted them to Facebook, which is how Jessica found it. One photo showed teddy hanging out with a purple monkey.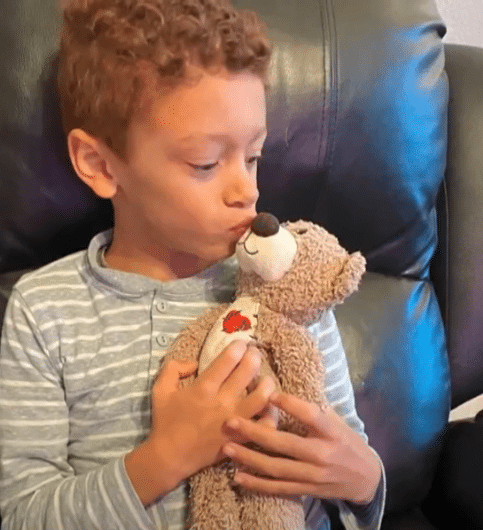 Airport workers often post about the missing stuffed animals that end up in their lost-and-found, usually unsuccessful in finding the original owner. However, they had much better luck with teddy. "Anyone fly in or out of Milwaukee on January 4 and leave this little guy behind?" The post read. "We've had him for a month now and he appears to be pretty well loved, so we're hoping this family is out there somewhere!"
The parents were shocked when they called up the airport and learned that teddy had been seen around the world, earning more than 4 million views across their social platforms, including Facebook, TikTok, and Twitter.
Southwest Airlines offered to fly Ezekiel to Milwaukee to pick up his teddy and his dad accompanied him—and, boy, was the airport ready for Ezekiel! They were waiting for him with a huge sign reading his name along with streamers and balloons. "I think they took good care of him," Ezekiel told The Washington Post. "He went to a lot of places in the airport and had a lot of fun. But I'm glad he's home."