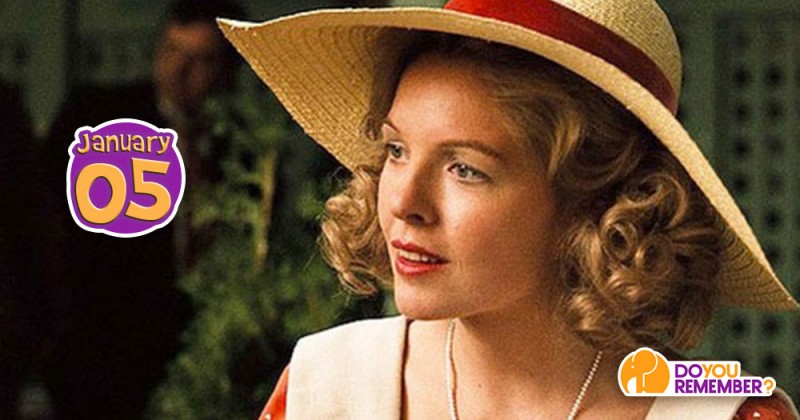 "Born Today"
Suki Waterhouse (25)

Kristin Cavallari Cutler (30)

Jason Mitchell (30)

Amanda Hearst (33)

Brooklyn Sudano (36)

Deadmau5 (36)

January Jones (39)

Bradley Cooper (42)

Kylie bax (42)

Sakis Rouvas (45)

Heather Dubrow (48)

Marilyn Manson (48)

Vinnie Jones (52)

Suzi Amis (55)

Clancy Brown (58)

Pamela Sue Martin (64)

Ted Lange (69)

Diane Keaton (71) Featured Above

Charlie Rose (75)

Hayao Miyazaki (76)

King Juan Carlos I of Spain (79)

Robert Duvall (86)

Alvin Ailey (RIP)
"Died Today"
Pete Maravich (Born: June 22, 1947 / Died: January 5, 1988)

Sonny Bono (Born: February 16, 1935 / Died: January 5, 1998)

Momofuku Ando (Born: March 5, 1910 / Died: January 5, 2007)
"Movies"
"Music"
1963 – Steve Lawrence had the top song on the Pop chart with "Go Away Little Girl"

1967 – Tommy James & The Shondells released "I Think We're Alone Now"

1969 – CCR released their album

Bayou Country

1973 – Bruce Springsteen released his debut album

Greetings from Asbury Park, N.J.

1974 – Jim Croce had the #1 song with "Time in a Bottle"

1980 – Stevie Wonder had the top Adult Contemporary song with "Send One Your Love"
1985 – "Do What You Do" by Jermaine Jackson was the top song on the Adult Contemporary chart

1985 – Madonna had the overall top song with "Like A Virgin"

1985 –

Purple Rain

was the #1 album

1987 – Bruce Hornsby released "Jacob's Ladder"
1991 – "Justify My Love" by Madonna was the #1 song

1991 – Vanilla Ice took over the charts with his album

To The Extreme
"TV/Radio"
1940 – The Federal Communications Commission (FCC) got its very first demonstration of FM radio.

1945 – The Goofy short Tiger Trouble was released

1948 – Warner Brothers-Pathe showed the very first color newsreel. The footage was of the Tournament of Roses Parade and the Rose Bowl football classic.

1951 – The Goofy short Lion Down premiered

1970 – The soap opera All My Children premiered on ABC
1971 – ABC's "Alias Smith and Jones" aired for the first time.

2002 – The 1000th episode of "

Soul Train

" aired.
"Other Important Events…"
1930 – Bonnie and Clyde met for the first time at Clarence Clay's home

1944 – The London "Daily Mail" was the first transoceanic newspaper to be published.

1949 – President Harry S. Truman introduces the Fair Deal

1956 – In the Peanuts comic strip, Snoopy walked on two legs for the first time.
1972 – President Nixon required the development for the Space Shuttle program