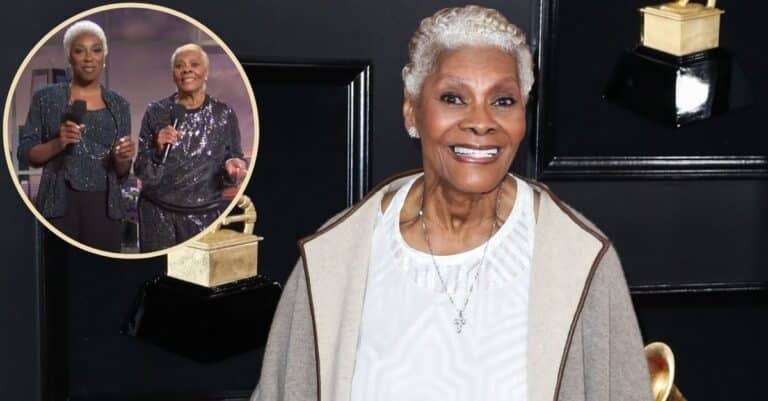 Dionne Warwick crashed a Saturday Night Live sketch over the past weekend that was about her, and also performed! SNL cast member Ego Nwodim has been doing a great job channeling her inner Warwick for skits the past year, and she recently was paid a visit by the actual Warwick.
The 80-year-old made a surprise cameo on-set, which was a super sweet and funny moment for everyone involved. During the sketch, Nwodom as Warwick is hosting the "Dionne Warwick Talk Show" sketch, welcoming guests Miley Cyrus, played by Chloe Fineman, Jason Mraz, played by host Kieran Culkin, and musical guest Ed Sheeran.
Dionne Warwick makes surprise appearance on 'SNL'
However, the pace switched up a bit when Nwodim said, "I'm tired of interviewing people who are not icons… Please welcome, me!" That's when the real Warwick took the stage wearing a sparkling ensemble as the audience roared with applause.
RELATED: 'SNL' Season Premiere Highlight's Late Norm Macdonald's Funniest 'Weekend Update' Jokes
"I'm so excited for you that I'm here," Warwick says to Nwodim's character. "Dionne, why are you perfect?" Nwodim asks her special guest. "Darling, I'm not perfect, I'm just very, very good," Warwick remarks, which earns laughter from the audience. After many more hilarious quips back and forth between the two, they embraced again and Warwick joined Nwodim for a performance, singing the song "What the World Needs Now Is Love."
This isn't the first time the real-life Warwick has seen the impersonation of herself. Just last year, she gave kudos to Nwodim's performance. "This was a hilarious birthday gift. Thank you, @nbcsnl. That young lady's impression of me was very good and who knew @BrittaniWarrick had so many jobs?" She tweeted at the time, referring to her niece.
Check out the incredible SNL sketch below: