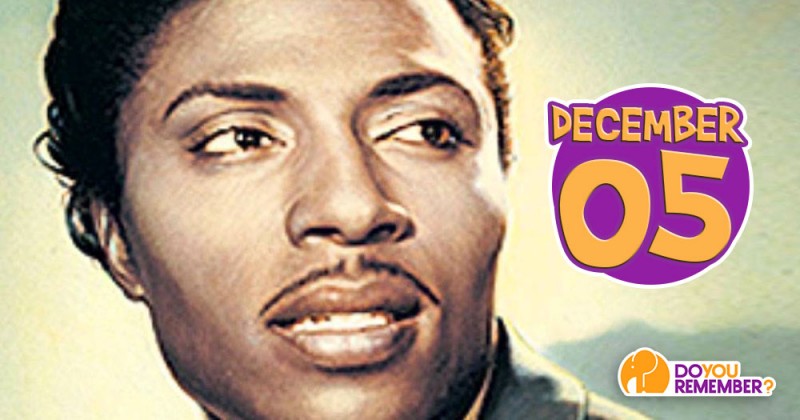 "Born Today"
Ross Bagley (27)

Frankie Muniz (30)

Lauren London (31)

Keri Hilson (33)

Jessica Pare (35)

Nick Stahl (36)

Amy Acker (39)

Paula Patton (40)

Lisa Sheridan (41)

Shalom Harlow (42)

Kali Rocha (44)

Margaret Cho (47)

Lisa Marie (47)

Amanda Lepore (48)

Gary Allan (48)

John Rzeznik (50)

Brian Backer (59)

Morgan Brittany (64)

Jim Messina (68)

Jose Carreras (69)

Joan Didion (81)

Little Richard (83) Featured Above 

Walt Disney (RIP)

Martin Van Buren (RIP)
"Died Today"
Phillis Wheatley (

Born: 1753 / Died: December 5, 1784

)

Wolfgang Mozart (

Born

: January 27, 1756 /

Died

: December 5, 1791

)

Claude Monet (

Born

: November 14, 1840 /

Died

: December 5, 1926

)

Shoeless Joe Jackson (

Born

: July 16, 1887 /

Died

: December 5, 1951

)

Dave Brubeck (

Born

: December 6, 1920 /

Died

: December 5, 2012

)

Nelson Mandela (

Born

: July 18, 1918 /

Died

: December 5, 2013

)
"Movies"
"Music"
1960 – Elvis Presley raced to #1 with his new album G.I. Blues, his fifth #1

1964 – Lorne Greene star of the NBC TV show 'Bonanza' was at No.1 on the US singles chart with 'Ringo', making him the second Canadian (after Paul Anka) to have a US No.1 single.
1966 – The Monkees released the single written for them by Neil Diamond–"I'm A Believer".

1970 – 'Amazing Grace' by Judy Collins entered the UK singles chart for the first of eight times, it spent a total of 67 weeks on the chart never making the No.1 position. '

1971 – Brewer & Shipley released the single "One Toke Over The Line".
1973 – Paul McCartney released Band On The Run, his fifth album since his departure from The Beatles.

1979 – Fleetwood Mac released the single "Sara" from their great album Tusk

1981 – Julio Iglesias was at No.1 in the UK singles chart with 'Begin The Beguine.' A Cole Porter song from 1935 with Spanish lyrics it was the singers only UK chart topper.
https://youtu.be/YtSscfzxKcI
1987 – Belinda Carlisle went to No.1 on the US singles chart with 'Heaven Is a Place on Earth', the ex Go-Go's member first solo No.1, also a No.1 hit in the UK.

1992 – Whitney Houston started a ten-week run at No.1 on the UK singles chart with 'I Will Always Love You'. The longest ever run at No.1 for a female artist the Dolly Parton penned song was taken from the Bodyguard soundtrack
"TV & Radio"
1976 – The sixth and final season of "McMillan and Wife" began.
1987 – The Jesus And Mary Chain were banned from appearing on a US music TV show after complaints of blasphemy when the group's name was flashed across the screen. The CBS show asked the band to be called JANC but the group didn't agree.

2002 – ABC-TV aired a prime-time interview with Whitney Houston.
"Other Important Events…"
1766 – James Christie, founder of the famous auctioneers, held his first sale in London.
1848 – U.S. President Polk triggered the Gold Rush of '49 by confirming the fact that gold had been discovered in California.
1908 – At the University of Pittsburgh, numerals were first used on football uniforms worn by college football players.
1933 – Prohibition came to an end when Utah became the 36th state to ratify the 21st Amendment to the U.S.Constitution.
1951 – The first push button-controlled garage opened in Washington, DC.
1978 – The American space probe Pioneer Venus I, orbiting Venus, began beaming back its first information and picture of the planet.
1983 – The video arcade game "NFL Football" was unveiled in Chicago. It was the first video arcade game to be licensed by the National Football League.