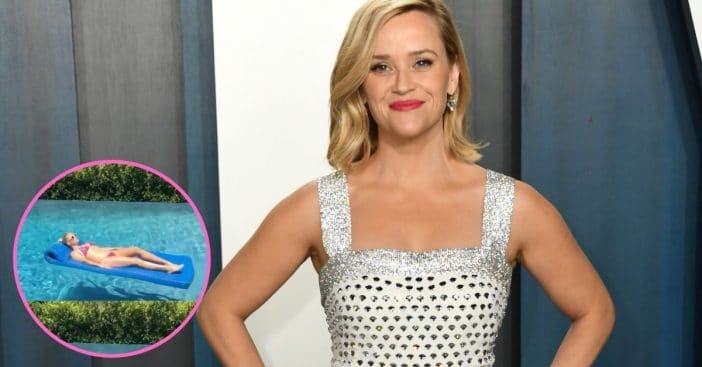 45-year-old Reese Witherspoon recently rocked the original Elle Woods pink sequined bikini for Legally Blonde's 20th anniversary. And she looks incredible in it! She posted a video to Instagram, showcasing her laying on a raft in the pool floating by in-frame. Very Elle Woods. The whole video gave off extremely nostalgic vibes to fans who love the 2001 film.
"This feels like a good time for some #LegallyBlonde trivia…. fire away!" she posted in the caption, which obviously resulted in tons of fans asking questions for the actress to answer.
Reese Witherspoon channels Elle Woods in her pink bikini
View this post on Instagram
"Did you have ANY idea how much of a cult classic this film would become?! Or, we're you like 'what, like it's hard?'❤️," one fan asked, directly referencing a line in the film. Another asked, "Is it true that there was an alternate ending when @selmablair went legally blonde too?" Another requested that the actress recreate the iconic Elle Woods Harvard video.
RELATED: Reese Witherspoon Just Confirmed That 'Legally Blonde 3' Is Officially Happening
View this post on Instagram
She previously shared another Legally Blonde photo carousel, which featured a bunch of behind-the-scenes photos with co-stars Selma Blair, Luke Wilson, and Victor Garber on the set. And to truly commemorate the anniversary, she included a sweet caption as well.
"Omigod you guys ….#LegallyBlonde premiered 20 years ago TODAY! Time flies when you're busy using legal jargon in your every day life," she hilariously begins the post. "But truly… playing Elle Woods was the role of a life time and I'm so honored to have been a part of sharing her story with you all. Every meme, graduation cap, musical number, halloween costume and bend & snap has brought me so much JOY over these past two decades! 💕 I wonder… what will Elle do next?"
What's your favorite Legally Blonde moment? Let us know!