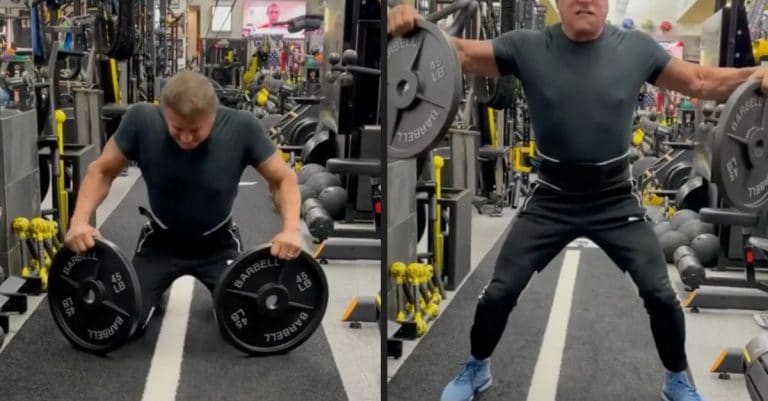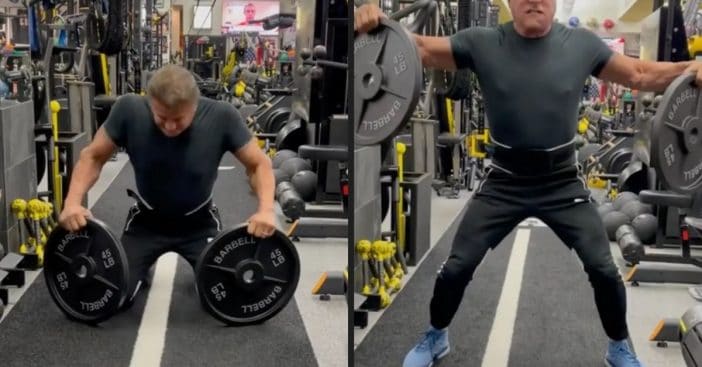 People are accusing Sylvester Stallone of using fake weights during his workouts. TikToker @azrizakariya made a case for why he thinks that Sly is using fake weights in a video he posted.
In Sly's video, the TikToker notes that the Rocky star is completing a 'front raise' exercise by kneeling on the fall while lifting two plates above his shoulder and standing up to his feet. He continued to do the exercise with 45lb (20kg) weights in each hand.
Was Sylvester Stallone using fake weights during his workout?
View this post on Instagram
One fan commented on Sly's video, saying, "Not going to hate but those plates look fake." Even Fitness YouTuber Simon Miller commented that he wasn't sure if the weights were real, and even thought the video must have been a joke.
RELATED: These Gorgeous Photos Of Sylvester Stallone's 3 Daughters Will Leave You Speechless
"Not gunna lie when I first saw it I thought Sylvester Stallone was just having a little bit of a joke – he's making really weird noises and it was like no lift I've ever seen before," Simon says about the video.
Maybe we'll never know!
"Of course if you're going to be on the floor and you're going to hold two 45 pound plates and then try and stand up with them held out at your sides, that's going to be really difficult."
Simon adds that he thought the
video
was meant to be taken as a joke because the word "heavy" in Sly's caption was enclosed in inverted commas. Could this be a clue? Since posting the video, he hasn't confirmed nor denied if the video was meant to be a joke or not… or if those weights were real or not!
This also isn't the first time that the actor has faced fitness-related accusations. Back in 2007, he was convicted of importing a banned growth hormone into Australia and was slapped with a £5,000 fine. Deputy chief magistrate Paul Cloran told the court at the time, "He [Sylvester] has shown contrition, he has expressed his remorse. I don't think there is anything further the court could or should do in order to deter Mr Stallone from committing these offences again."