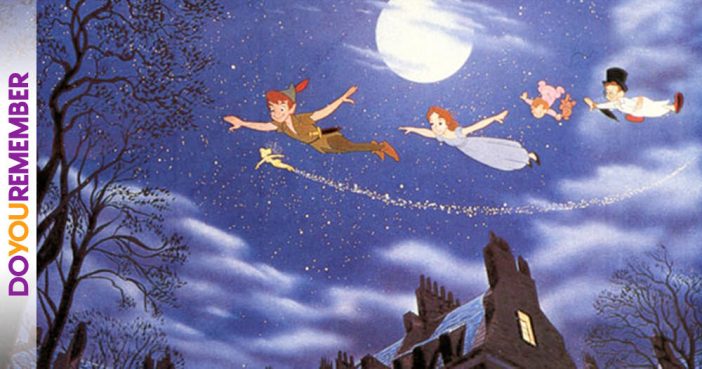 On May 9th, 1860, world literature was forever changed for children and the young at heart everywhere, for that day saw the birth of James M. Barrie in Angus, Scotland. A natural dreamer and connoisseur of whimsy, he took to books and drama as a child, frustrating the wishes of his parents, who wanted him to become a minister. The character of Peter first appeared in Barrie's 1902 novel, The Little White Bird, but really took off (literally) two years later in a play he wrote for the London stage, Peter Pan, or the Boy Who Wouldn't Grow Up. Oddly, Barrie never really defined Peter's appearance, leaving it to the show's producers to clad him in a rustic ensemble of leaves and cobwebs. From the beginning, it was decided that the elfin lad should be played on the stage by women, first by Nina Boucicault in London and then famously by Maude Adams in New York in 1905. By the time Barrie adapted his play into the book Peter and Wendy in 1911, his sartorial style was fairly set.
]In 1953, Walt Disney gave us the Peter we typically know, wearing a green cloth tunic, tights and a pointed, befeathered cap that would do Robin Hood proud an ensemble worn to this day by the male Peters who appear at Disney theme parks. In 1954, however, he was still exclusively a female role, with Mary Martin soaring to new heights as the title character in a hit Broadway musical, followed in later revivals by such cheery types as Sandy Duncan and Cathy Rigby.
In 2003, for a big-budget live-action version of the story, producers decided it was time to trade in middle-aged women for an adolescent boy in the form of Jeremy Sumpter, who went back to the leafy costume of yore for his breakout performance.
Finally, in 2015 the famed fable went back to it roots in the form of NBC's live televised rendition of the original stage play. Actress Allison Williams played Peter Pan. Sadly though the performance was received with mixed reviews.
Meanwhile, Barrie's character has served as a logo for all manner of products, from diners to the famous peanut butter that launched in 1928. Today, Peter is truly international: Check out the anime version and many others in the gallery.