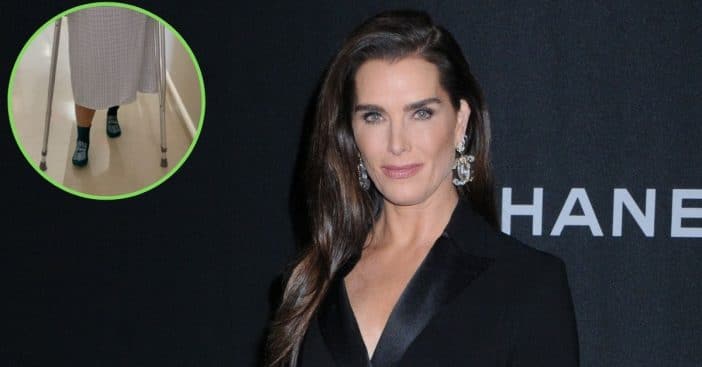 Brooke Shields is recovering after breaking her femur and is learning to walk again in the process. She posted a video to Instagram documenting the experience of re-learning to walk, with fans and friends sending love and support.
"Broke my femur," she writes in the caption of the video. "Beginning to mend. No matter what your challenge is, make a positive choice, for yourself, to move forward," she adds, writing the hashtag #BeginningIsNow.
Brooke Shiels is learning to walk again after breaking her femur, still in good spirits
View this post on Instagram
Doctors are heard talking Shields through the walking process, saying things such as "Crutches come first," and "there's only 20 percent weight…" Shields seems positive and in good spirits as she learns the proper way to use her crutches in the video.
RELATED: 55-Year-Old Brooke Shields Shows Off Toned Legs In New Swimsuit Photos
"One and two," Shields says to herself as she takes her steps. "One and .. the goal is to bend your knee each time like a little bit just so you're not dragging it, or hitching up your hip, correct?" She asks one of the doctors as she continues forward.
Fans and friends send well wishes
Shields did not reveal the cause of her injury, but we do know that she has always been an avid fitness enthusiast, often sharing at-home workouts that she's been doing during the pandemic. It's safe to say she won't be engaging in that for a while!
"Angel heart! Sending you all the love and healing Light," someone writes to Shields on her walking video. "Brooke! So sorry! Courage…it's in your blood. Sending love," Glenn Close writes. Another fan says, "I know you will heal so quickly. The Force is strong in you, my friend!" Sending lots of love to Shields as she continues to mend!