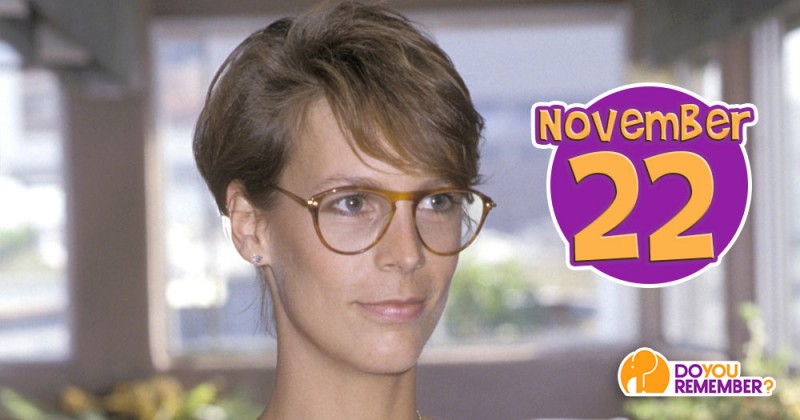 "Born Today"
Hailey Baldwin (19)

Adele Exarchopoulos (22)

Jamie Campbell Bower (27)

Oscar Pistorius (29)

Scarlett Johansson (31)

Tyler Hilton (32)

Shangela Laquifa Wadley (34)

Karen O (37)

Ville Valo (39)

Boris Becker (48)

Mark Ruffalo (48)

Michael Kenneth Williams (49)

Mads Mikkelsen (50)

Mariel Hemingway (54)

Jamie Lee Curtis (57) Featured Above

Donny Deutsch (58)

Richard Kind (59)

Steve Van Zandt (65)

Billie Jean King (72)

Terry Gilliam (75)

Robert Vaughn (83)
"Died Today"
CS Lewis (

Born

: November 29, 1898 /

Died

: November 22, 1963

)

John F. Kennedy (

Born

: May 29, 1917 / Died: November 22, 1963)

Mae West (

Born

: August 17, 1893 /

Died

: November 22, 1980)

Mary Kay Ash (

Born

: May 12, 1918 /

Died

: November 22, 2001

)
"Movies"
"Music"
1963 – The Beatles' album

With the Beatles

was released

1965 – Stevie Wonder released the single "Uptight (Everything's Alright)"
1969 – "Wedding Bell Blues" by The 5th Dimension was #1 for its third week

1969 – The Beatles' album

Abbey Road

was the #1 album for its fourth week

1971 – "I'd Like to Teach the World to Sing" was released
1981 – Rolling Stones members joined Muddy Waters on stage at the Checkerboard Lounge in Chicago, Illinois

1983 – The single "Middle of the Road" by The Pretenders was released

1988 – Paula Abdul released her single "Straight Up"
1994 – Pearl Jam released their third album

Vitalogy
"TV/Radio"
1975 – "Dr. Zhivago" appeared on TV for the first time. NBC paid $4 million for the broadcast rights.

1998 – CBS's "60 Minutes" aired a tape of Jack Kevorkian giving lethal drugs in an assisted suicide of a terminally ill patient. Kevorkian was later sentenced to 25 years in prison for second-degree murder.
"Other Important Events"
1963 –

U.S. President Kennedy

was assassinated while riding in a motorcade in Dallas,

TX

.

Texas

Governor John B. Connally was also seriously wounded. Vice-President Lyndon B. Johnson was inaugurated as the 36th

U.S.

President.

1984 – Fred Rogers of PBS' "Mr. Rogers' Neighborhood" presented a sweater to the Smithsonian Institution.
1985 – 38,648 immigrants became citizens of the

United States

. It was the largest swearing-in ceremony.

1986 – Mike Tyson became the youngest to wear the world heavyweight-boxing crown. He was only 20 years and 4 months old.