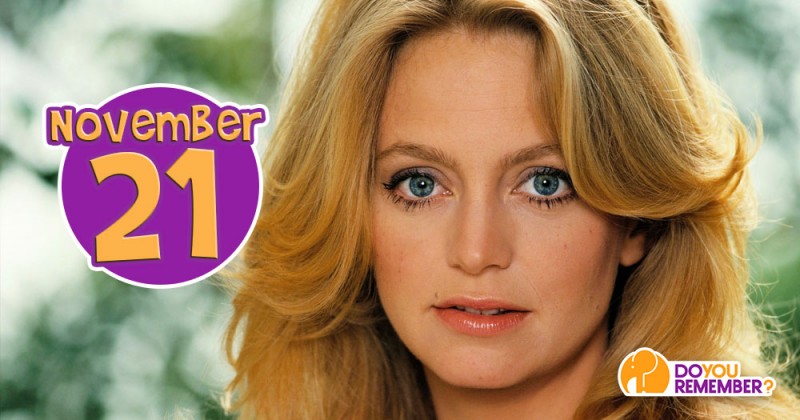 "Born Today"
Carly Rae Jepsen (30)

Guy Wilson (30)

Lindsey Haun (31)

Jena Malone (31)

Brie Bella (32)

Nikki Bella (32)

Ryan Starr (33)

Cherie Johnson (40)

Brook Kerr (42)

Rain Phoenix (43)

Michael Strahan (44)

Ken Griffey Jr. (46)

Troy Aikman (49)

Björk (50)

Nicollette Sheridan (52)

Cherry Jones (59)

Lorna Luft (63)

Goldie Hawn (70) Featured Above

Marcy Carsey (71)

Juliet Mills (74)

Marlo Thomas (78)

Harold Ramis (RIP)
"Died Today"
Bill Bixby (Born: January 22, 1934 / Died: November 21, 1993)
"Movies"
"Music"
1954 – American singer and actress Rosemary Clooney was at No.1 on the UK singles chart with 'This Ole House.'
https://youtu.be/lrUYcmdjPDw
1955 – RCA Records purchased Elvis Presley's recording contract from Sam Phillips at Sun Records for an unprecedented sum of $35,000. .

1960 – Maurice Williams and The Zodiacs went to No.1 on the US singles chart with 'Stay', the shortest ever US No.1 single at one minute 37 seconds. A No.14 hit in the UK in 1961.

1970 – The Partridge Family started a three week run at No.1 on the US singles chart with 'I Think I Love You'.
1970 –  Two months after his death Jimi Hendrix was at No.1 on the UK singles chart with 'Voodoo Child (Slight Return)' the closing track on Electric Ladyland, the third and final album by The Jimi Hendrix Experience.
1976 – The Stranglers supported by Chelsea appeared at The Nashville, London, England. This was Billy Idol's last gig with Chelsea, who then joined fame in the punk band Generation X before becoming a solo artist.

1981 – Olivia Newton John started a ten week run at No.1 in the US singles chart with 'Physical', the singers fourth US No.1

1981 – Queen and David Bowie were at No.1 in the UK with Under Pressure.
1983 – Michael Jackson's 14-minute video for Thriller was premiered in Los Angeles.

1987 – Billy Idol rose all the way to #1 with "Mony Mony 'Live'".

1992 – Cher moved into the #1 slot on the U.K. Album chart with her Greatest Hits package.
"TV/Radio"
1980 – An estimated 83 million viewers tuned in to find out "who shot J.R." on the CBS prime-time soap opera Dallas. Kristin was the character that fired the gun
"Other Important Events…"
1877 – Thomas A. Edison announced the invention of his phonograph.
1929 – Spanish surrealist Salvador Dali had his first art exhibit.
1962 – U.S. President Kennedy terminated the quarantine measures against Cuba.
1973 – U.S. President Richard M. Nixon's attorney, J. Fred Buzhardt, announced the presence of an 18½-minute gap in one of the White House tape recordings related to the Watergate case.
1975 – At the start of Elton John week in Los Angeles, the singer received a Star on Hollywood's Walk Of Fame.
https://youtu.be/0BdeuIgsQMM
1990 – Mick Jagger married Jerry Hall in Bali