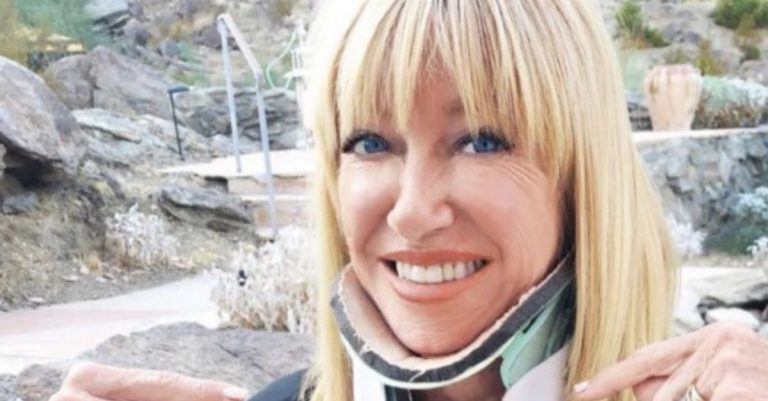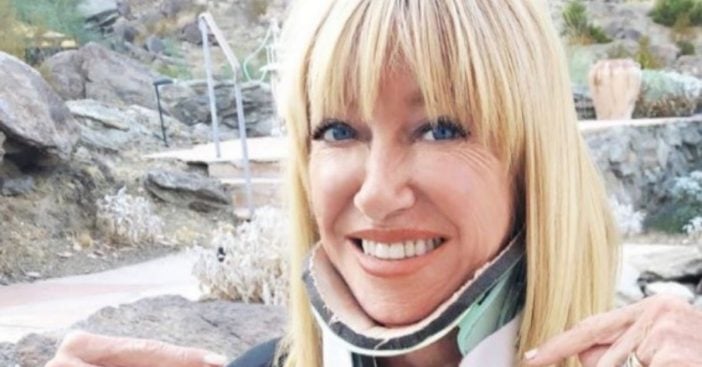 Suzanne Somers is healing from a fractured hip and neck surgery. The 74-year-old was already healing from a fractured hip when she and her husband Alan Hamel fell down the stairs. After they fell, she realized that she really hurt herself and ended up having to have neck surgery. In fact, the doctor said she had to have immediate spinal surgery.
Luckily, her surgery went well and she has no permanent damage. Suzanne had two displaced vertebrae that were putting pressure on her spinal nerves. She admitted that the pain was like nothing else and joked that tequila didn't even help!
Suzanne Somers jokes around while recovering from a painful surgery
While recovering from surgery, Suzanne is using her sense of humor to heal. She said, "Every once in a while life gives you the finger." She also joked, "You would think I couldn't have sex, but my husband has figured that one out."
RELATED: Suzanne Somers Is Recovering From Neck Surgery After Fall
The reason being that she has to currently wear a neck collar all the time, even while sleeping and showering. Luckily, she can get it off in a few weeks. When she is all healed she plans to continue doing Facebook Lives with her husband. They hold a virtual cocktail hour in their backyard for fans.
Their drink of choice? Tequila of course! She admits, "My husband and I like to have a cocktail at 5 o'clock. Our cocktail of choice is clear tequila because it has little to no sugar, which is the body's enemy."
We hope Suzanne gets better soon! It sounds like she is making the best of it.