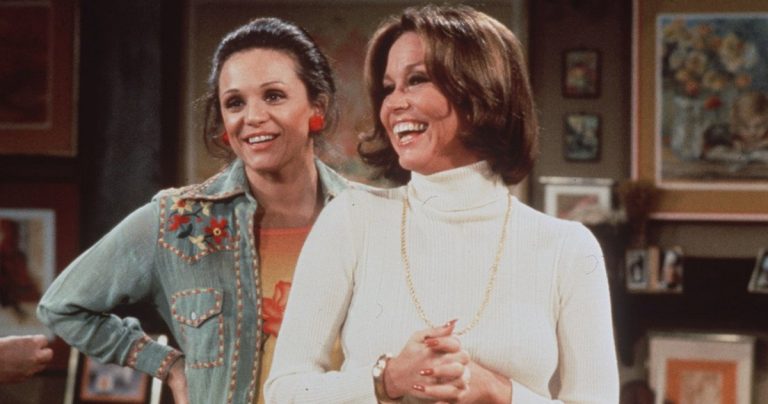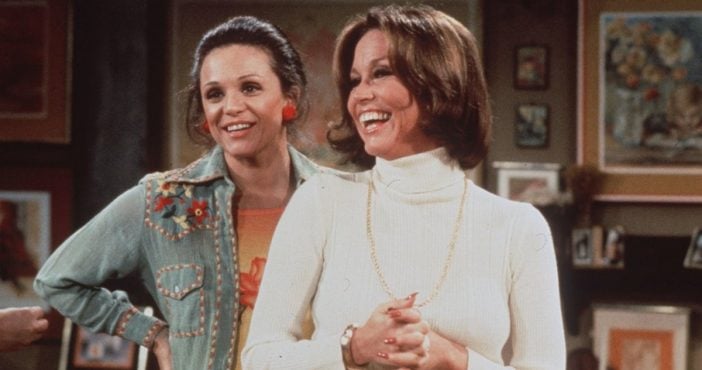 When it comes to The Mary Tyler Moore Show, which is currently celebrating its 50th Anniversary, there's a lot of excitement about the series, its place in television history, the wonderful ensemble cast — including Ed Asner, Ted Knight, and Betty White — and the connection those actors had on camera and seemingly off. But as revealed by Herbie J Pilato, author of the biography Mary: The Mary Tyler Moore Story, it seems Mary and Valerie Harper did not enjoy the same closeness that their characters of Mary Richards and Rhoda Morgenstern did, despite the image to the contrary they attempted to project.
"Moore and Harper," says Pilato of the actresses who passed away, respectively, in 2017 and 2019, "did not always see eye-to-eye. Valerie was a scene-stealer. Her performance as Rhoda was very popular on the show, and there was some professional jealousy on Mary's part. At times, Mary wasn't all that crazy about performing with Valerie."
Observes author/producer Rick Lertzman in the same book, "Even though the Rhoda character was kind of one-dimensional, Valerie's popularity was growing. Valerie was becoming more of an influential presence on the show. A lot of the time when some figure in a show gets too big, there's always a conflict with the main actor."
Unraveling the rivalry between Mary Tyler Moore and Valerie Harper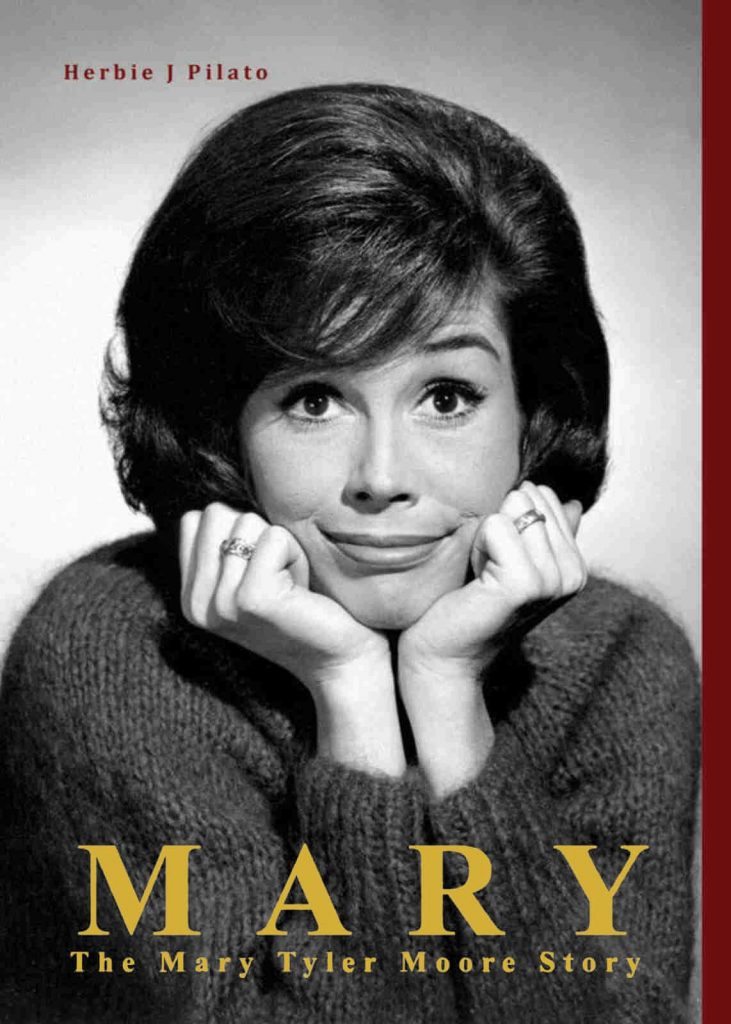 According to Pilato, this played a major factor in the decision to spin Harper off into her own series, Rhoda, which enjoyed a five-season run between 1974 and 1978 (The Mary Tyler Moore Show ran from 1970 to 1977). As such, it represented a double-win for Moore, he notes, because the iconic actress was content to have the spotlight returned to her once Harper was gone, while the Rhoda sitcom was another successful entry in the MTM Enterprises stable of shows headed by Moore and then-husband Grant Tinker.
RELATED: 11 Little Known Facts About Mary Tyler Moore
"Mary and Grant cared for one another," Pilato emphasizes, "and they both considered Valerie as family. But as with all close friends and family interactions, still waters don't always run deep. In fact, they got a little choppy."
Mary & Valerie: Together Again
That became evident when years after both The Mary Tyler Moore Show and Rhoda series ended, the duo reunited for the 2000 TV movie, Mary and Rhoda, which was intended as a backdoor pilot for a new sitcom. "Mary and Valerie were business partners on the new movie," says Pilato. "But Mary was reticent about giving too much power to Valerie, which did not please Harper. As a result, the potential Mary and Rhoda series never happened." Meanwhile, The Mary Tyler Moore Show remains one of the most popular situation comedies in television — and the recipient of 29 Emmy Awards.
As is also pointed out in the biography, Mary Tyler Moore Show director Jay Sandrich called the Mary and Rhoda TV-movie "a terrible idea," because, ironically, he thought the film was miscast.  "Mary can't play Mary Richards anymore.  But Valerie could.  Valerie should have played Mary."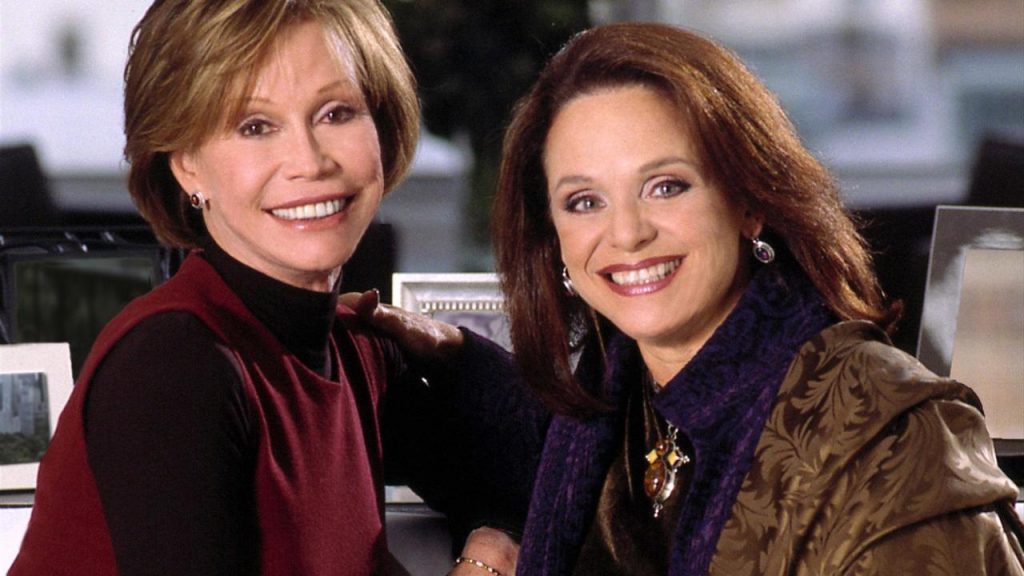 Writes Pilato, "Sandrich was implying that Mary simply did not look the part anymore. Both her extensive plastic surgery and her frail health contributed to her literal and figurative weak performance in the movie. The warm character traits of Mary Richards were oddly missing from Mary's new rendition, whereas Harper's performance as Rhoda was now bizarre, but still audience accessible."
Another observation in the biography is that when Harper was promoting her memoir, I, Rhoda, in 2013, she made a radio appearance with Howard Stern, who asked if she thought Mary was ever jealous of her. Harper remained silent. Another time, however, she admitted that at her most famous TV character was partially envious of Moore's on-screen Mary Richards. "There was a part of Rhoda that was very protective of Mary," Harper said, "… like an older sister. And there was a part that was jealous of that model's body."
Bill Persky, writer on The Dick Van Dyke Show and friends with Moore until her death, simply says, "They had their ups and downs."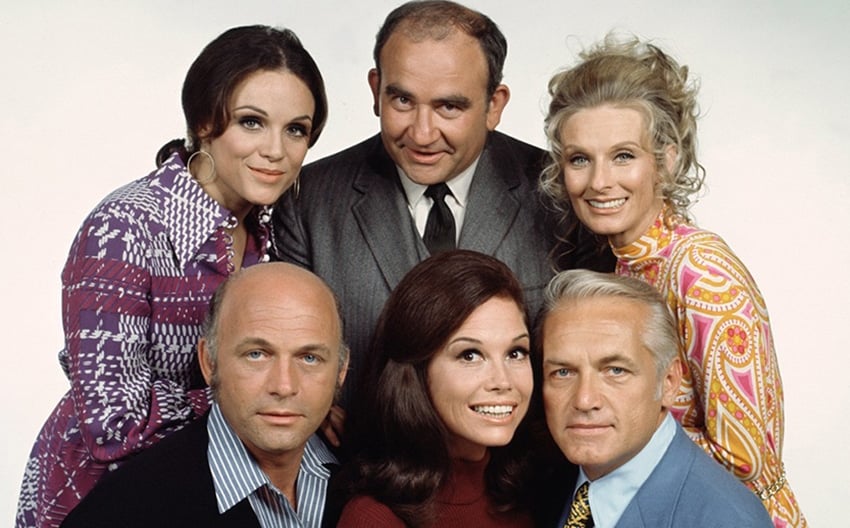 In discussing Mary and Rhoda during a Mary Tyler Moore Show reunion on the Oprah show, Valerie Harper said, "That really was how girlfriends are and that your best friend could be really jealous of your hip measurement, as I was of Mary's, but really be there for her…[to] tell the truth."
Writes Pilato:  "In a later interview, Harper said, 'Rhoda wishes she were Mary.  But it doesn't manifest itself as jealousy.  She knows that Mary may have the great job and the great figure, but Rhoda's from New York.  She knows she's got to straighten this shiksa out.'"
"And," he adds today, "Valerie Harper still looked like Valerie Harper, while the original visual image of Mary Tyler Moore that everyone had loved and adored for years, was gone."