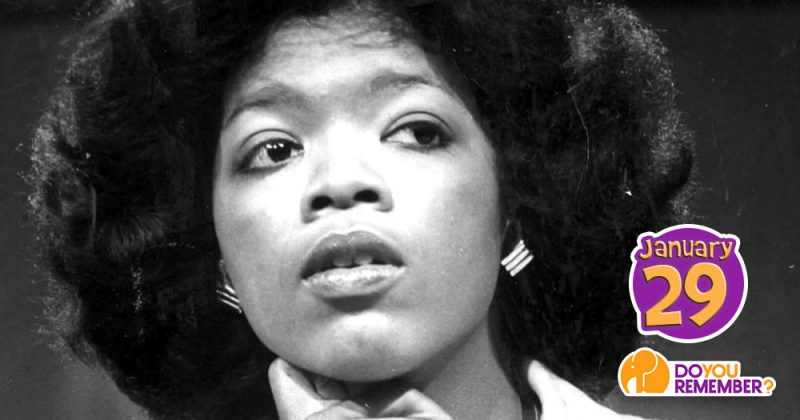 "Born Today"
Isabel Lucas (31)
Brynne Edelsten (33)
Adam Lambert (34)
Riff Raff (34)
Jonny Lang (35)
Jason James Richter (36)
Andrew Keegan (37)
Justin Hartley (39)
Sara Gilbert (41)
Kelly Packard (41)
Heather Graham (46)
Paul Ryan (46)
Sam Trammell (47)
Edward Burns (48)
Greg Louganis (56)
Oprah Winfrey (62)
Charlie Wilson (63)
Ann Jillian (66)
Cristina Saralegui (68)
Tom Selleck (71)
Katharine Ross (76)
Harriet Tubman (RIP)
John D Rockefeller Jr.(RIP)
William McKinley (RIP)
"Died Today"
Robert Frost ( 

Born:

March 26, 1874 / 

Died:

January 29, 1963

)
Willie Dixon (

Born:

July 1, 1915 / 

Died:

January 29, 1992

)
Jimmy Durante (

Born:

February 10, 1893 / 

Died:

January 29, 1980

)
Margaret Truman (

Born:

February 17, 1924 / 

Died:

January 29, 2008

)
"Movies"
1943 – Disney's Donald Duck short Donald's Tire Trouble
1959 – Sleeping Beauty
1964 – Dr. Strangelove
1964 – Man's Favorite Sport
1988 – Puss in Boots 
1993 – Matinee
1993 – Sniper
1999 – She's All That
"MUSIC TODAY"
1937 – Tommy Dorsey and his famous orchestra records "Song of India" – a popular standard of the era that later became a big hit.  
1966 – The Bobby Fuller Four's "I Fought The Law" was released
1973 – Donna Fargo receives the only gold album of her career, with "The Happiest Girl In The Whole U.S.A."
1973 – Johnny Rivers received a Gold record for the Billboard #6 hit single, "Rockin' Pneumonia and the Boogie Woogie Flu". Huey "Piano" Smith And The Clowns had a #52 hit with it in 1957.
1977 –  Rose Royce, the former backing band for The Temptations, went to #1 on the US singles chart with "Car Wash".
1977 – Although nominated for a Golden Globe, the song "I'd Like to Be You for a Day" (written by Joel Hirschhorn & Al Kasha for Disney's Freaky Friday) is beat out for Best Original Song – Motion Picture by "Evergreen (Love Theme from A Star Is Born)"
1981 – Dolly Parton's "9 to 5" tops the Charts as many identify with the song and the movie
1983 – Men At Work top the UK and US singles charts with "Down Under" and the UK and US album charts with "Business As Usual". This feat had not been accomplished since Rod Stewart did it in 1971
1988 – Randy Travis collects his first double-platinum album, for "Always And Forever"
1996 – At the 23rd American Music Awards, The Lion King wins Favorite Soundtrack
1999 – The Dixie Chicks' "Wide Open Spaces" album is certified quadruple-
"TV & Radio"
1956 – "Indictment" debuted on CBS radio and stayed on the air for three years.
1960 – The television series Walt Disney Presents airs the episode "Wild Burro of The West."  Based on Dusty's Return, a novel by Dorothy Childs Hogner, this episode of Walt Disney Presents is all about a homeless Mexican burro named Dusty.
1969 – The "Glen Campbell Goodtime Hour" debuted on CBS-TV.  Guests for the first episode: Bobbie Gentry, "Gentle On My Mind" songwriter John Hartford, The Smothers Brothers and comedian Pat Paulsen.  
1989 – Billy Joel sang the U.S. national anthem at Super Bowl XXIII.
"Other Important Events…."
1958 – Paul Newman and Joanne Woodward were married.  They are known to be one of the longest-lasting Hollywood couples in recent history.
1963 – This was the date of Robert Frost's Death. He had accomplished much in his lifetime, such as winning the Pulitzer Prize four times, and also reciting a poem during JFK's inauguration ceremony.
1975 – After girlfriend Linda Thompson wakes up and finds him struggling to catch his breath, Elvis Presley is admitted to Memphis' Baptist Hospital for "a liver problem," which in reality is an attempt by Presley's personal physician "Dr. Nick" to curtail his growing addiction to prescription medication.
1983 – Stevie Nicks of Fleetwood Mac married Kim Anderson at her Los Angeles home. They were divorced the following year.
1987 – Snow White and the Seven Dwarfs parade onto the floor of the New York Stock Exchange, in celebration of Disney's highest-ever first quarter revenues.