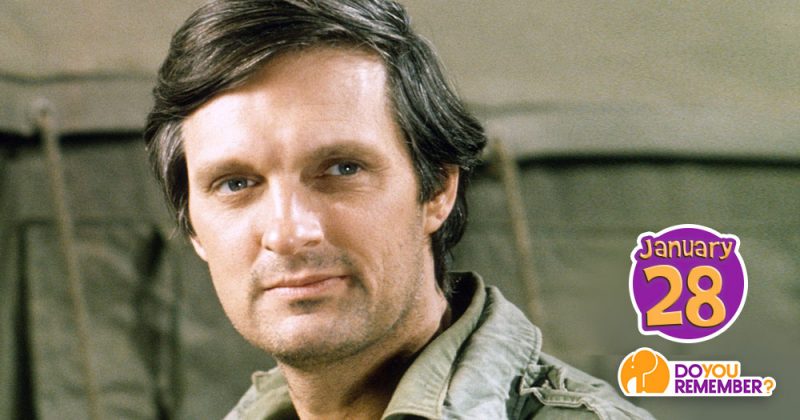 "Born Today"
Ariel Winter (18)
Will Poulter (23)
Calum Worthy (25)
J. Cole (31)
Camila Alves (34)
Big Freedia (35)
Elijah Wood (35)
Nick Carter (36)
Sheamus (38)
Joey Fatone (39)
Rick Ross (40)
Kathryn Morris (47)
Mo Rocca (47)
DJ Muggs (48)
Sarah McLachlan (48)
Keith Hamilton Cobb (54)
Frank Darabont (57)
Nicolas Sarkozy (61)
Barbi Benton (66)
Carlos Slim (76)
Alan Alda (80)
Jackson Pollock (RIP)
"Died Today"
Zora Neale Hurtson (

Born:

January 7, 1891 / 

Died:

January 28, 1960

)
Freddie Prinze (

Born:

June 22, 1954 / 

Died:

January 29, 1977

)
Christa McAuliffe (

Born:

September 2, 1948 / 

Died:

January 28, 1986

)
Red Grange (

Born:

June 13, 1903 / 

Died:

January 28, 1991

)
"Movies"
1965 – Those Calloways
1944 – Disney's Goofy cartoon How to Be a Sailor 
1965 – 36 Hours
1970 – The Molly Maguires
1994 – Car 54, Where Are You?
"Music"
1955 – The "Top 10 R&B Show" package tour kicks off its 42-date, 60-day national excursion in New York City, featuring The Clovers, Faye Adams, The Charms, Joe Turner,The Moonglows, Lowell Fulson, and The Bill Doggett Trio.
1964 – Buck Owens records "My Heart Skips A Beat" and "Together Again" in Hollywood
1985 – The song "We Are the World" was recorded. More than 40 artists were involved. The proceeds went toward worldwide hunger prevention. on.
1985 – Alabama, Willie Nelson and Anne Murray each win two American Music Awards, while Loretta Lynn takes home a special Award of Merit. Other country winners include: Barbara Mandrell, Kenny Rogers, Dolly Parton and The Oak Ridge Boys
1989 – Randy Travis' "Deeper Than The Holler" climbs to #1 on the Billboard country chart
1989 – Bangles release Eternal Flame in US.
1990 – Paula Abdul started a 10-week run at No.1 on the US album chart with 'Forever Your Girl'. Abdul spent sixty-four consecutive weeks on the Billboard 200 before hitting number one, making it the longest time for an album to reach the number one spot.
1991 – Gloria Estefan made her first live performance (at the American Music Awards in Los Angeles) since injuring her back in a bus accident while on tour.
1993 – MCA releases Reba McEntire's duet with Vince Gill, "The Heart Won't Lie," written by pop artist Kim Carnes
"TV & Radio"
1980 – The Saga of a Star World began again when Galactica 1980 aired its very first episode.
1998 – The telefilm The Warlord: Battle for the Galaxy (aka The Osiris Chronicles) was broadcast on the small screen.
"Other Important Event…."