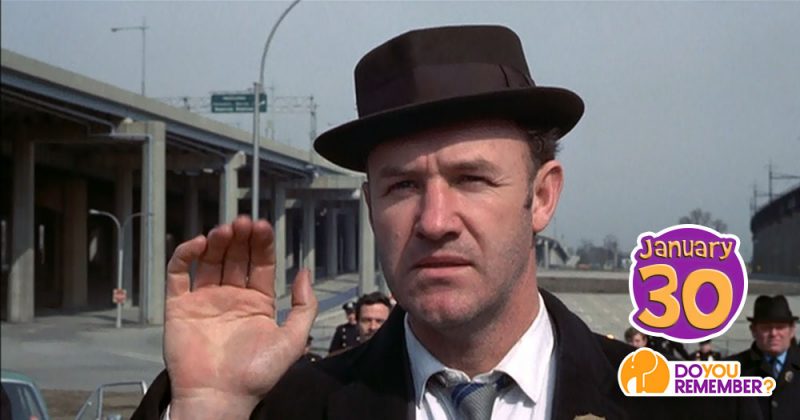 "Born Today"
Danielle Campbell (21)
Eiza González (26)
Jake Thomas (26)
Khleo Thomas (27)
Becky Lynch (29)
Kid Cudi (32)
Wilmer Valderrama (36)
Josh Kelley (36)
Andy Milonakis (40)
Yumi Yoshimura (41)
Christian Bale (42)
Jemima Khan (42)
Jennifer Hale (45)
Chris Jacobs (46)
Carolyn Kepcher (47)
Mary Kay Letourneau (54)
Jody Watley (57)
Brett Butler (58)
Charles S. Dutton (65)
Phil Collins (65)
Dick Cheney (75)
Vanessa Redgrave (79)
Tammy Grimes (82)
Gene Hackman (86) Featured Above
Harold Prince (88)
Dorothy Malone (91)
Dick Martin (RIP)
Franklin D. Roosevelt (RIP)
"Died Today"
Betsy Ross (Born: January 1, 1752 / Died: January 30, 1836)
Orville Wright (Born: August 19, 1871 / Died: January 30, 1948)
Mahatma Gandhi (Born: October 2, 1869 / Died: January 30, 1948)
Ferdinand Porsche ( Born: September 3, 1875 / Died: January 30, 1951)
Correta Scott King (Born: April 27, 1927 / Died: January 30, 2006)
Sidney Sheldon (Born: February 11, 1917 / Died: January 30, 2007)
Patty Andrews (Born: February 16, 1918 / Died: January 30, 2013)
"Movies"
1987 – Outrageous Fortune
1987 – Radio Days
1998 – Desperate Measures
1998 – Great Expectations 
"MUSIC TODAY"
1943 –  The Nat King Cole Trio reaches the top of the charts with the song "That Ain't Right." It stays there for one week before dropping off the top spot.
1956 – Elvis Presley recorded "Blue Suede Shoes."
1961 – The Shirelles became the first girl group to have the number one song on the US chart when 'Will You Love Me Tomorrow?' reached the top. The song peaked at No.4 in the UK
1965 – "The Name Game" by Shirley Ellis hits #3
1968 – Bobby Goldsboro records his biggest hit, "Honey"
1972 – Grammy voters shower Kris Kristofferson with five nominations as a songwriter for three songs: "Help Me Make It Through The Night," "Me And Bobby McGee" and "For The Good Times."
1973 – 1st Kiss concert (Queens New York) – KISS played their first show at Popcorn (The Coventry Club) in Queens, NY.
1974 – Bob Dylan made his first New York concert performance in eight years at Madison Square Garden.
1982 – Hall and Oates went to No.1 on the US singles chart with 'I Can Go For That, (No Can Do)' the duo's fourth US No.1, a No.8 hit in the UK.
1985 – Randy Travis records four songs at Nineteenth Avenue Sound in Nashville in his first session for Warner Bros. Among them is "Prairie Rose," destined for the soundtrack to "Rustler's Rhapsody," and "On The Other Hand"
1988 – INXS had their first US No.1 hit single with 'Need You Tonight'.
1999 – After spending 11 weeks on the chart Britney Spears started a two week run at No.1 on the US singles chart with '…Baby One More Time.' Britney's debut album also went to No.1 on the US chart on the same day.
"TV & Radio"
1933 – "The Lone Ranger" was heard on radio for the first time. The program ran for 2,956 episodes and ended in 1955.
1950 – NBC-TV debuted "Robert Montgomery Presents." The show lasted for seven seasons.
1957 – The Disneyland television series airs the episode "All About Magic." Hosted by Walt himself and the Magic Mirror (voiced by Hans Conried), it features animated shorts having to do with magic!  
1959 – The TV series Walt Disney Presents airs "The Peter Tchaikovsky Story."
1977 – Roots TV Mini Series Jan. 30th, 1977 : The Roots Part VIII finale episode is aired on ABC and is listed in the Top 3 network primetime telecasts of all time in Percent of Households with 51.1%
1982 – 39th Golden Globes: On Golden Pond, Henry Fonda & Meryl Streep win
1994 – Natalie Cole sang the U.S. national anthem at Super Bowl XXVIII.
"Other Important Events…"
1958 – Yves Saint Laurent, at age 22, held his first major fashion show in Paris.
1964 – The U.S. launched Ranger 6. The unmanned spacecraft carried television cameras and was intentionally crash-landed on the moon. The cameras did not return any pictures to Earth.
1971 – Disneyland hosts the first of a 2-day event called Alice in Wonderland Days.
1976 –  George Bush becomes 11th director of CIA (until 1977)
1986 – Steve Jobs buys the computer graphics division of George Lucas' Industrial Light & Magic (a motion picture visual effects company) for $10 million and incorporates it as Pixar.
1988 – Walt Disney World's EPCOT debuts IllumiNations.
1992 – Space Shuttle STS-42 (Discovery 15) lands
1996 – Four years after retiring from professional basketball, NBA player Magic Johnson returned to the Los Angles Lakers Find Out More About More Star Players From Basketball History including origins, star players, growth, and the modern game.
1998 – Elton John received a knighthood in British Prime Minister Tony Blair's first New Year's Eve Honors List.