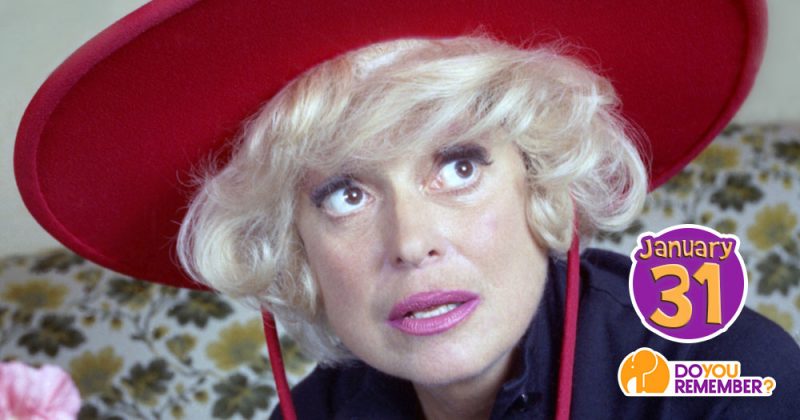 "Born Today"
Tyler Hubbard (29)
Marcus Mumford (29)
Justin Timberlake (35)
Tiffany Limos (36)
Bobby Moynihan (39)
Kerry Washington (39)
Kate Shindle (39)
Paul Scheer (40)
Jackie O (41)
Anna Silk (42)
Portia de Rossi (43)
Patricia Velasquez (45)
Minnie Driver (46)
Kelly Lynch (57)
Anthony LaPaglia (57)
Johnny Rotten (60)
Nolan Ryan (69)
Jessica Walter (75)
Queen Beatrix of the Netherlands (78)
Philip Glass (79)
Carol Channing (95)
Jeff Hanneman (RIP)
Jackie Robinson (RIP)
Ernie Banks (RIP)
Jean Simmons (RIP)
Tallulah Bankhead (RIP)
"Died Today"
A.A. Milne (

Born:

January 18, 1882 / 

Died:

January 31, 1956

)
Samuel Goldwyn (

Born:

August 17, 1879 / 

Died:

January 31, 1974

)
George Abbott (

Born:

June 25, 1887 / 

Died:

January 31, 1995

)
"Movies"
1986 – Down and Out in Beverly Hills
1986 – Youngblood
1992 – Shining Through
1997 – Shadow Conspiracy
"Music"
1959 – Just three days before their death in a plane crash, Buddy Holly, Ritchie Valens and the Big Bopper play the Armory in Duluth, MN. In attendance: a seventeen-year-old Robert Zimmerman, who would be inspired to become a musician by this performance. We now know him as Bob Dylan.
1963 – A seventeen-year-old Neil Young makes his stage debut at a country club in Winnipeg, Manitoba, Canada.
1968 – Merle Haggard records "The Legend Of Bonnie And Clyde," inspired by the Warren Beatty movie, at the Capitol Recording Studio in Hollywood
1970 – Tom T. Hall appears at #1 on the Billboard country chart for the first time with "A Week In A Country Jail"
1970 – The Jackson Five went to No.1 on the US singles chart with 'I Want You Back'. The song was originally written for Gladys Knight & The Pips and was the first of four No.1's for the group. It made No.2 in the UK.
1981 – Blondie went to No.1 on the US singles hart with 'The Tide Is High', the group's third US No.1, also a No.1 in the UK.
1987 – Waylon Jennings' "Rose In Paradise" Entered the Country Charts … The song would eventually become Waylon's last #1 record.
1993 –  Garth Brooks sings the national anthem during a pre-game show that also features Tanya Tucker, Billy Burnette and Fleetwood Mac at Super Bowl XXVII at the Rose Bowl in Pasadena, California. Dallas beats Buffalo, 52-17
1997 – Tim McGraw's "Not A Moment Too Soon" album is certified quintuple-platinum
1998 –  Janet Jackson  started a two week run at No.1 on the US singles chart with 'Together Again'. The track was taken from her sixth studio album, The Velvet Rope.
"TV & Radio"
1949 – These Are My Children : The first daytime soap opera "These Are My Children," was broadcast by the NBC station in Chicago Soap Operas got the name because they were targeted at mothers and the soap manufacturers such as Procter and Gamble, were major sponsors (Advertisers) .
1961– NBC airs the Bobby Darin And Friends television special, originally meant as a pilot for a weekly variety series.
1977 – The Mouseketeers relive the fabulous Fifties on this day's episode of The New Mickey Mouse Club. The Mouseka-Movie Special, features Pongo, Perdita and their 101 Dalmatians. Mouseketeer Angel Florez sings and dances "Fortuousity."
1993 – Michael Jackson performs with 3,500 local children at the Superbowl XXVII in Pasadena, CA.
1999 – Cher performs the national anthem at Superbowl XXXIII in Miami, FL. (Stevie Wonder performs at the halftime show.)
"Other Important Events…"
1971 – Apollo 14, is launched and piloted by astronauts Alan B. Shepard Jr., Edgar D. Mitchell, and Stuart A. Roosa, on a manned mission to the moon
1976 – 3rd American Music Awards: Olivia Newton-John & John Denver win
1977 – 4th American Music Awards: Olivia Newton-John & Elton John win
1981 – 38th Golden Globes: Ordinary People, Robert De Niro, & Mary Tyler Moore win
1987 – 44th Golden Globes: Platoon, Bob Hoskins, & Marlee Matlin win
1987 – It is reported that Delta Airlines will spend about $18 million over the next 10 years for a promotional tie-in with Disney World, replacing its rival, Eastern Airlines, as the official airline of the Florida resort.
1996 – Shania Twain was names one of People Magazine's "25 Most Intriguing people of the year"