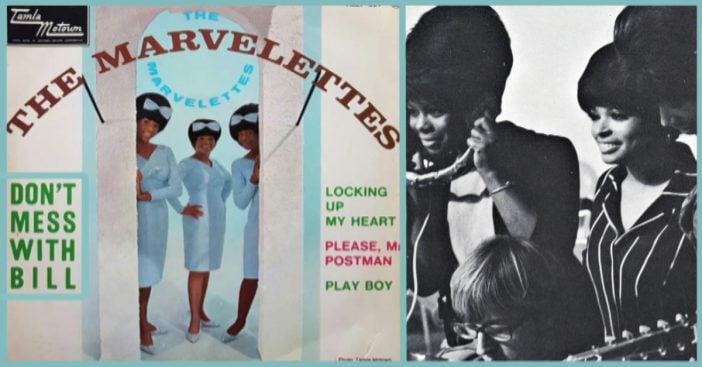 The Marvelettes consisted of Gladys Horton, Georgia Dobbins, Juanita Cowart, Georgeanna Tillman and Katherine Anderson – all from Inkster, Michigan. The group was originally known as the "Casinyets." Casinyet was a contraction for "Can't Sing Yet." Horton formed the group to enter a high-school talent competition.
This song was written by William "Smokey" Robinson, who achieved legendary status in the music business himself, first with the Miracles and then as a solo artist. Robinson's hits as an artist have included: "Shop Around," "You've Really Got a Hold on Me," "Mickey's Monkey," "Ooo Baby Baby," "The Tracks of My Tears," "Going to a Go-Go," "More Love," "I Second That Emotion," "Tears Of A Clown," "Being With You," "One Heartbeat," and "Just To See Her." Robinson played a pivotal role at the Motown record label, second only to the company's founder, Berry Gordy.
(Source)
Lyrics for The Marvelettes' "Don't mess with Bill
Don't mess with Bill
(Don't mess with Bill) Say it one more time!
(Don't mess with Bill)
Now I know he's a guy who put tears in my eyes
A thousand times or more
Oh but every time he would apologize
I loved him more than before
Hear what I say, girls keep away, ah ah ah
Don't mess with Bill
(No no no no, Don't mess with Bill) Leave my Billy alone
(Don't mess with Bill) Get a guy of your own
(Don't mess with Bill)
Now there's Johnny, there's Joe and there's Frank and Jim
Just to name a few
Now, Bill's got me and I've got him
I'm sure there's one for you
Hear what I say, girls keep away, ah ah ah
Don't mess with Bill
(No no no no, Don't mess with Bill) He's mine all mine
(Don't mess with Bill) I say it one more time
(Don't mess with Bill)
Though I tell myself he wants no one else
But keeps coming back to me
Now I'm in no decision to want competition
I want to be sure as can be
Hear what I say, girls keep away, ah ah ah
Don't mess with Bill
(No no no no, Don't mess with Bill) Leave my Billy alone
(Don't mess with Bill) Get a guy of your own
(Don't mess with Bill) Cause he's mine all mine
(Don't mess with Bill) I say it one more time
(Don't mess with Bill) Hey yeah yeah yeah
(Don't mess with Bill) Hey yeah yeah yeah
(Don't mess with Bill) Leave my man alone
(Don't mess with Bill) Get a guy of your own"
RELATED: 11-Year-Old Girl Singing Elvis Tune Sounds Just Like The King Himself