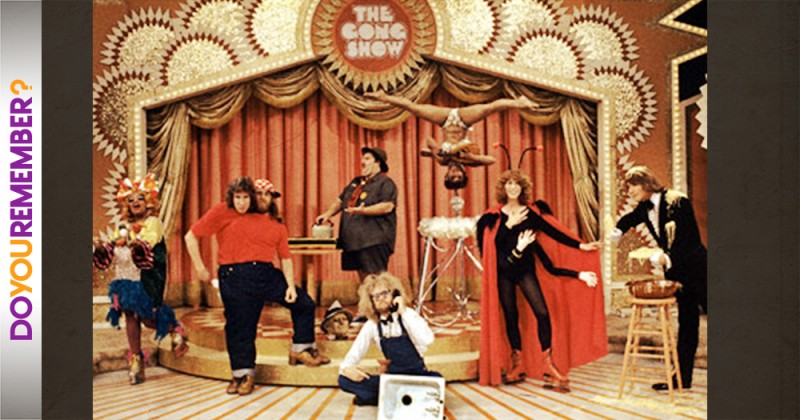 As the creator and host of TV's The Gong Show, Chuck Barris saw firsthand what some people would do for a shot at $515.32 and 45 seconds (if they made it that far) of fame.
Each week viewers tuned in to see tasteless comedians, woeful singers and god awful performers battle it out in hopes of going the distance before being gonged by a panel of celebrity judges such as Della Reese, Phyllis Diller, Jaye P. Morgan, Rex Reed, Rip Taylor and Steve Martin. While the fun lasted only two seasons (1976 to 1978), Barris' personality made him a fan favorite and helped elevate The Gong Show to cult status, which it has maintained thanks to reruns for the past 35 years.
People may not realize this, but you did have to pass a series of auditions to get on the show. Most people thought they accepted anyone with a brown paper bag. But if you watched, you certainly remember Arte Johnson, Gene The Dancing Machine, and the Unknown Comic. Check out some clips below of Chuck Barris' greatest creation. And boy, it was not his only!
Oddly, Barris—who also created The Dating Game and The Newlywed Game—later claimed he was an ex-CIA assassin with 33 alleged hits under his belt; perhaps those 33 were hopefuls even too untalented for this disco-era curiosity.
Chuck Barris: My Life on the Edge
The Dancing Machine (Compilation)
The Unknown Comic!
Towards the end of its run, it was amazing what the show went for! (1978)
In 2017, ABC tried once again with The Gong Show, it didn't have the same feel, however, and was short-lived.
RELATED: 8+ Worst TV Shows From The Past