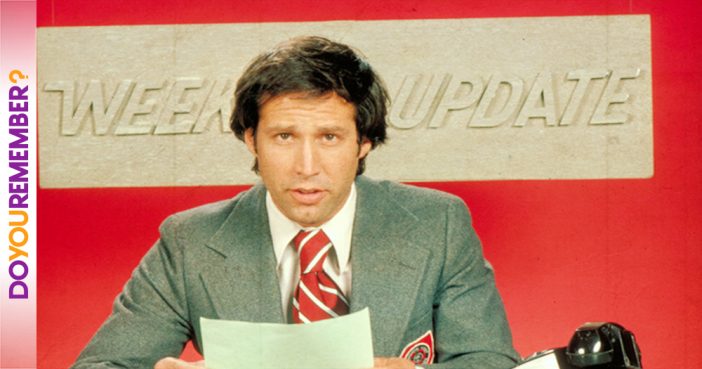 Tina Fey summed it up: "There's something about being the only person on SNL that gets to say your real name on the air every week. It makes you an instant star." Long before The Colbert Report or The Daily Show made satirical political comedy standard-issue consumption for most Americans, Saturday Night Live's "Weekend Update" brought a dose of levity to current affairs. Throughout its decades-long run, the faux news segment has made a handful of comedians into household names and played a direct role in various political scuffles. Recently news broke that current host Seth Meyers—who will be taking over NBC's Late Night franchise on February 24th—would be replaced by head writer Colin Jost. Here, DoYouRemember looks back at the best "Weekend Update" anchors.
Chevy Chase (1975-1976)
http://www.hulu.com/watch/1413
Along with SNL producer Herb Sargent, Chase created "Weekend Update" during the show's inaugural year. Though he only hosted the segment for one season, his short tenure catapulted him from TV to film.
Jane Curtin (1976-1980)
http://www.hulu.com/watch/1462
The Queen of Deadpan, as she came to be known, was the first in a long line of female "Update" hosts. Her comedic daring knew no bounds, even exposing her bra during a segment to prove she was sexy enough to replace Chevy Chase.
1980-1985: "Update" Flux
By the early '80s, SNL creator Lorne Michaels was out of the picture and new blood was brought in to retool a tired format. With it came a host of changes, notably the complete elimination of the "Update" desk. For a couple of years America was left without the witty one-liners and rejoinders. Luckily, Michaels would soon make a comeback.
Dennis Miller (1985-1991)
http://www.hulu.com/watch/270890
With the return of Michaels and "Update" came Dennis Miller, whose run of six years made him the longest-serving anchor behind the desk. After his stint on network TV, Miller built a brand as a right-wing political commentator and wit and can currently be seen on Fox News.
Norm Macdonald (1994-1997)
Al Franken lobbied to replace Kevin Nealon as the anchor on "Update," and left the show when he was passed over for Macdonald. Harking back to Chase's tenure, Macdonald would read fake news stories under the guise of a serious newsman.
Colin Quinn (1998-2000)
http://www.hulu.com/watch/292260
Quinn took the anchor desk after Macdonald was let go due to pressure from network brass. Inspired by The Tonight Show, Quinn added an opening monologue segment to "Weekend Update."
Jimmy Fallon and Tina Fey (2000-2004)
The Fey and Fallon team took over as the first host duo since the early days of Curtin and Chase. As head writer, Fey was hesitant to step in front of the camera and only made the jump after an extensive makeover and restrictive diet.
Tina Fey and Amy Poehler (2004-2006)
The gal pals epitomized SNL's "girlie show" period. Their on-screen chemistry was so on point they've gone on to star together in the 2008 film Baby Mama and jointly host the Golden Globes for the last couple of years.